Chicago man, woman sentenced for stealing $15K worth of cologne from Ulta Beauty store
DUPAGE COUNTY, Ill. - Two people who participated in the burglary of an Ulta Beauty store in west suburban Oak Brook in 2021 have each been sentenced to three years in prison, according to the DuPage County state's attorney's office.
Peaches P. Johnson, 30, and Roy Crane, 22, both of Chicago, were sentenced last week after pleading guilty to stealing nearly $15,000 worth of merchandise from the Ulta Beauty store in Nov. 2021, DuPage County State's Attorney Robert Berlin said in a statement.
Prosecutors said five male suspects wearing hoodies and ski masks ran into the store and stole 153 bottles of cologne. The suspects then fled the scene with three garbage bags full of the merchandise, worth nearly $15,000, prosecutors said.
Their vehicle was later located on Interstate 294 and the suspects were taken into custody by Hinsdale police, according to prosecutors.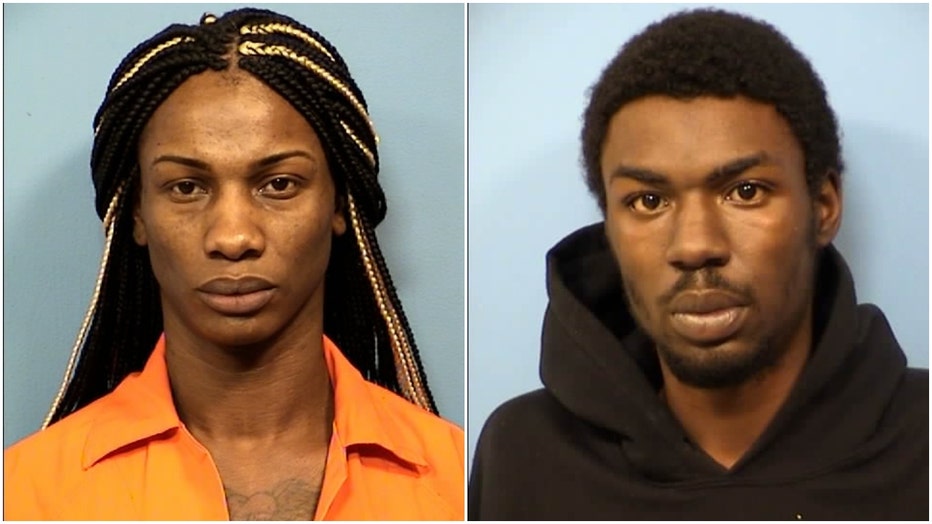 Peaches Johnson and Roy Crane (DuPage County state's attorney's office)
"The quick apprehension of the defendants in this case and the significant consequences for their criminal conduct sends the message that in DuPage County we will do everything we can to protect our businesses and shoppers by holding violent offenders accountable and law enforcement will use all resources, including shutting down a highway, in order to catch anyone suspected of committing a violent crime," Berlin said.
SUBSCRIBE TO THE FOX 32 CHANNEL ON YOUTUBE
Cases against Kamal J. Hoskins and Darnell Profit are still pending, prosecutors said. Hoskins is due in court again on Apr. 24 while Profit is scheduled to appear before a judge on Mar. 8. Both men have been charged with felony burgarly and retail theft.
Two other juveniles who were charged with felonies related to the incident have already pleaded guilty.