New Chicago mayor takes quick action with first executive orders — what to know
CHICAGO - Chicago's new mayor, Brandon Johnson, wasted no time in making changes shortly after being sworn in on Monday.
He signed his first executive orders, focusing on two main things: helping young people find jobs and making the city safer.
The orders create new positions in the mayor's office to protect the rights of immigrants and improve community safety. They also give the mayor more control over the police department.
Mayor Johnson wants to recruit more detectives, audit the efficiency of city services, and crack down on illegal guns.
SUBSCRIBE TO FOX 32 CHICAGO ON YOUTUBE
Johnson said he wants to build a better Chicago for everyone, and that these executive orders are just the beginning of his plans to make a difference.
"As your Mayor, it's my duty to take bold, immediate action to build a better, stronger, safer Chicago," Mayor Johnson said in a statement.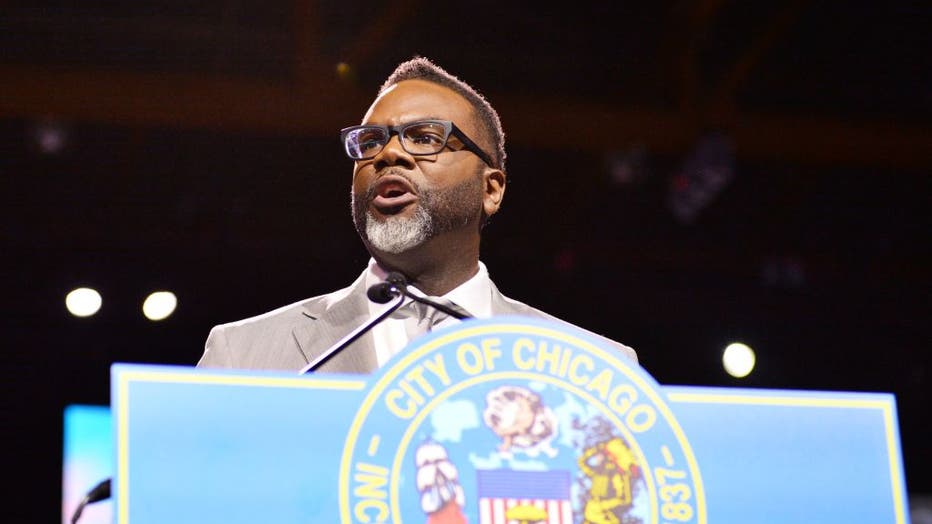 CHICAGO, ILLINOIS, UNITED STATES - MAY 15: Brandon Johnson swears in as Chicagos 57th mayor at UICs Credit Union One Arena in Chicago, Illinois, United States on May 15, 2023. (Photo by Jacek Boczarski/Anadolu Agency via Getty Images)
"My first executive orders as Mayor of Chicago instruct our government to boost youth employment, so all young Chicagoans can reach their potential across our city…"
The newly signed executive orders are listed below, taken directly from a press release emailed to news stations this afternoon.
EO 2023-15 — Boost Youth Employment
Mayor Johnson's youth employment executive order instructs the Office of Budget and Management to prepare an analysis of all resources in the City's FY2023 budget that are available to fund youth employment and enrichment programs, including any state, county, or federal funds. In addition, the executive order instructs the Deputy Mayor of Education and Health and Human Services to lead all city departments and agencies in identifying additional entry-level jobs that would be suitable for young people. The order instructs the Mayor's Office staff to coordinate year-round youth employment and enrichment activities among City sister agencies and City Departments, including collaboration with companies and non-profit organizations, for summer internships and community service credit opportunities with Chicago Public Schools and college credit opportunities with City Colleges of Chicago.
EO 2023-16 — Establish a Deputy Mayor for Immigrant, Migrant, and Refugee Rights
Mayor Johnson's executive order to establish a Deputy Mayor for Immigrant, Migrant, and Refugee Rights makes the new role responsible for the coordination and communication between all applicable City departments and officials related to the City's efforts to support newly arrived and established immigrants, refugees, and migrants. In addition, the order instructs all City department heads to take direction from the Deputy Mayor for Immigrant, Migrant, and Refugee Rights to assist with efforts to address immediate needs and long-standing policy and programmatic goals to ensure the efficacy of Chicago's status as a welcoming and sanctuary city.
EO 2023-17 — Establish a Deputy Mayor for Community Safety
Mayor Johnson's executive order to establish a Deputy Mayor for Community Safety calls on the new office to focus on eradicating the root causes of crime and violence and advance a comprehensive, healing-centered approach to community safety. In addition, the order instructs all City departments to work with the Deputy Mayor for Community Safety to achieve this goal.
EO 2023-18 — Establish a Deputy Mayor for Labor Relations
Mayor Johnson's executive order to establish a Deputy Mayor for Labor Relations will allow coordination to foster, promote, and develop the welfare of the wage earners, job seekers, and retirees of Chicago, in addition to improving working conditions, advancing new job opportunities for employment, and protecting workers' rights.
Johnson was sworn in Monday as Chicago's 57th mayor with a promise to "write the story of our children's and our grandchildren's futures" by confronting the city's enormous challenges in a way that summons, what he called the "soul of Chicago."
At 11:50 a.m., Johnson, 47, took the oath of office surrounded by his young family. wife, Stacie, and their three children: Owen, 15; Ethan, 11, and Braedyn, 8.
Sun-Times Media Wire contributed to this report.