Chicago police announce changes in command staff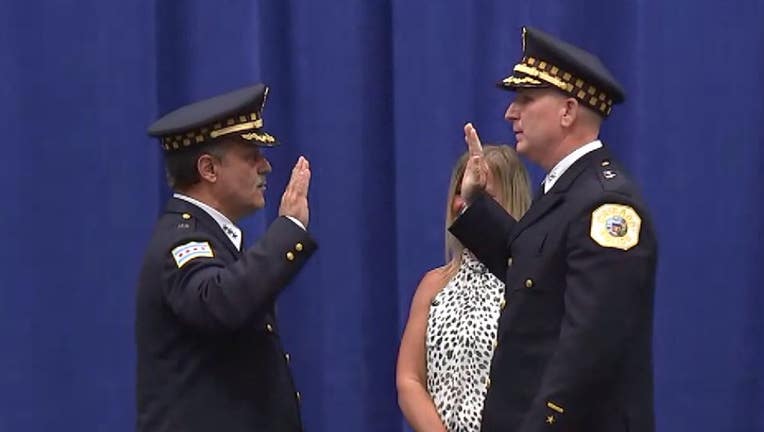 CHICAGO - Chicago Police Superintendent David Brown on Wednesday announced the retirement of two high-ranking department heads, along with a series of promotions.
First Deputy Superintendent Anthony Riccio and Chief Fred Waller, Office of Operations-Patrol, have announced their upcoming retirements, Brown announced.
Riccio, a 33-year member of CPD, will retire from the second-highest position in the department on Aug. 1, Brown said. Chief Eric Carter, a 28-year veteran, will fill the position.
Waller, a 34-year CPD veteran, will retire on Aug. 15, Brown said. Commander Brian McDermott will be promoted into the role.
"First Deputy Superintendent Riccio and Chief Waller will be missed greatly by the Chicago Police Department," Brown said in a statement. "I would like to thank them both for their leadership and service to our city. The Department and the City of Chicago will certainly feel the void from their departure."
Brown also announced several promotions in the department:
Jose Tirado will serve as Chief of Counter-terrorism and Special Operations

Yolanda Talley will serve as Deputy Chief of Area One

Dion Boyd will serve as Deputy Chief Criminal Networks

Michael Piggott will serve as Deputy Chief of Critical Incident Response Team

Michelle Rubino will serve as Executive Officer/Deputy Chief of Internal Affairs

Senora Ben will serve as Commander/ Executive Officer of Area One

Stephen Chung will serve as Commander/ Executive Officer of Area Three

Angel Novalez will serve as Commander of Community Policing

Michael Barz will serve as Commander of the Community Safety Team

Frederick Melean will serve as Commander of the 8th (Chicago Lawn) District

Gabriella Shemash will serve as Commander of the 12th (Near West) District

Patrina Wines will serve as Commander of 15th (Austin) District

Joseph Brennan will serve as Commander of the 24th (Rogers Park) District

Thomas Mills will serve as Commander of Narcotics and Vice

Timothy Moore will serve as Commander of Internal Affairs

Jarrod Smith will serve as Commander of Area One

Donna Rowling will serve as Commander of Labor Relations