Chicago woman accused of concealing mom's body in freezer marked day she died on calendar: prosecutors
CHICAGO - A woman charged with hiding the body of her 96-year-old mother in a deep freezer in the garage of their Portage Park home had placed her there nearly two years ago, according to court documents.
Prosecutors said Eva Bratcher, 69, had documented the March 4, 2021 death of her mother on a calendar that was recovered from the home in the 5500 block of West Melrose Street. The calendar allegedly indicated Regina Michalski had died at 2 p.m. that day in the two-flat apartment building she shared with Bratcher, prosecutors said.
Prosecutors said Bratcher then purchased a freezer from Abt Electronics and placed her mother inside of it. A receipt found in the house showed Bratcher purchased the freezer a week after her mother's apparent death, prosecutors said.
Prosecutors said Bratcher then moved the freezer into the garage and she remained there until Chicago police discovered Michalski's frozen body Monday while conducting a well-being check requested by Bratcher's estranged daughter Sabrina Watson.
Bratcher allegedly confessed to police she purchased the freezer about a week after her mother had died and put her body inside of it. Bratcher was then taken into custody, according to prosecutors.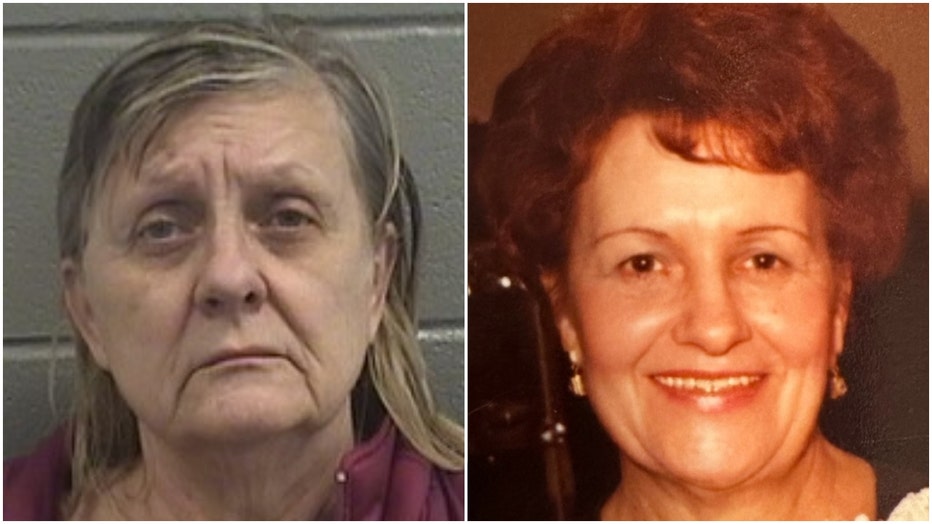 [L-R] Eva Bratcher and Regina Michalski.
Investigators also found a fake Illinois ID card in the home that bore Bratcher's photo but her mother's signature, and a document that was made to look like it was signed by Michalski, but was signed and dated after her apparent death, according to officials.
Neighbors said Bratcher had told conflicting stories in recent months: that her mother was in a nursing home in another state; that she was still living at home and doing fine; that she had died.
No cause of death has been determined yet, and prosecutors said the medical examiner's office may need until the end of the week to completely thaw the body out for autopsy.
NEW DETAILS EMERGE AFTER 96-YEAR-OLD WOMAN FOUND DEAD IN FROZEN
Prosecutors said police were also still investigating whether Bratcher collected her mother's Social Security checks or other benefits after her mother died. For now, she faces felony charges of concealing her mother's death and possession of a fraudulent identification card.
During a hearing Thursday, Judge David Kelly called the allegations "very disturbing" and said she would need to post $20,000 bond to be released on electronic monitoring.
Bratcher's defense attorney said she could afford a $5,000 bond but didn't indicate if she would be able to come up with the extra money and, if so, when.
She will be allowed to return to her building if she is released from jail, but the judge warned her about having "unlawful contact" with the other tenants of the building, who are potential witnesses.
Watson, who lives in Kentucky, said she called Chicago police to check on the home because she had an "intuition" that something was wrong.
"I just said, I'm calling [the police] and just having them do a welfare check," Watson said. "What could go wrong? Apparently everything."
"My heart is broken," she added. "I miss her very much."
SUBSCRIBE TO FOX 32 CHICAGO ON YOUTUBE
Two decades ago, as Bratcher was about to go to prison, she gave her then 14-year-old daughter Sabrina Watson a disconcerting order.
If her grandmother should die, bury her under a different name, Bratcher instructed, according to Watson.
"And I said why? And she said, 'Well if you bury her, idiot, under the name Regina Michalski, I won't get her checks anymore and I need those checks,'" Watson recalled.
Watson said she had scanned obituaries for years looking for her grandmother's name. Michalski had not been in good health when Watson last saw her decades ago.
Watson said her mother had blocked her number, and anytime she visited Chicago and stopped by the home, no one would answer.
Estranged for years, Watson at one point took a drastic step to warn people about dealing her mother: She created a Facebook page titled "Keep Eva Michalski/ Bratcher in Prison."
"This page is to alert ANYONE that knows Eva Michalski (aka Eva Bratcher, aka Ewa Michalska and probably other aliases) that she is a DANGEROUS CRIMINAL!" the page says.
Court records show Bratcher was sentenced to four years in prison in 2010 for forgery in Lake County.
In January of 2006, she pleaded guilty to felony counts of forgery in two cases and was given concurrent sentences of six months in the Cook County Jail and two years' probation.
Later in 2006, she was found guilty of misdemeanor counts of battery and violating an order of protection in two other cases, and she was sentenced to concurrent, two-year probation terms.
Bratcher completed her probation sentences without fulfilling the requirements, and she pleaded guilty to violating the terms of her release, records show. She was then sentenced to concurrent two-year prison terms, though she had accrued a significant amount of time served.
She has also faced a range of charges that were dropped, including battery, assault, retail theft, criminal damage to property, and reckless and disorderly conduct.
Prosecutors said Bratcher hid her mother's death from tenants in the building and neighbors by telling people her mother was in a nursing home.
One tenant, Brigitte Yanez, told the Sun-Times said she remembers a conversation she had with Bratcher a few months ago in which Bratcher talked about buying a gift for her mother.
"She would talk about her like she was still here," Yanez said. "I would be very confused because she had told my dad [that her mother] was in a home in Wisconsin."
Bratcher is expected back in court Feb. 21.
The Sun-Times Media Wire contributed to this report.