Colleagues shocked as noted psychologists die in murder-suicide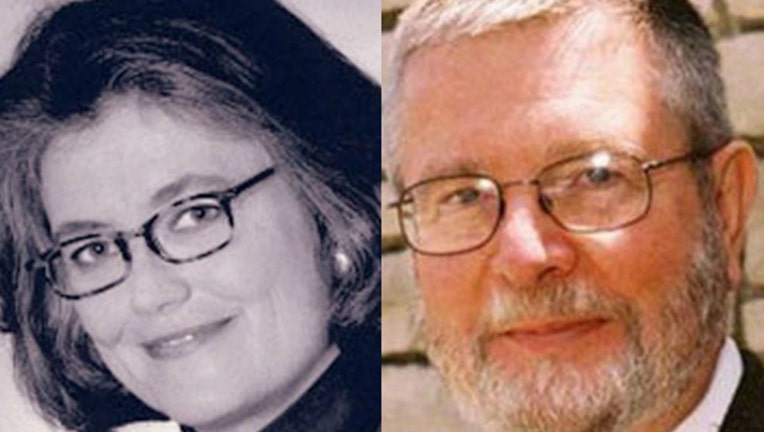 article
CHICAGO (SUN TIMES MEDIA WIRE) - One of the most prominent couples in the psychotherapy field in the city were found dead in their Hyde Park home on Saturday, and colleagues and friends were shocked to learn of the apparent murder-suicide.
Dead are psychotherapist Dr. Margaret L. Shanahan and her husband, popular retired teacher and therapist Dr. Richard Moore, who were found shot to death in their home Saturday morning by police and firefighters conducting a well-being check.
Associates in the psychology and higher education field were saddened and stunned by the news.
"Chicago Theological Seminary is deeply saddened by the deaths of Dr. Margaret Shanahan and Professor Robert Moore," a statement from the seminary said. "Professor Moore was a valued member of the Seminary's faculty from 1977 until his retirement from full-time teaching in 2012."
Officers assisting the Chicago Fire Department with a well-being check in the 1400 block of East 54th Street found a 65-year-old woman and 73-year-old man with gunshot wounds to the head at 9:49 a.m., according to Chicago Police. Both were pronounced dead at the scene.
The medical examiner's office on Tuesday identified the woman as Shanahan, who lived in the home where she was found. An autopsy showed she died of a gunshot wound to the head and her death was ruled a homicide.
On Wednesday, the medical examiner's office confirmed Moore was also killed by a gunshot wound to the head, and ruled his death a suicide.
The couple was heavily involved in the Jungian field of psychology in Chicago, where Stephen Martz, president of the C.G. Jung Institute of Chicago, said he was "stunned" by the news about the couple, whom he had known for years.
Shanahan received a post-doctoral Diplomate in Psychoanalysis from the Jung Institute, where she served on the Board of Directors and as director of programming for several years, according to an online biography. Moore also received a Diplomate from the Jung Institute, where he served as a training analyst.
Martz called them "fine teachers and clinical practitioners" who were "very close, inseparable."
"Margaret and Robert dedicated their lives to love, compassion, and healing–for their patients, their students and one another. That love and compassion is completely at odds with the way their lives ended and why everyone with whom I have spoken is so stunned," he said.
He believes Moore's health may have been a factor in their deaths. "It is hard for me to believe this could have happened without some type of organic impairment," Martz said.
Jason Coulter, pastor of Ravenswood United Church of Christ, was especially hard hit by the news.
"I am grieving in ways that I have never before grieved. I learned this morning that my seminary adviser, mentor and friend, Professor Robert Moore took his own life and that of his wife, Margaret Shanahan," the pastor said in an email.
The professor "helped me in a profound way when I was at a crossroads in my seminary career and taught me so much about God, Spirit, the ministry and the life of a man," Coulter wrote. "He introduced me to 'men's work' via the Mankind Project, and was a sure and steady voice of wisdom. Robert was a true elder, and I loved him dearly."
The pastor also knew Shanahan well.
"His wife Margaret had an equally profound effect on our family: teaching, challenging and encouraging my wife; loving and gifting our children; and sharing her bright spirit with our tribe. She was a kind, generous and giving soul. We were close to them and this hurts so much."
The Chicago Theological Seminary invited "community, alumni, and friends" for "a time of prayer and reflection in remembrance" of the couple on Monday.
Coulter said during the prayer gathering, "Professor Dow Edgerton summed up the feelings of most when he said he had no idea what to feel in the face of such tragedy and confusion and sadness. He leaned upon the words of the Apostle Paul, who counseled the Romans saying, "..the Spirit helps us in our weakness when we do not know how to pray … and that very Spirit intercedes with sighs too deep for words.
"My prayer today is more of an anguished cry than that of a sigh. But God knows them all," he said.
Coulter's wife, Mary Kay Devine, also was deeply touched by the news, calling the couple "two people who were very important to each of us and to our family as a whole.
"Dr. Margaret Shanahan was an 'other-mother' to me. She challenged me and celebrated me. She coached me and guided me. She encouraged me and taught me. And she loved me.
"As I walk through my house in a fog of grief and disbelief, I am reminded that she is still very much here with me. Her generosity of time and spirit and treasure literally appears in every corner of our home," Devine said in an email.
She continued, "My heart is broken and I'm hurting. I'm confused and bewildered and caught in a state of disbelief. Margaret was 65 years old. I anticipated having her in my life for many, many years to come–possibly she would see me turn 65 and I would celebrate her 90th.
"Please keep our family in your prayers as we grieve the loss of Dr. Margaret Shanahan and Dr. Robert Moore. And may they each find peace in heaven."
Both Shanahan and Moore were also involved with the Chicago Center for Integrative Psychotherapy in Hyde Park. She served as clinical director for the center, and worked as an individual, marital and family therapy counselor.
"Her research into the mythic imagination that began in the late 1960s has led to many workshops, seminars, and professional papers examining culture through the artifacts of anthropology, literature, aesthetics, gender, film/fairy tale, and folk art traditions," a bio on the Center's website said. "As an educator she has worked for cross-cultural awareness and equal opportunity for women and minorities for over 40 years."
She also served as an adjunct professor at The Chicago School of Professional Psychology and The Chicago Theological Seminary; and was co-founder with Moore of the Institute for Psychoanalysis, Culture and Spirituality.
Moore, a prolific author in the field of psychology and spirituality, received bachelors degrees in religion and behavioral science; and Masters degrees in psychology, theology, counseling psychology, psychology and religion.
The Arkansas native was most recently a Distinguished Service Professor of Psychology, Psychoanalysis and Spirituality in the Graduate Center of the Chicago Theological Seminary. He was also Director of Research for the Institute for Integrative Psychotherapy and the Center for Integrative Psychotherapy.