ComEd bribery trial: Jury begins deliberating after prosecutors call defendants 'grand masters of corruption'
CHICAGO - Federal jurors have begun to deliberate the case against four former political power players who were labeled Tuesday "grand masters of corruption" for their alleged conspiracy to bribe former Illinois House Speaker Michael J. Madigan to benefit ComEd.
The deliberations come after six weeks of trial. Jurors heard from about 50 witnesses. And they heard a cache of secret FBI recordings resulting from an aggressive probe dating back to 2014 aimed at the once-powerful Southwest Side Democrat.
Now, the fate of four people who once had special access to Madigan is in the hands of 12 jurors, who will consider the merits of the case that ended Madigan's record-breaking grip on power.
Madigan confidant Michael McClain, former ComEd CEO Anne Pramaggiore, ex-ComEd lobbyist John Hooker and onetime City Club President Jay Doherty are accused of arranging for jobs, contracts and money for Madigan allies. The feds say the decade-long conspiracy amounted to an illegal bid to sway Madigan as legislation crucial to ComEd moved through Springfield.
SUBSCRIBE TO FOX 32 CHICAGO ON YOUTUBE
Madigan is charged with racketeering in a separate indictment and faces trial in April 2024. He gave up the speaker's gavel in January 2021, two months after a grand jury handed up the indictment that triggered the current trial.
Jurors retired to begin their deliberations at 3:01 p.m. Tuesday after listening to roughly eight hours of closing arguments. The final pitches were made Tuesday, first by attorneys for Hooker and Doherty, and then by Assistant U.S. Attorney Amarjeet Bhachu, section chief of public corruption and organized crime.
Bhachu explained to the jury that they did not hear the defendants explicitly talking about bribing Madigan on secret FBI recordings because "the defendants were not that stupid. They didn't advertise their criminal activity in a legislative all-hands meeting at ComEd."
"We are not talking about amateurs here," Bhachu said. "They were not playing checkers. They were playing chess. And when it came to chess, Mr. McClain and the other defendants were grand masters of corruption."
Bhachu also rejected the argument that ComEd made significant concessions while negotiating the bills at issue in the case. That legislation took ComEd from a "dire" financial position in the 2000s to record earnings in 2022.
"They got hundreds of millions of dollars through this arrangement," Bhachu said. "Is that not enough?
At the core of the case is $1.3 million federal prosecutors say ComEd paid to five Madigan allies through various intermediaries for do-nothing jobs.
While addressing that allegation, Bhachu displayed the words "This Is Not a Cup of Coffee" on a screen in the courtroom.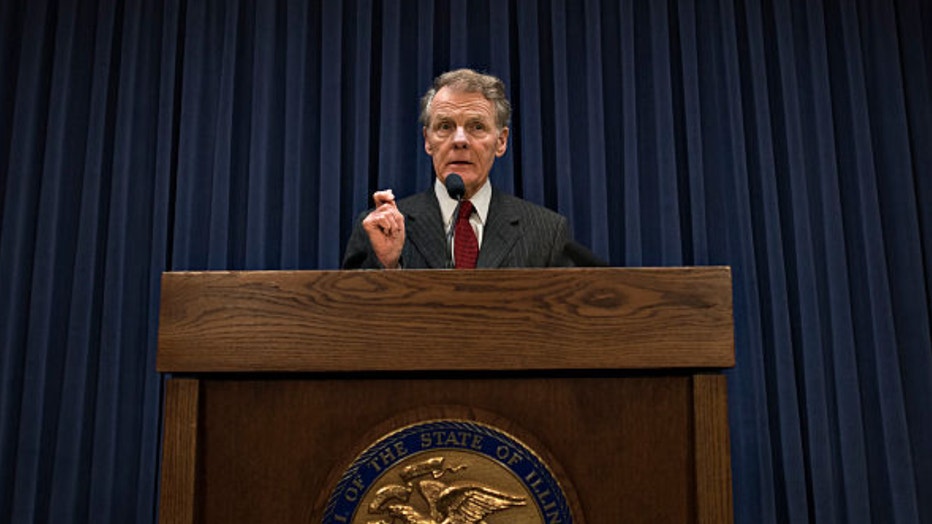 Michael Madigan, speaker of the Illinois House of Representatives and chairman of the Democratic Party of Illinois, speaks during a press conference at the State Capitol in Springfield, Illinois, U.S., on Wednesday, Feb. 18, 2015. Madigan discussed h
Bhachu told the jurors that they heard the "unvarnished truth" in recordings played throughout the trial. And he said what they heard on the witness stand from Pramaggiore and Hooker was "the post-hoc explanation, after the fact, to try to conceal and explain away what was on the recordings."
Finally, while addressing Madigan's absence from the trial, Bhachu told jurors that the United States has "one of the greatest systems of justice in the world."
One reason for that, he said, is because "people in positions of power can be held accountable."
"And they can be held accountable if they break the law by their fellow citizens," Bhachu said.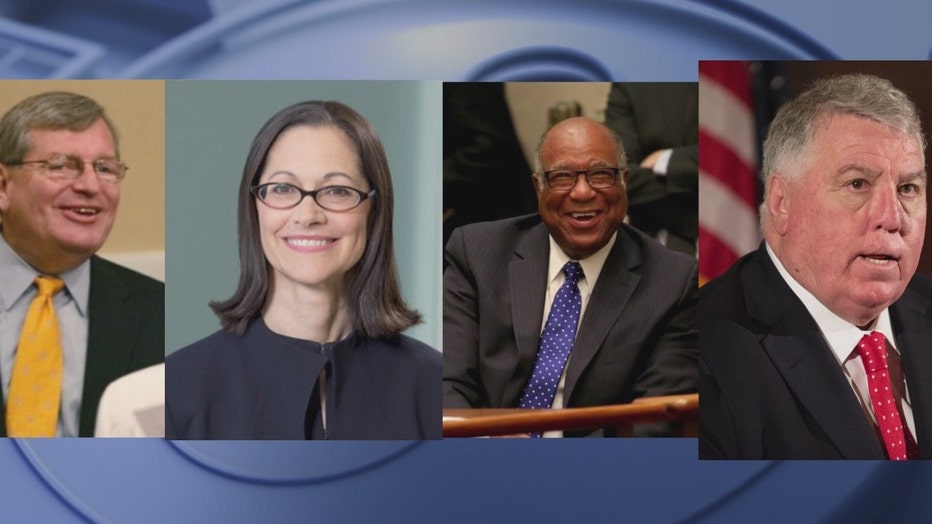 Earlier, attorneys for Hooker and Doherty argued their clients were, in fact, not criminals.
"John Hooker is not a criminal. He is a good and decent man. He never had any corrupt intent. Not in 2011, when he agreed to pay Frank Olivo and Ray Nice and not anytime after that," Jacqueline Jacobson, attorney for Hooker said. "And that is why the government's case against John fails from the very beginning."
Jacobson argued that "maintaining good will with a public official is not illegal." She said access is key to being a good lobbyist, and that is how Hooke operated.
"Without access, there is no lobbying, and lobbying is not illegal," Jacobson said.
Jacobson also ticked off the government's charges, arguing Hooker had nothing to do with Juan Ochoa's ComEd board appointment, the hiring of the Reyes Kurson law firm and the summer internship program.
Michael Gillespie, attorney for Doherty, pointed out that Doherty is only on two of the more than a hundred tapes that were recorded by the FBI and heard by the jurors.
Gillespie also said it was Fidel Marquez's responsibility to have assigned work to the subcontractors, not Doherty's: "There's no question, absolutely no question, it was ComEd's and Marquez' responsibility. Not a doubt."