ComEd bribery trial: Prosecutors hammer at 'stunning' stream of benefits delivered to Madigan
CHICAGO - A defense attorney for a longtime friend of former Illinois House Speaker Michael Madigan called on a federal jury Monday to "be the shield" between a private citizen and a "very powerful government committed, dedicated and on a mission to get Mike Madigan."
But federal prosecutors asked that same jury to reject the idea that a "stunning" stream of benefits allegedly delivered to Madigan by that friend and three others amounted to anything other than bribery, albeit not in the traditional cash-in-an-envelope sense.
"There isn't an envelope big enough in this world to fit all the money that they made ComEd pay out," Assistant U.S. Attorney Diane MacArthur said.
The comments came as lawyers spent more than five hours Monday making their closing arguments in the trial of four former political power players on trial for a conspiracy to bribe Madigan. On trial are Madigan confidant Michael McClain, former ComEd CEO Anne Pramaggiore, ex-ComEd lobbyist John Hooker and onetime City Club President Jay Doherty.
The four are accused of arranging for jobs, contracts and money for Madigan allies in an illegal bid to sway Madigan as legislation crucial to ComEd moved through Springfield. Their trial is now in its seventh week, and jurors could begin deliberating Tuesday.
Madigan is charged with racketeering in a separate indictment and faces trial in April 2024.
SUBSCRIBE TO FOX 32 CHICAGO ON YOUTUBE
Central to the current trial is an allegation that ComEd paid $1.3 million to five Madigan allies through various intermediaries, including a consulting firm owned by Doherty. The recipients of that money allegedly did little or no work for it, and MacArthur said the defendants knew it.
She said the arrangement was conceived by McClain and Hooker, implemented by Doherty and adopted by Pramaggiore.
The prosecutor showed jurors a pair of timelines. One reflected the passage of key bills that took ComEd from a "dire" financial position in the 2000s to record earnings in 2022. The other showed various benefits given to Madigan associates as part of the alleged scheme.
The timelines showed that the alleged benefits tended to be delivered around the time legislation was passed.
MacArthur also alleged that an effort to appoint former McPier boss Juan Ochoa to ComEd's board, begun in 2017, was a "reward given by Anne Pramaggiore to Madigan" for his help passing the Future Energy Jobs Act in 2016.
The prosecutor accused Pramaggiore and Hooker of lying on the stand last week, including when Pramaggiore said she didn't grasp Madigan's connection to the subcontractors until after she learned of the feds' investigation.
Though FBI cooperator Fidel Marquez told her in a recorded Feb. 18, 2019, phone call that the subcontractors "pretty much collect a check," Pramaggiore testified that she didn't realize he was talking about people tied to Madigan.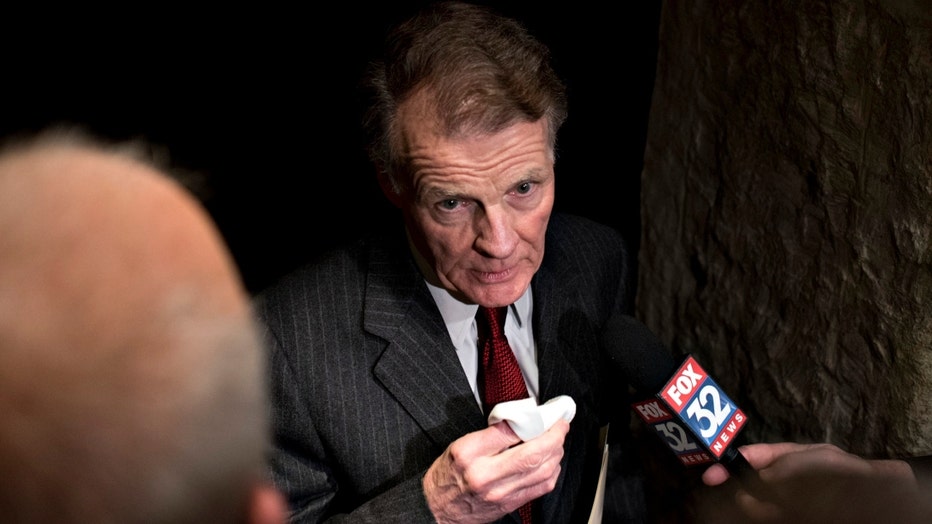 Michael Madigan, as speaker of the Illinois House of Representatives and chairman of the Democratic Party of Illinois, speaks to the media following a press conference at the State Capitol in Springfield, Illinois, U.S., on Wednesday, Feb. 18, 2015.
MacArthur told the jury on Monday that Pramaggiore told them a "flat-out lie." The prosecutor pointed to another recorded call between Pramaggiore and McClain from May 2018 in which the pair discussed one of the subcontractors at issue, former Ald. Michael R. Zalewski. In that call, Pramaggiore said she'd told Marquez, then a ComEd executive, to hire Zalewski.
Marquez had not begun to cooperate with the FBI at that point.
Pramaggiore and McClain then discussed whether Madigan should call Zalewski to tell him about the subcontracting job.
"She said to you that the Feb. 18, 2019, conversation proves her innocence," MacArthur told jurors. "Members of the jury, that's flat-out wrong. That proves her guilt."
Still, Pramaggiore defense attorney Scott Lassar later insisted to jurors that Pramaggiore's innocence is "conclusively proven" by the call. Pramaggiore testified that she'd forgotten about it, and Lassar said it would have been "suspicious if she did remember" it. Lassar also argued that Zalewski's hiring was legitimate because he was expected to help negotiate a new franchise agreement between ComEd and City Hall.
That negotiation was short-circuited when then-Mayor Rahm Emanuel announced in 2018 that he would not be running for re-election, creating uncertainty over who would be Chicago's next mayor.
Patrick Cotter, McClain's attorney, tried to downplay the government's narrative on everything from Madigan's power to McClain's pushiness on government tapes. Of the allegation that ComEd saved spots for Madigan's 13th Ward applicants for its internship program, Cotter said, "in life, people sometimes play favorites. It doesn't violate the bribery law."
Of the power held by the longest-serving statehouse speaker in the nation who was widely known as the "Velvet Hammer," Cotter agreed Madigan was "powerful" but "Michael J. Madigan does not have quite the power the government says he does."
He told jurors the government tried to show that Madigan had the power to kill ComEd's bills — but because he didn't, he must have been bribed.
"That doesn't even make sense," Cotter exclaimed.
While once again pointing out that "lobbying is just lobbying, and politics is just politics," Cotter thanked jurors for their service and made one final request.
"Be the shield that you were meant to be. The shield between an individual citizen and a very powerful government, in this case a very powerful government committed and dedicated to getting Mike Madigan," Cotter said. "Don't let Mike McClain be collateral damage in that war."