ComEd bribery trial witness pays price on stand as defense grills him over his decision, his personal life
CHICAGO - Fidel Marquez made a decision four years ago that might have saved the longtime ComEd executive from dying in prison: He joined Chicago's long list of government moles and began to secretly record his friends and colleagues for the FBI.
But Thursday, while being grilled on a federal witness stand, Marquez learned that decision can come with a price. With the eyes of his since-indicted former co-workers burning in Marquez's direction, defense attorney Patrick Cotter pointed their way.
He demanded of Marquez, "You didn't choose to sit over there, did you?"
"You decided to become their worker," Cotter said, referring to the feds. "And make calls when they wanted to make calls, and go to meetings and tell lies they wanted you to tell."
Marquez acknowledged he'd struck a deal with the federal government, exchanging his cooperation and testimony for his likely freedom. But in a trial exploring the difference between political favors and criminal conduct, Cotter had one more question to ask.
"That wasn't a bribe, was it?" Cotter said.
Marquez said it wasn't.
SUBSCRIBE TO FOX 32 CHICAGO ON YOUTUBE
A short time later, another defense attorney quickly stuck in the knife, asking Marquez about $400,000 he'd apparently given to a girlfriend to hide it from his ex-wife in divorce proceedings.
"You've lied in the past to benefit yourself," defense attorney Jacqueline Jacobson said.
The intense and embarrassing scene came on the fourth day of Marquez's testimony in the trial of four former political power players who are accused of trying to bribe former Illinois House Speaker Michael Madigan to benefit ComEd.
Madigan confidant Michael McClain, ex-ComEd CEO Anne Pramaggiore, former ComEd lobbyist John Hooker and onetime City Club President Jay Doherty are accused of arranging for money, jobs and contracts for Madigan allies in an illegal bid to influence Madigan.
Cotter represents McClain, and Jacobson represents Hooker.
Though federal prosecutors have developed a now-known bevy of once-secret cooperators — including former Ald. Danny Solis, Cinespace President Alex Pissios and former state Sen. Terry Link — none have recently taken the witness stand to face the kind of grueling cross-examination faced by Marquez on Thursday.
It is expected to continue Monday. Not only that, but Marquez is a key witness in Madigan's separate racketeering trial, set for April 2024, in which McClain is also charged.
That means Marquez and Cotter could one day meet again.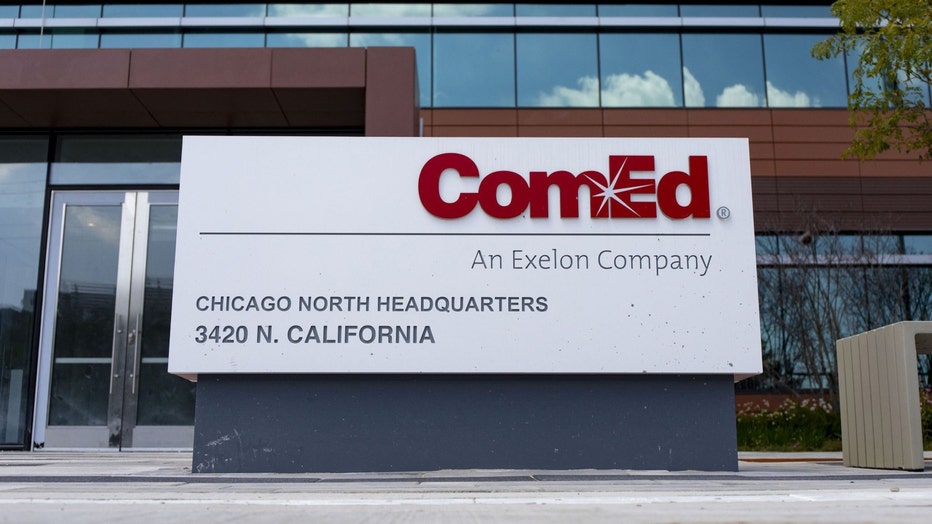 A ComEd headquarters building, July 17, 2020, in the 3400 block of North California Avenue in Chicago. (Brian Cassella/Chicago Tribune/Tribune News Service via Getty Images)
Cotter hammered down on the day Marquez was approached by FBI agents in January 2019, as he tried to cast doubt on Marquez's quick decision to become a government informant without consulting a lawyer.
It was "still dark" at 6 a.m. on a cold day when FBI agents arrived at Marquez's mother's house, put him in a car, drove him to a parking lot and convinced him to cooperate within just two hours, Cotter noted.
The defense attorney tried to get Marquez to explain why he decided to cooperate, noting that there are no recordings of the encounter — though an agent testified that they prepared reports. Cotter also detailed that Marquez participated in 55 meetings with the government since that first encounter.
"By the end of that two hours, you had decided, without consulting with anybody on the planet, except possibly the two FBI agents, that you were going to cooperate with the government and become a confidential source … wearing a recording device and recording your friends and co-workers, right?" Cotter asked.
Marquez responded, "Yes."
Marquez earlier this week offered that he was "scared" when authorities approached him. Cotter on Thursday asked him why he was afraid.
"I was afraid because of the recordings that I heard," Marquez said. And "what might happen as a result of that."
Cotter asked Marquez whether he believed at that time that he might be charged with a crime, "Initially I did not," Marquez said.
"But did you tell them you didn't think you committed a crime?" Cotter asked.
Marquez responded, "Yes."
Marquez has been forced to walk a fine line during his 20 hours of testimony — as he tries to protect himself from anything that would undermine his September 2020 guilty plea to a bribery conspiracy and his efforts to avoid prison time.
Though sentencing guidelines show he could have faced more than 30 years in prison, Marquez told the jury he expects prosecutors to recommend probation in exchange for his truthful testimony.
Cotter also used his cross-examination to try to reframe some of the damaging recordings Marquez made of McClain, which jurors viewed earlier this week.
Marquez told McClain and others at the time that he was preparing to explain a contract between ComEd and Doherty's consulting firm to a new ComEd CEO, Joe Dominguez. Federal prosecutors say McClain, Pramaggiore and Hooker were using Doherty's contract to funnel more than $1 million to Madigan allies who had been given do-nothing jobs.
In some of those recordings, McClain referred to the contract as a "favor," comparing it to a hire made at the recommendation of Michael Carrigan, then the president of the Illinois AFL-CIO.
"This was a favor to earn goodwill … not a bribe," Cotter said.
Cotter also sought to poke holes in a flurry of government emails that showed the lengths to which McClain and Marquez went to try to hire people Madigan recommended, including Kathleen Laski, the wife of convicted former city clerk Jim Laski.
Prosecutors are trying to prove that the Madigan hires were made in an effort to influence legislation. But Cotter asked Marquez whether the Laski efforts were in any way related to FEJA, one of the ComEd pieces of legislation in question in the bribery case.
"What are you intimating?" Marquez shot back.
Cotter asked whether Laski's hiring "to get a job at some entry level had something to do with whether FEJA passed."
Marquez responded, "No, that was never stated."
"You never thought that was the case did you? You didn't think that if we didn't find somewhere to put that poor lady that FEJA, all the eight years will go down the toilet because Madigan will destroy us?" Cotter asked.
But Marquez responded, "I thought it was a request I had to fulfill because we were in the midst of FEJA."