Cook County man said he'd 'be out by Sunday' after armed carjacking — will now serve 22 years in Will County
WILL COUNTY, Ill. - A Harvey man has been sentenced to 22 years in prison after carjacking an Uber Driver in Chicago and then leading police on a high-speed chase into Will County last year.
Jordan Henry, 29, was found guilty in January of three counts of aggravated vehicular hijacking, two counts of armed robbery, two counts of attempted aggravated vehicular hijacking, aggravated unlawful possession of a stolen motor vehicle, two counts of theft, unlawful possession of a weapon by a felon, aggravated fleeing or attempting to elude a peace officer and striking a police animal. 
At 10:55 a.m. on Feb. 23, 2022, Henry was armed with a handgun and attempted to carjack an individual who was getting into his vehicle outside a 7-Eleven in Lincoln Park.
Henry pointed the gun at the victim's face and the victim fled the scene with the car keys. Henry stole the victim's phone from his car before fleeing the scene in his own vehicle.
About 25 minutes later, Henry aimed his gun at the body of a 69-year-old man in a black Volkswagen Jetta at 1802 Diversey Parkway who was working as an Uber driver.
Henry ordered the man out of the vehicle at gunpoint and fled the area in the Jetta.
Law enforcement located a vehicle matching the Jetta's description being driven on Interstate 94 and attempted to initiate a traffic stop.
Henry accelerated and led police on a pursuit that continued southbound on I-94 to I-80 to I-294 northbound and onto I-55 in Will County, where the vehicle reached speeds exceeding 100 mph.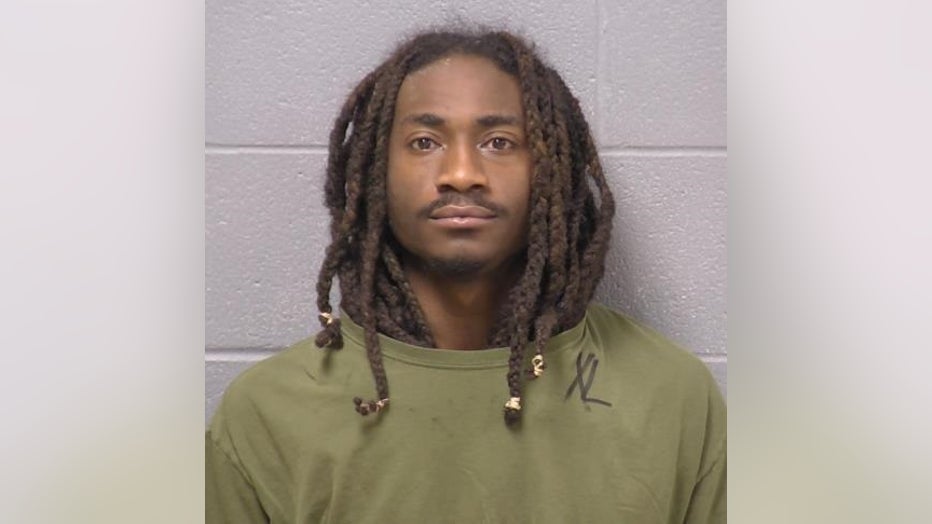 Shorewood police placed "stop sticks" tire deflation devices on the roadway, which caused the vehicle's tires to deflate. Henry continued to travel on the flat tires until he lost control of the vehicle and almost struck a police squad car before crashing into a grass embankment area off I-55 near I-80, prosecutors said. 
SUBSCRIBE TO FOX 32 ON YOUTUBE
Henry then got out of the vehicle and led police officers on a foot chase. An Illinois State Police K-9 was deployed and attempted to stop Henry, who then began to punch the police K-9 as he attempted to get away. Henry ran into a marshy area, where he was taken into custody.
Henry was detained on a $1 million bond until his trial. He tried to dismiss the action in Will County, saying that it should be tried in Chicago where the carjacking occurred.
The motion was denied. 
"Henry is a dangerous, violent criminal with a laundry list of prior convictions and current outstanding charges including a violent aggravated criminal sexual assault that took place while he was out on bond for other charges. In fact, he committed the crimes in this case while out on bond in Cook County in yet another case, involving the possession of a stolen vehicle," Will County State's Attorney James Glasgow said. "The $1 million bond in Will County guaranteed the public's safety from this violent offender and his appearance in court while he awaited his trial. During his arrest, Henry told detectives he would 'be out by Sunday.' He found out that here in Will County, we prosecute crime and take the public's safety seriously. This violent offender will finally be off the streets and in prison where he belongs."
He will receive 424 days credit for time served.
At the time Henry was arrested in Will County, he had been out on a Cook County bond after paying the necessary $1,000 for a possession of a stolen motor vehicle charge. 
The case is still pending with an outstanding warrant.
Henry is also currently facing charges in Cook County on two counts of aggravated kidnapping with intent to inflict harm, four counts of aggravated criminal sexual assault and two counts of aggravated robbery with a firearm and aggravated battery in a public place that allegedly occurred on September 26, 2021. 
Additionally, there is an outstanding warrant of arrest against Henry in Lake County, Indiana on a charge of Theft.
Additional cases are pending against Henry in Cook County including fleeing and eluding, reckless driving/disorderly conduct in connection with six companion cases, retail theft, criminal damage to property in an amount less than $500 and various traffic and ordinance violations.
Henry has also been convicted of robbery and retail theft.