CPD Supt. Johnson set to announce record-low shootings in Englewood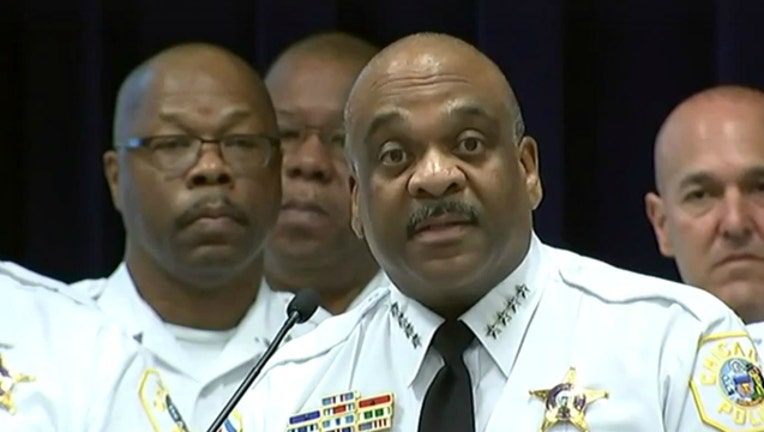 article
CHICAGO (SUN TIMES MEDIA WIRE) - Chicago Police Supt. Eddie Johnson is set to announce Thursday that murders and nonfatal shooting totals in the Englewood District — long one of the most violent in the city — are on pace to reach historic lows in 2017.
At the City Club of Chicago, Johnson is expected to announce that the overall decline of shooting incidents in Englewood — 158 as of Oct. 31 — is due in large part to the CPD's implementation of tech-based crime-fighting strategies that gel with community policing, the Chicago Sun-Times is reporting.
During the same time period in 2016, the Englewood District recorded 302 shooting incidents — nearly double 2017's total — according to the University of Chicago Crime Lab, which analyzed CPD data.
If gun violence trends in Englewood hold steady through the rest of 2017, the district is expected to see the fewest incidents of gun violence in any year going back to 1999.
"The crime reduction in Englewood is at a historic high," Johnson told the Sun-Times on Wednesday. "We're not claiming victory, but that's progress."
The Crime Lab began analyzing CPD's shooting data this year. As soon as the CPD implemented ShotSpotter gunshot detectors along with its data "nerve centers," which allow crime analysts to decipher criminal patterns and data, instances of gun violence fell dramatically, data show.
However, because the data has been collected for less than a year, researchers and analysts at the Crime Lab are not yet ready to definitively link the new tech tools to the drop in crime — though there's little doubt in the minds of some.
"I don't think there is any other plausible explanation for what we're seeing," said Roseanna Ander, founding executive director of the Crime Lab.
The Crime Lab's findings have not been published yet.
While 2017's violence numbers in Englewood are down from 2016, they are still far ahead of 2015, when 26 people were murdered in the district through the end of October, records show.
On Tuesday, Chicago recorded its 600th homicide of 2017, including shootings, assaults and other types of incidents, according to data maintained by the Sun-Times. The city ended last year with 781 homicides and hit the 600 mark on Oct. 17, 2016.
The city has expanded its tech-based policing strategies to five other districts in 2017 and has plans to implement them in six more of the city's most violent districts in 2018, according to department officials.
In January 2018, the department will expand its tech-based efforts to the South Chicago and Grand Crossing Districts on the South Side.
Johnson said that commanders of districts already equipped are working with each other to learn best practices.
"They are sharing ideas and strategies all the time," Johnson said.
The superintendent added that, while gunshot detection technology has helped officers respond more quickly to gunfire, it has also helped improve community-police relations.
"Now we respond to exactly where these shots were fired," Johnson said. "Now we can knock on people's doors to make sure they're OK. That's strengthened the trust in the police department."