Democrats try another partial spending plan; Rauner opposed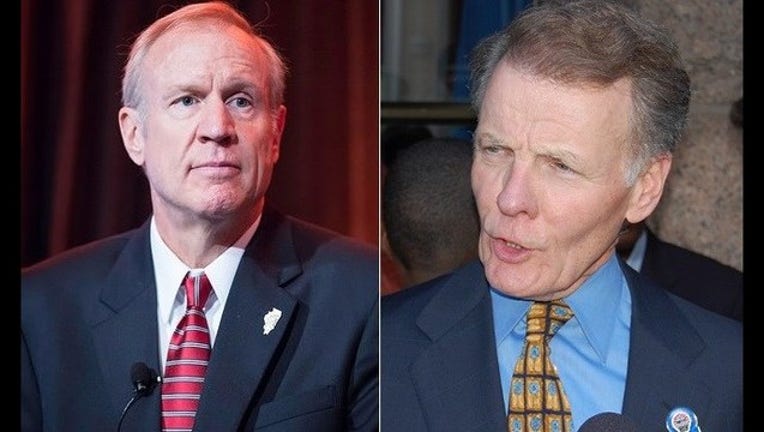 article
SPRINGFIELD, Ill. (AP) — Illinois Democrats attempted another flanking maneuver Tuesday around Republican Gov. Bruce Rauner on the nearly four-monthlong budget impasse, moving legislation to free up money already collected by the government that is owed to city governments, lottery winners, emergency service providers and more.
But after a daylong session in the capital, like many before it since the General Assembly's official May 31 adjournment, there was nothing much to show. A stalemate between the Democratic-controlled General Assembly and the Republican governor has left the state without a budget that was supposed to take effect July 1.
Even the spending plan didn't make it to the floor. The Executive Committee advanced the measure to release $1.9 billion, including money collected as motor fuel tax owed to cities, wireless phone tax money for 911 service providers and lottery fund money to pay winners, after many payouts were suspended.
Rep. Martin Moylan, a Des Plaines Democrat who sponsored the legislation, said local governments are hurting because without a budget, there's no appropriation authority to spend even the money the government is collecting.
Rauner has held firm on his demand that before he agrees to a budget, Democrats accede to what he calls fundamental "reforms" to the business and political climates to boost the economy and restore faith in government.
His spokeswoman, Catherine Kelly, said the legislation is "another attempt by the Democratic majority to piecemeal together a budget that will force a tax hike on hardworking families."
Lawmakers also voted overwhelmingly to appoint longtime state Rep. Frank Mautino to be Illinois' next auditor general. The Spring Valley Democrat will replace William Holland, who announced earlier this year he will retire at year's end.
Mautino has served in the Legislature since he was chosen to fill his father's seat after the elder's unexpected death in 1991. The Senate voted unanimously to appoint him to the job overseeing audits of state agencies. The House approved the appointment 102-10.
The 53-year-old Mautino has been a loyal Democrat in the House and has since 2011 been deputy majority leader under longtime Speaker Michael Madigan of Chicago. But even Republicans agreed the arrangement has worked well under Holland, who was elevated from chief of staff to the Democratic Senate president in 1992. Rauner agreed.
"The governor is confident Rep. Mautino will continue the excellent work of Auditor General Bill Holland while working for the citizens of Illinois," Kelly said.
A House committee also advanced a plan backed by Chicago Mayor Rahm Emanuel to give some homeowners a tax break as he seeks a massive city property tax increase to help cover the cost of police and fire pensions.
Supporters say the doubled property tax exemption makes the $543 million hike more equitable, though businesses and business associations are opposed because they say they'd take on the added tax burden.
___
The spending plan is HB4305.
Online: http://www.ilga.gov
___
Associated Press reporter Sophia Tareen in Chicago contributed to this report.
___
Contact John O'Connor at http://twitter.com/apoconnor and Sara Burnett at http://twitter.com/sara_burnett .