Dog rescued after he was shot, tied up and mouth taped shut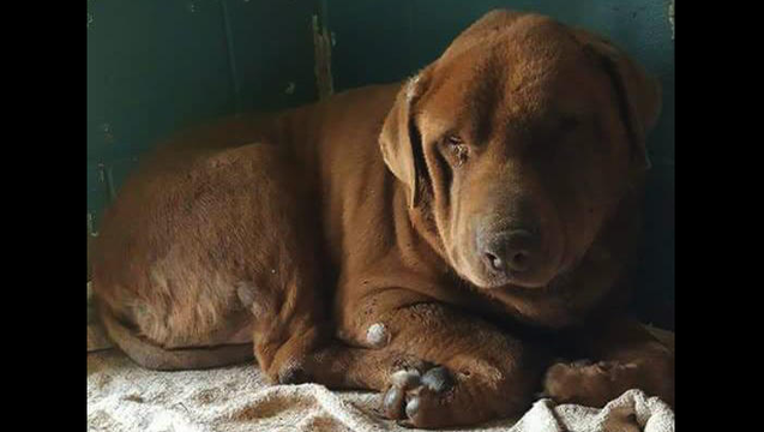 article
URBANA, Ill. (AP) - A Labrador mix dog that had been shot and tied to an Illinois bridge with his mouth taped closed so he wouldn't bark was starting to show signs of recovery from a long list of injuries, a veterinarian said Wednesday.
The dog, known as Bear, has a broken jaw, wounds from shotgun pellets and infected eyes, among other problems. University of Illinois veterinarian Maureen McMichael said he may have been tied to the bridge for more than two days before he was discovered on April 20 near Sibley, about 120 miles south of Chicago.
But Bear is showing signs of what McMichael called resilience, responding well to human interaction and, on Wednesday, eating canned dog food. She said it was the first food he's been able to eat at the university's clinic.
In Ford County, where Bear was found, Sheriff Mark Doran says investigators have identified potential suspects but so far have not made arrests because there apparently are no witnesses.
"I'm a dog lover," Doran said. "Believe me, we are working hard on this."
Darrell Foster, Ford County's animal control warden, said he was called to the bridge April 20 after a local resident found Bear while out walking his own dog.
According to Foster, the dog was tied to a high spot on the bridge so he could just touch his paws to the ground. Bear's mouth was taped closed, apparently so no one could hear him bark.
"The person (who did this) obviously is sick," Foster said.
A local campaign has raised more than $8,000 to help cover the cost of treating the dog and a number of people have volunteered to give him a home, said Angie Cleary, who works at Gibson Veterinarian Clinic and initially helped treat Bear.