Donations pour in for tornado victims; How you can help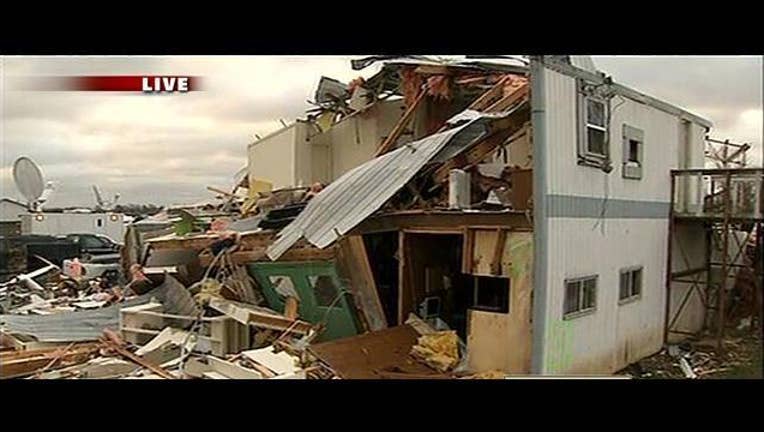 article
Just hours after a twister touched down in Fairdale, Ill., the supplies started pouring in.
Volunteers from down the street, all the way to Tennessee came together for a bigger cause.
Missy Braswell says she lives just 5 miles from where the tornado tore though. It missed her house, so she went to help those who lost it all.
"They lost everything. I have a roof over my head. They've got nothing, but they deserve something. So it never hurts to pay it forward," Missy told FOX 32's Alexa Helms.
Truckloads of toilet paper, water, food and supplies were brought to the Kirkland Community Fire District to help those who were displaced.
Schools were shut down after the tornado, so kids came to volunteer to help their small community with a big heart.
"As a small community, we always come together no matter what in the good in the bad. It's an overwhelming amazing thing to see. It does give you hope that the residents are going to have what they need," one resident said.
The tornado may have knocked down Fairdale, but friends and neighbors say it hasn't knocked down this community.
"We will do whatever it takes to get you back in a home."
Anyone locating personal items (i.e. photos, valuables, keepsakes) suspected to be from tornado damage are asked to bring the items to the nearest County Sheriff's Office. Items will be held and affected residents may obtain their items from the Ogle Sheriff's Office at a later date.
Illinois Counties:
Ogle County Sheriff's Office – 815-732-6666
DeKalb County Sheriff's Office – 815-895-2155
Boone County Sheriff's Office – 815-544-9322
Winnebago County Sheriff's Office – 815-319-6000
McHenry County Sheriff's Office – 815-338-2144
Lake County Sheriff's Office – 847-549-5200
Wisconsin Counties:
Kenosha County Sheriff's Office – 262-605-5100
Rock County Sheriff's Office – 608-757-8000
The American Red Cross website has a donation tool allowing you to specify that funds be directed to a specific chapter. CLICK HERE.
State of Illinois employees and retirees can direct a payroll deduction to the American Red Cross. CLICK HERE.
The site also offers a direct link to the American Red Cross for those who are not state employees or retirees.The Salvation Army is accepting monetary donations online or by phone at (800) 725-2769 or donate.salvationarmyusa.org/metropolitan/tornado. To make an automatic $10 donation, text SACHICAGO to 80888.
A Facebook page titled Fairdale, IL Tornado Recovery has been established, which includes updates on how to help and items needed items for donation.
The community of Washington has come to the aid of those suffering in Fairdale by creating the Fairdale Tornado Relief fundraiser. Click here to donate.
There is also a page for Fairdale and Rochelle Pet Recovery to help displaced animals.
The Elgin Fire Department has set up drop off sites for those wishing to contribute items of immediate need. Requested items include work gloves, flashlights, heavy-duty garbage bags, cleaning supplies, laundry supplies, first aid kits (in Ziploc bags if possible), pet food, ibuprofen (Advil or Aleeve), hand sanitizer, toiletries, baby clothes, batteries (AA or D), baby formula, plastic silverware, non-perishable items, playpens and gently used car seats. No longer needed are blankets, towels, wash clothes or water. Items can be dropped off between 7 a.m. and 7 p.m. at either Elgin Fire Station — 550 Summit St. or 650 Big Timber Rd. Donations will be accepted through Tuesday, April 14.
The West Chicago Fire Protection District will accept items for donation to DeKalb COunty tornado victims at Fire Station 6 at 200 Fremont St. Items needed are bottled water, non-perishable food, new or slightly used clothing, toiletries, paper goods and gift cards. Items can be dropped off between 8 a.m. and 5 p.m. through April 18.
Financial contributions for Rochelle victims can be made at rochellefoundation.org.
Devon Seafood Grill at 39 E. Chicago Ave. in Streeterville will donate 50 percent of main dining room sales from 5-11 p.m. Saturday, April 11, to benefit tornado disaster relief. "Our hearts go out to those affected by the storms that ripped through north central Illinois last night, and Devon Seafood Grill would like to offer a hand of support to those displaced and impacted by the tragic events." Director of Operations Jason Snelson said. For details, go to www.DevonSeafood.com/Chicago.
Operation Blessing International has deployed its domestic disaster relief team and an advance team arrived in Rochelle on Friday to assess damages and meet with local emergency management authorities. A convoy of disaster relief equipment left Chesapeake, Va., including a mobile command center, construction trailer, supply truck packed full of volunteer supplies and tools, and a mobile kitchen. Operation Blessing will likely call for volunteers as soon as Saturday. For more information, visit www.ob.org.
The Council of Islamic Organizations of Greater Chicago is asking members and member organizations to collect donations for tornado relief at Jumuah prayers on Friday, or to make donations, and channel them through CIOGC. Individuals who want to contribute to relief efforts can donate to CIOGC and mark the donation as "Tornado Relief."