E-scooter on the freeway; man seen riding on the shoulder of I-94
MILWAUKEE COUNTY, Wis. - Wisconsin Department of Transportation (WisDOT) cameras capture a man riding an e-scooter on the shoulder of southbound I-94 between Rawson Avenue and Ryan Road on Thursday morning, May 11. 
The Milwaukee County Sheriff's Office (MCSO) was made aware of the scooter rider around 7:40 a.m. Thursday. 
"I heard it and my first thing was to log into the cameras," said Daniel Hansen of the MCSO.
SIGN UP TODAY: Get daily headlines, breaking news emails from FOX6 News
The person appeared to be riding a Lime scooter – as semis, SUVs and cars passed him at freeway speeds. 
"It's dangerous for the guy on the scooter, but also for people driving," Hansen said.
Officials say the rider exited the freeway at Drexel Ave., re-entered the freeway on the southbound Drexel on-ramp, and continued south.
At one point south of Drexel, the person on the scooter even passed a construction crew that was parked on the side of the road. The man rode the scooter into the grass next to the shoulder and kept going. The people on the construction crew just looked on.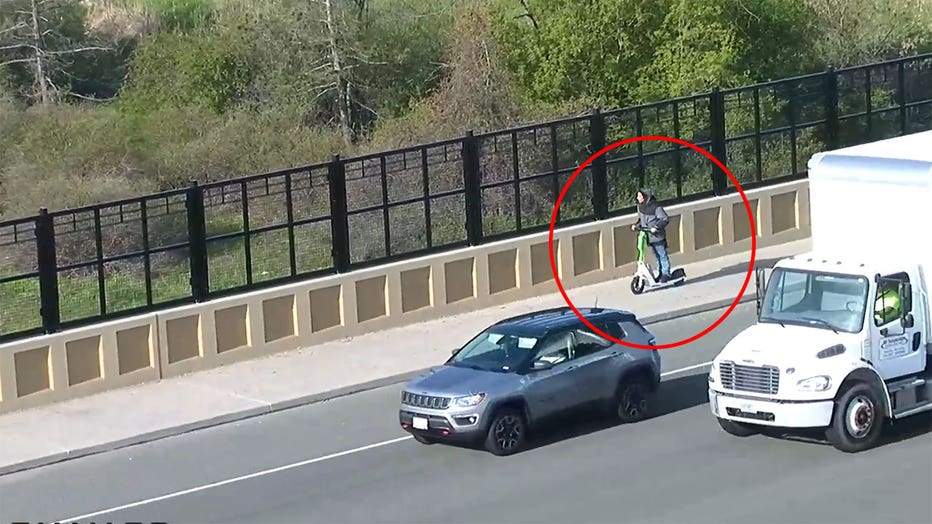 Scooter rider heads east on Ryan Road
The scooter rider continued on I-94 south and exited at Ryan Road – the entire time, the WisDOT cameras followed him. 
After exiting at Ryan Road, the rider went east on Ryan Road. At one point, tried to jump a curb and fell off the scooter. 
The scooter rider picked himself up and went south on S. 13th Street.
A Milwaukee County Sheriff's Deputy dispatched to the area was unable to locate the scooter rider.
"By the time we got down to the south side of the highway, he had gotten off the freeway, and he was gone," Hansen said. "A lot of times when we get people on the freeway, their response is 'Well I was just following my GPS.'"
"Normal" patrols continued, and deputies have kept an eye out for this individual or anyone else engaging in illegal and/or dangerous movement on the freeway system.
FREE DOWNLOAD: Get breaking news alerts in the FOX6 News app for iOS or Android
Lime spokesperson statement
This rider behavior is as rare as it is unacceptable. We have found and banned the rider and will continue our work in partnership with the city to encourage riding safely and respecting the law, which is what the vast majority of our riders do. 
Over 99.99% of our rides are completed without reported incident. Ridership in Milwaukee has been strong this year and our safety record has been as well.
We're working with the city to take appropriate action, and we are ready to assist law enforcement in their investigation.
We are working with the city to investigate how this happened and adjust our technology to prevent it from happening again.