Ex-Illinois Rep. John Anderson, who ran for president, dies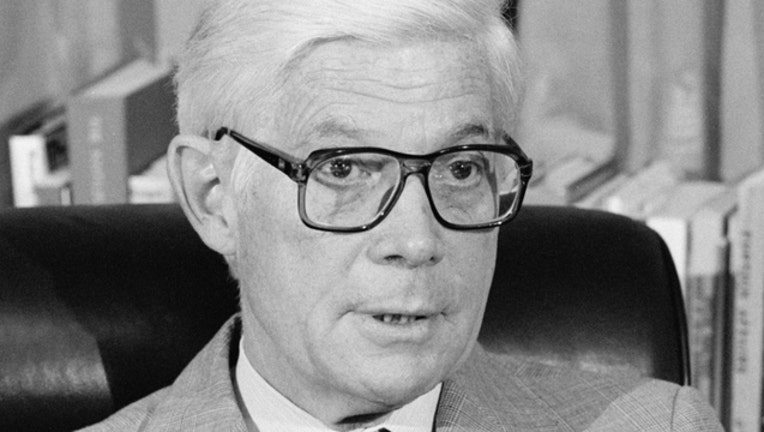 article
CHICAGO (AP) - Former longtime Illinois Rep. John Anderson, who ran for president as an independent in 1980, has died at age 95.
The World War II veteran and former prosecutor died Sunday night in Washington, his daughter, Diane Anderson, told The Associated Press.
The 10-term GOP congressman originally sought the Republican presidential nomination in 1980, but he later waged an independent campaign against Democratic President Jimmy Carter and Republican challenger Ronald Reagan. Anderson received 7 percent of the national vote.
Diane Anderson said her father became disillusioned with the direction of the Republican Party and what he saw as a move to the far right.
"He really, really believed the two-party system was broken in 1980," she said. "He wanted to express that, and he did."
Anderson was raised in a conservative home, the son of Swedish immigrants who read the Bible daily and attended church each week, and his strong faith remained a constant throughout his life, his daughter said.
She said he "evolved both personally and professionally on social issues" through the civil rights movement of the 1960s, and was proud to cast the deciding vote in the House Rules Committee for the Open Housing Act of 1968, which prohibited discrimination in the sale, financing or rental of housing.
Anderson served as chair of the House Republican Conference for 10 years before stepping away from the leadership post and his House seat to run for president.
Anderson was from Rockford, about 80 miles (129 kilometers) northwest of Chicago, and earned a law degree from the University of Illinois. He was elected Winnebago County state's attorney, serving from 1956 until he won his congressional seat in 1960. He served in Congress until 1981.
Republican U.S. Rep. Adam Kinzinger, who now represents Illinois' 16th Congressional District, called Anderson an inspiration.
"He believed that his job was worth giving up in order to set a better example of realism in politics," Kinzinger said in a statement. "We are better for his candor, his focus, and his honesty."
Anderson is survived by his wife of 64 years, Keke, five children and 11 grandchildren.
His family said a memorial service will be planned for early spring in Washington.