Family of Downers Grove grandmother killed in Metra train crash says accident was 'preventable'
CLARENDON HILLS, Ill. - The National Transportation Safety Board is investigating a fatal Metra crash in Clarendon Hills on Wednesday that took the life of a Downers Grove woman.
Christina Lopez, 72, was killed when the Metra train she was a passenger on collided with a box truck that was stopped on the tracks.
Around 8:18 a.m. Wednesday, as her train approached the Prospect Avenue crossing in Clarendon Hills, it slammed into a moving truck.
"At that point, the truck was struck by the cab car and pivoted around to the right side of the train going forward, and the back end of the truck struck the right side of the cab car and caused some extensive damage," said NTSB Vice Chairman Bruce Landsberg.
The driver of the truck and its two passengers got out before the impact, but why it was stopped, NTSB officials said is still unclear.
"I think that's going to be one of the key questions we have. We don't know if the engine of the truck was running, was it stalled," said Landsberg.
Lopez was ejected upon impact and died.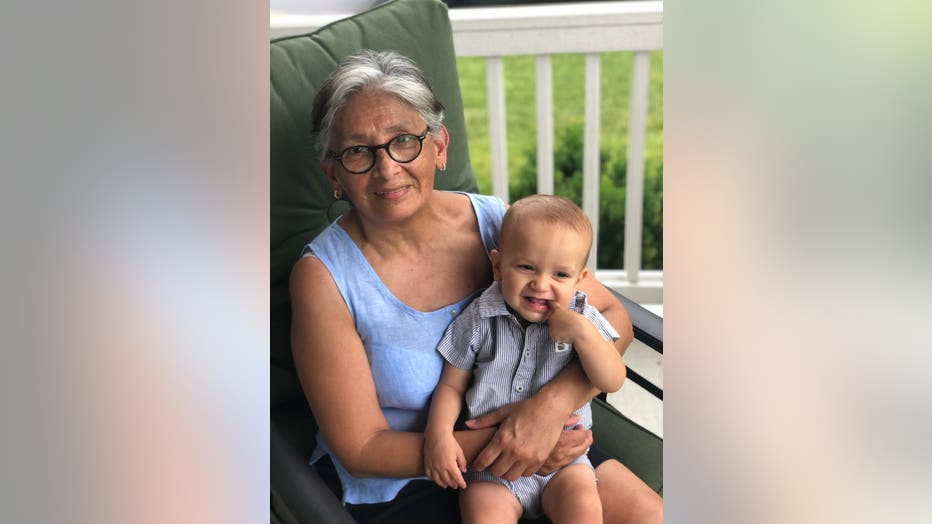 Christina Lopez | Provided photo
Four others on the train were injured during the crash – two passengers, the engineer, and the conductor.
Investigators, on Thursday, said a train's speed in that area is limited to 70 miles per hour. During the course of their investigation, officials will be able to determine exactly how fast the train was traveling.
"At those speeds, it takes about a mile to stop one of these trains. And we believe that the engineer started maximum emergency braking well before the point of impact at the crossing," said Landsberg. "The train was only about a quarter-mile from the point of impact, so they were attempting to slow down before they hit the truck."
METRA TRAINS ON BNSF LINE NOT STOPPING AT CLARENDON HILLS DAY AFTER COLLISION WITH SEMI KILLED A PASSENGER
While a reconstruction team has already started piecing together what happened, officials said it could be 12 to 15 months before a final crash report is released. A preliminary report should be made available in about two weeks, Landsberg said.
As questions linger about what went wrong, Lopez's family is looking for answers.
"From everything I've heard, that was an accident waiting to happen. The traffic, because of the construction at that intersection, was so slowed down that people were in harm's way quite frequently," said Steve Jambois, attorney for Lopez's family.
Lopez's family, on Thursday, shared their grief.
"Nobody expects this, it's a tragedy nobody should endure," said Jeff Klonowski, the victim's son-in-law.
Loved ones said it was routine for the 72-year-old victim to take the Metra. The Downers Grove woman often took the train to La Grange to visit her sister. That's where family members say she was headed the morning of the accident.
"She was the glue to the family, she got along and spoke with everybody," said Klonowski. "She was a tremendous lady."
DOWNLOAD THE FOX 32 CHICAGO APP FOR BREAKING NEWS ALERTS
Lopez was the mother of three daughters, grandmother to five, and had 10 siblings.
"The kids will miss her, the family will miss her; it will be a difficult time but we'll get through it," said Klonowski.
FOX 32 reached out to the moving company whose truck was stopped on the tracks, but did not immediately hear back.
NTSB officials are looking for witness cellphone video of the crash. Witnesses can report information on its website.
Metra CEO James Derwinski shared the following statement on Thursday: 

"Metra and all its employees would like to convey our condolences and deepest sympathies to the family of Christina Lopez, who tragically lost her life during yesterday's accident in Clarendon Hills. We consider My Metra's passengers to be a part of our family, and our family is grieving along with yours. We are committed to assisting the NTSB in its investigation so that Christina Lopez's family and the public have the answers they need at this difficult time."
Metra officials said their normal schedule will resume on Friday, including a stop in Clarendon Hills.