Family of man who died in custody demands CPD hand over video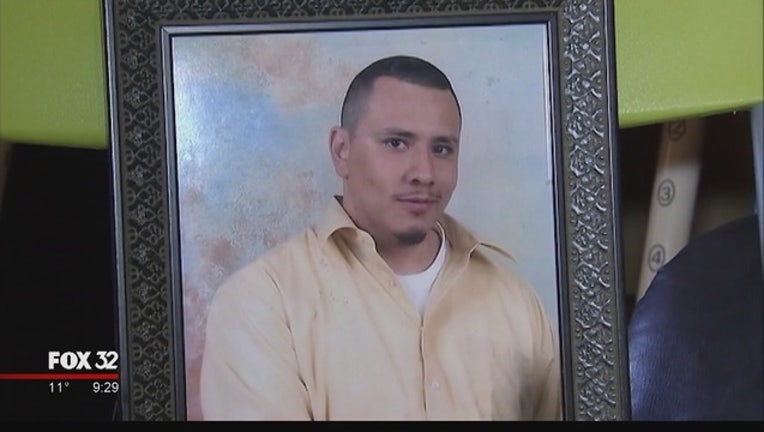 article
The sister of Heriberto Godinez, a man who died in police custody last year, has filed a lawsuit to compel the city to release video footage that, she alleges, shows his death.
The suit was filed Tuesday in Cook County Circuit Court.
Godinez died after police were called to a report of a burglary in the 3000 block of West Pershing on July 20, 2015. They found Godinez and suspected him of being involved, police said at the time. He was "sweating heavily with labored breathing," police said. He was eventually pronounced dead at the scene.
The Cook County medical examiner's office determined Godinez's cause of death was "combined cocaine and ethanol toxicity." However, it did not rule on the manner of his death. It said Godinez "demonstrated agitated behavior with self-injury which allegedly continued upon placement into a transport vehicle," citing reports and "video tape evidence," according to the medical examiner's office.
Janet Godinez, Heriberto's sister, alleges that she filed a Freedom of Information Act request with both the city's Office of Emergency Management and Communications and the Chicago Police Department last year, seeking reports and audio and video recordings of her brother's death, the suit states.
Both requests were ultimately denied, with both organizations citing open investigations, the suit stated.
The denials, she alleges, were based on "the same inapplicable exemption the City claimed in the Laquan McDonald FOIA lawsuit."
In an emailed statement Wednesday evening, Law Department spokesman Bill McCaffrey said: "The City of Chicago recently adopted a new policy recommended by the Task Force on Police Accountability that outlines the timing for releasing evidence and videos in police-involved shootings and other serious incidents. At the same time, the City announced it would release the evidence and videos for all currently open cases, including this occurrence."
McCaffrey added that more details in other open cases will be released in the coming months.
"We are in the process of assembling and preparing the materials in all open cases for disclosure, and hope to complete that work within the next couple of months, if not sooner," he said.
The single-count lawsuit alleges a violation of the Freedom of Information Act and seeks to compel the city to release the requested records.