Massive fire engulfs abandoned Chicago church in East Side
CHICAGO - More than 100 firefighters were working to put out a fire at an abandoned church in the city's East Side neighborhood Sunday morning.
A 911 caller noticed smoke around 4:30 a.m. at the former Evangelical Lutheran Bethlehem Church at 10310 S. Avenue H, according to CFD Deputy District Chief Walter Schroeder.
Firefighters responded but almost immediately went on the defensive. They "could not find the seat of the fire and backed out of the dangerousness of the abandoned building," Schroeder said.
Flames ripped through the church's nave and its roof caved in, according to photos shared by the Fire Department.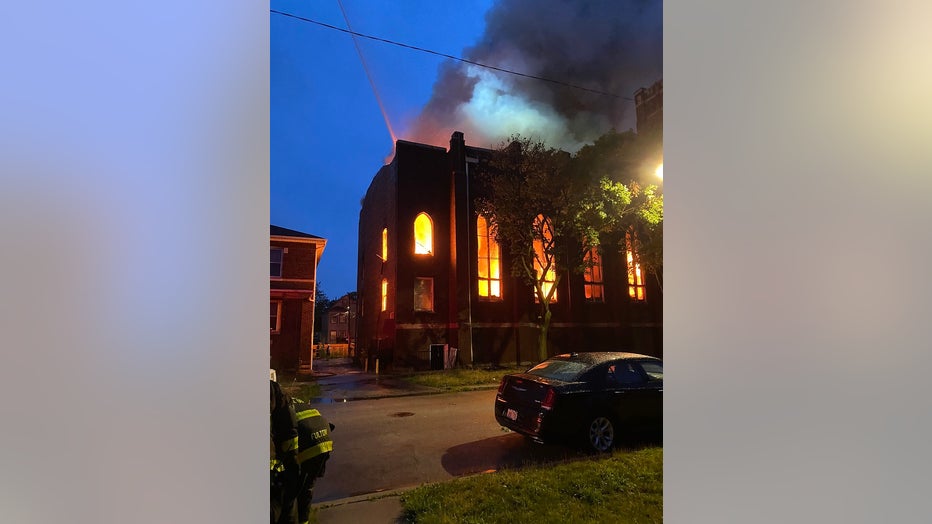 East Side church fire | CFD
Fearing the church walls would collapse, CFD evacuated a family of four from a home just south of the church, Schroeder said.
SUBSCRIBE TO FOX 32 CHICAGO ON YOUTUBE
Fortunately, nobody was injured in the blaze, which was extinguished by 6 a.m.
Search efforts were hampered by at least three feet of water in the basement of the adjacent school, which Schroeder said had not caught fire.
Firefighters were still dousing hotspots at the church at 10:30 a.m., Schroeder said.
The cause of the fire is under investigation.
Sun-Times Media Wire contributed to this report.