Fmr. Illinois governor says ex-convicts shouldn't be labeled felons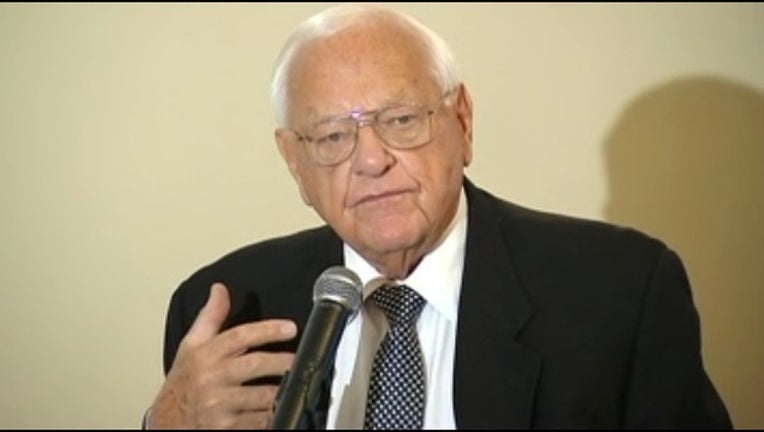 article
WAUKEGAN, Ill. (AP) — Former Illinois Gov. George Ryan on Friday called for legislation that would end the practice of labeling those released from prison as felons for the remainder of their lives.
During a speech before the Coalition to Reduce Recidivism's 12th annual luncheon in Waukegan, Ryan told attendees the "felon" tag is a deterrent to someone looking for a job.
Ryan, 81, a Republican, spent more than five years behind bars on corruption charges. He said during his incarceration at a Terre Haute, Indiana federal prison he saw many young men who have to wear the felon tag once released from prison.
"They've served their time, and that tag ought to be removed for the rest of their lives by law," he said.
Ryan has rarely appeared before audiences since his release from prison in 2013, and he noted that early in his remarks.
"It's the first time I've really been out in public in a long time," said Ryan, who was governor from 1999 to 2003.
Ryan praised the Waukegan Township-based Coalition to Reduce Recidivism for working to help men and women who've been convicted of crimes stay out of prison, calling it important work.
"I'm sure they don't want to go back," he said.
A jury convicted Ryan in 2006 of racketeering, conspiracy, tax fraud and making false statements to the FBI. Jurors found that Ryan had steered state business to insiders as secretary of state and then as governor for vacations and gifts. He also was accused of stopping an investigation into secretary of state employees accepting bribes for truck driver's licenses.
Ryan drew nationwide attention in 2003 when he deemed Illinois' capital punishment laws flawed and emptied death row. The decision energized a nationwide debate on capital punishment, with Illinois lawmakers abolishing the death penalty in 2011.
During his speech, Ryan recounted his decisions to stop executions in Illinois and then to clear out the state's death row. He noted that he entered the governor's mansion as a supporter of capital punishment but began to swing the other way after several men on death row were found to be innocent and freed during his tenure.