Former top cop Escalante testifies at federal civil trial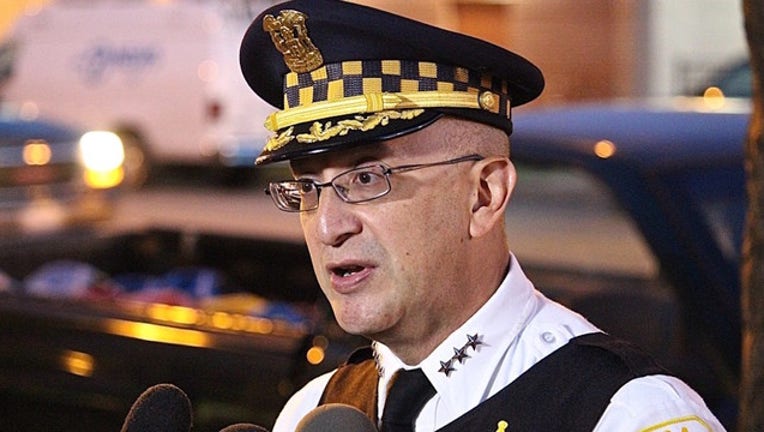 article
CHICAGO (SUN TIMES MEDIA WIRE) - One year after a national firestorm launched him into a brief stint as Chicago's top cop, John Escalante spent Tuesday afternoon on a federal witness stand.
But the man who spent four months as the Chicago Police Department's interim superintendent, starting in December 2015 after the release of the Laquan McDonald shooting video, found himself instead answering questions about an arrest that took place 17 years ago in Aurora — and the role a corrupt narcotics officer's highly paid informant played back in 1999, the Chicago Sun-Times is reporting.
Refugio Ruiz-Cortez has taken to trial his 2011 lawsuit against ex-Chicago cop Glenn Lewellen, who is serving an 18-year prison sentence for a lengthy drug conspiracy. The Aurora man sued Lewellen months after federal authorities first indicted the retired cop and accused him of giving false testimony at Ruiz-Cortez's drug trial.
A jury convicted Ruiz-Cortez in 1999, and a judge sentenced him to more than 17 years in prison. But the feds moved to spring Ruiz-Cortez and dismiss his indictment in May 2010. Ruiz-Cortez claims he was framed by Lewellen, police informant Saul Rodriguez and others in the summer of 1999. Lewellen's attorneys have called Ruiz-Cortez a "pathological liar."
Rodriguez, who was paid about $800,000 for tips against rival drug dealers, is serving a 40-year prison sentence for crimes ranging from robbery to murder.
At the time of Ruiz-Cortez's arrest, Escalante was a Chicago police sergeant supervising Lewellen. Today, Escalante is the chief of police at Northeastern Illinois University.
Former Chicago Police Supt. Phil Cline also is a potential witness in the trial.
Ruiz-Cortez said he met a man named "Carlos" in 1999 who tried to persuade him to get involved in illegal drug activity. Ruiz-Cortez said he refused despite Carlos' threats, but eventually, several men brought a duffel bag full of drugs to his apartment. Scared for his family, Ruiz-Cortez said he allowed the drugs to be left there for pick-up.
Ruiz-Cortez alleges that Lewellen eventually convinced the feds that Ruiz-Cortez was the source of the drugs. He claims Lewellen lied to federal investigators about seeing Ruiz-Cortez carry a plastic bag of cocaine out of his apartment while a car waited outside, only to spot Lewellen and run back inside after dropping the bag.
Escalante said Tuesday he was possibly four or five blocks away from Ruiz-Cortez's apartment at the time. He acknowledged on the witness stand that Lewellen was the only person who saw what happened in the apartment building's parking lot that day. But he also said that wasn't unusual. Too many surveillance officers would raise suspicion.
Escalante also agreed that Rodriguez was an "effective" and "prolific" police informant. But he added that CPD "would have been investigating" Rodriguez if it had known he was dealing drugs at the time, rather than working with him.