Hastert's past comments contrast with misconduct allegations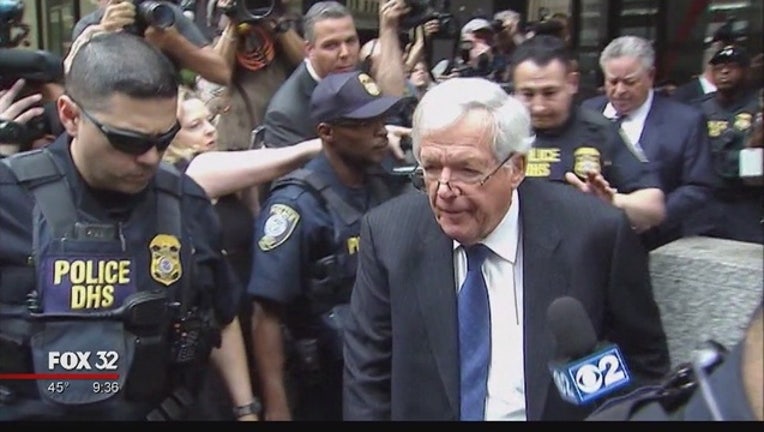 article
CHICAGO (AP) - Former U.S. House Speaker Dennis Hastert supported child safety and anti-abuse legislation in Congress, according to statements from his time in Washington, in an apparent contradiction with allegations that he had engaged in sexual misconduct with a minor.
The longtime Illinois congressman promoted child abuse-prevention legislation in Congress. The Chicago Tribune reports that in 2003, Hastert said he supported "a national notification system to help safely recover children kidnapped by child predators."
"But it is equally important to stop those predators before they strike, to put repeat child molesters into jail for the rest of their lives and to help law enforcement with the tools they need to get the job done," Hastert said when Utah teenager Elizabeth Smart was recovered after being kidnapped, sexually assaulted and held captive for nine months.
Hastert, 74, has pleaded guilty to violating banking law as he sought to pay an "Individual A" $3.5 million to keep that person silent about past misconduct. Prosecutors say Hastert sexually abused Individual A in the 1970s.
"The actions at the core of this case took place . in his private one-on-one encounters in an empty locker room and a motel room with minors that violated the special trust between those young boys and their coach," prosecutors wrote in a court filing last week detailing Hastert's financial crimes.
Hastert's lawyers suggest what occurred with a 14-year-old in a motel decades ago may not qualify as sexual abuse. His attorneys, who seek probation for their client, wrote that "despite his mistakes in judgment and his transgressions," they implore the court to consider "the entirety of Mr. Hastert's life," including how he reshaped it.
In their court filing, prosecutors cited the passage in Hastert's autobiography that singles out his former coach for never stripping away a person's dignity.
"(T)hat is exactly what defendant did to his victims," prosecutors wrote. "He made them feel alone, ashamed, guilty and devoid of dignity. While defendant achieved great success, reaping all the benefits that went with it, these boys struggled, and all are still struggling now with what defendant did to them."
That personal history led prosecutors to say Hastert's actions represent "stunning hypocrisy."
___
This story has been corrected to reflect that prosecutors have not pointed out the hypocrisy.
___
Information from: Chicago Tribune, http://www.chicagotribune.com