Homeless man lands job after handing out resumes in California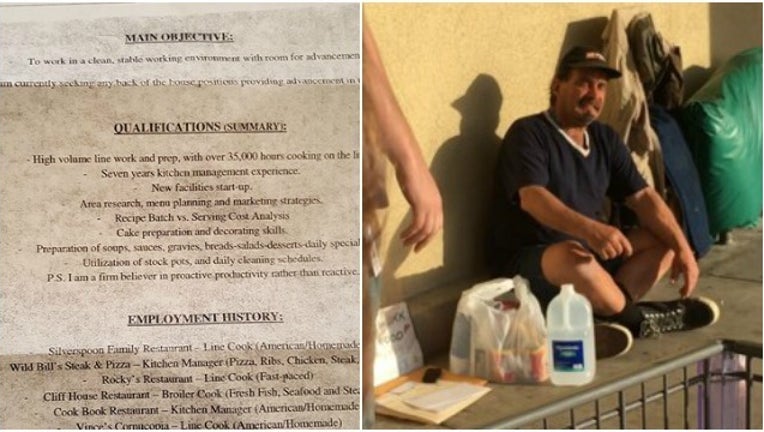 article
SACRAMENTO, Calif. - A California resident's post on Facebook about a homeless man is gaining a lot of attention.
Michael Marteen, of Sacramento, said the man was sitting outside of a grocery store, but he was not asking for money. He had a sign that read "Need work, and hungry."
"Not just that but he had multiple resumes printed out and enveloped," Marteen said.
According to Marteen, the stranger had a cell phone and was simply trying to get off the streets. Marteen shared three photos on Facebook last month in hopes of people sharing the resume.
"He deserves a shot more than people begging for money," said Marteen. "I gave him what I could."
Marteen offered the man a bag of raviolis, chips, water and a sandwich. He said he'd rather buy someone food that is hungry looking for a job rather than someone begging for money with a "cigarette in their hand."  
The Facebook post quickly caught the attention of local media outlets and within days the homeless man, identified as Frederick Callison, was on the news.
It didn't end there…
"Our employment services team will be looking for Frederick," said Volunteers of America, a nonprofit dedicated to helping those in need rebuild their lives and reach their full potential.
On Thursday, Marteen said his new friend got a job. He told the Today Show Callison was ecstatic and grateful for the opportunity to work as a cook at a downtown restaurant called Pizza Rock. 
APP USERS: View Marteen's Facebook post here.