House Speaker's husband, Paul Pelosi, assaulted with hammer by home intruder in San Francisco
SAN FRANCISCO - A suspect broke into House Speaker Nancy Pelosi's San Francisco home on Friday morning and "violently assaulted" her husband with a hammer in a targeted attack, authorities said.  
San Francisco Police Chief Bill Scott identified the intruder as 42-year-old David DePape, who has been arrested.
According to Associated Press sources, the intruder shouted "Where is Nancy?" before the assault. The Associated Press reported the home on the 2600 block of Broadway was specifically targeted, according to people familiar with the matter.
Paul Pelosi apparently called 911 without the attacker noticing and the dispatcher was able to hear enough in the background to request officers make a wellness check at the home.
When officers arrived at the Pelosi's Pacific Heights home just before 2:30 a.m., they found DePape and Pelosi struggling over a single hammer.
Officers instructed for both DePape and Pelosi to let go of the weapon.
DePape ended up pulling the hammer away from Paul Pelosi and attacked the 82-year-old man with it, Scott said.
"Our officers immediately tackled the suspect, disarmed him, took him into custody, requested emergency backup and rendered medical aid," Scott said.
Scott said the quick actions of his officers and the police dispatcher were life-saving.
"When you have a good dispatcher with good instincts, they learn how to read between the lines. They can't report anything other than what's being told. She knew something more was going on, just in her heart and her intuition, just with her experience," Scott said.
Scott said Pelosi himself made the initial call to police. At a second news conference later in the day, a visibly emotional Chief Scott reiterated that the act was not random. "This was intentional. Everyone should be disgusted," by what happened this morning, Scott said. 
Paul Pelosi suffered a fractured skull and "serious injuries to his right arm and hands," according to Drew Hammill, spokesman for the House speaker. 
Authorities said it appears Pelosi was struck at least once. 
He underwent surgery at Zuckerberg San Francisco General Hospital that was successful, Hammill said. He remains at the hospital where he is recovering. 
"The Speaker and her family are thankful for the outpouring of support and prayers from friends, constituents and people around the country. The Pelosi family is immensely grateful to Mr. Pelosi's entire medical team and the law enforcement officers who responded to the assault," Hammill said, adding that the family requests privacy.
Nancy Pelosi arrived in San Francisco on Friday afternoon from Washington to be with her husband. 
DePape will be booked at the San Francisco County Jail on suspicion of attempted murder, assault with a deadly weapon, elder abuse, burglary, and several other additional felonies, Scott said. He remains in the hospital, Scott said. Police did not say how DePape was hurt. "We intend to book the suspect, whether it's in absentia or whether it's in person, he will be booked for felony charges," Scott said. 
He is expected to be arraigned on Tuesday, interim District Attorney Brooke Jenkins said.
Authorities have found a manifesto on social media involving conspiracy theories on coronavirus and anti-government beliefs, sources told KTVU.
He also had list of other politicians he planned to target, the sources said. 
Scott and DA Brooke Jenkins would not answer any additional questions and a specific motive or connection between DePape and the Pelosi was not revealed. 
Records in San Francisco Superior Court show a 2003 arrest for DePape, which the DA never filed a case on. It's unclear what those charges were. 
Nancy Pelosi was not in San Francisco during the attack; she was in Washington, D.C., with her protective detail, authorities said.  
Before the sun came up, San Francisco police had blocked off the street in the Pacific Heights neighborhood with crime scene tape, keeping onlookers at bay. 
In addition to San Francisco police, U.S. Capitol police and the FBI are also investigating what happened, including a team of investigators from the department's Threat Assessment Section was dispatched from the East Coast.  
"The Speaker and her family are grateful to the first responders and medical professionals involved, and request privacy at this time," Hammill wrote. 
White House Press Secretary Karine Jean-Pierre said that President Joe Biden is "praying" for Paul Pelosi and the entire Pelosi family.
Biden called the speaker on Friday morning to express his support after this "horrible attack," Jean-Pierre said.
The Pelosi's home has been the scene of several protests in recent years. 
During debates over the federal stimulus package in January 2021, the Pelosi's garage was painted with political graffiti and a pig's head was left on the sidewalk.
The Pelosi attack comes at a time when other members of Congress have also faced a rise in threats to their safety. 
In 2021, Capitol Police investigated around 9,600 threats made against members of Congress, and members have been physically attacked in recent years.
That includes the attack on the U.S. Capitol on Jan. 6, 2021, when rioters trying to stop Joe Biden's election searched menacingly through the halls for the speaker.
The Pelosi break-in also comes just 11 days ahead of midterm elections in which crime and public safety have emerged as top concerns among Americans.
Gov. Gavin Newsom brought up the threats and violence during Friday's California Economic Summit, citing all the "polarization" and "scapegoating" in the country today. 
"This heinous assault is yet another example of the dangerous consequences of the divisive and hateful rhetoric that is putting lives at risk and undermining our very democracy and Democratic institutions," Newsom said. "Those who are using their platforms to incite violence must be held to account. Our leaders should never fear for their safety and the safety of their families in serving the people they were elected to represent – not in their homes, not at the U.S. Capitol, not anywhere."
KTVU's Greg Lee, Evan Sernnoffsky, and the Associated Press contributed to this report.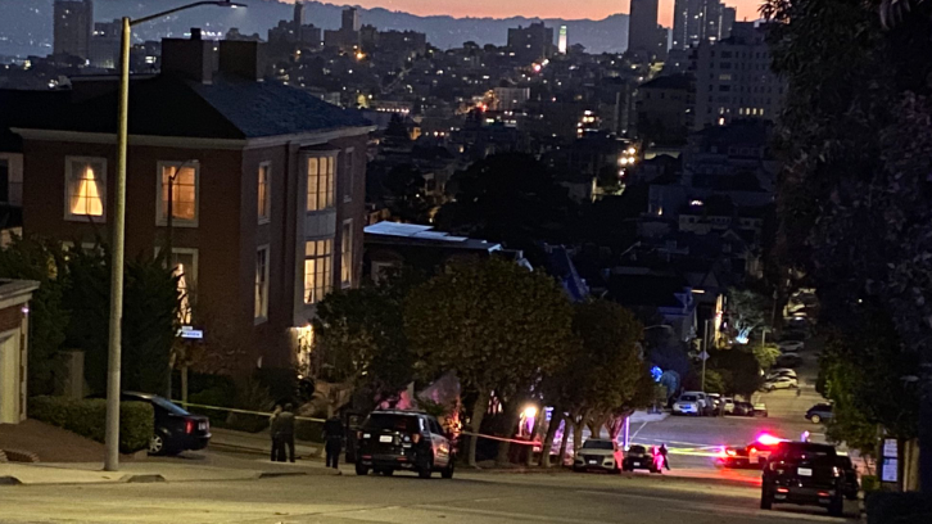 Police block off the street where a suspect broke into Nancy and Paul Pelosi's home. Oct. 27, 2022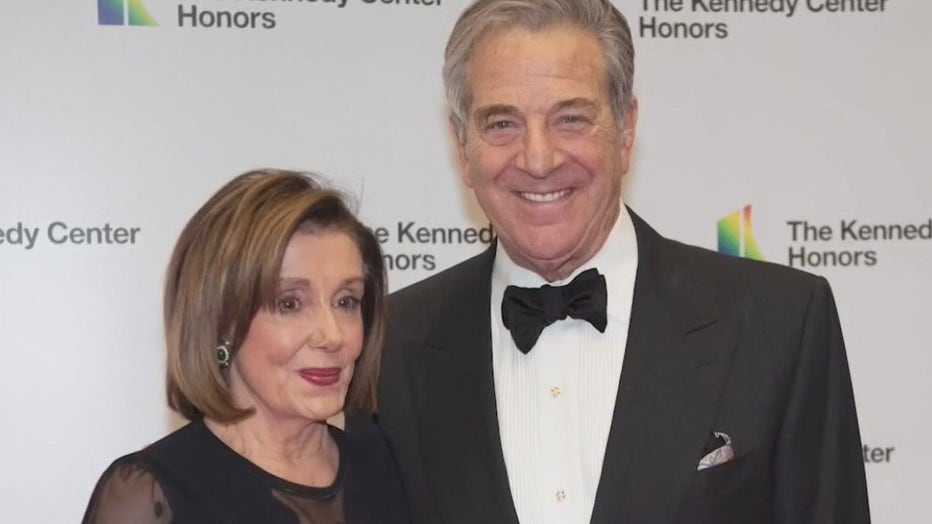 FILE ART - House Speaker Nancy Pelosi and husband, Paul Pelosi.