Illinois police department goes viral for marijuana photo
MARION, Ill. - Police in southern Illinois seized a massive amount of marijuana during a recent traffic stop.
On Monday, the Marion Police Department posted a photo on Facebook that is going viral.
The photo shows two officers sitting at a desk with three large clear bags filled with cannabis. Other pot paraphernalia can be seen placed on the desk.
The police department posted the following caption with the photo: "If you were curious how much cannabis you can transport in your car, the amount is NOT 82 pounds."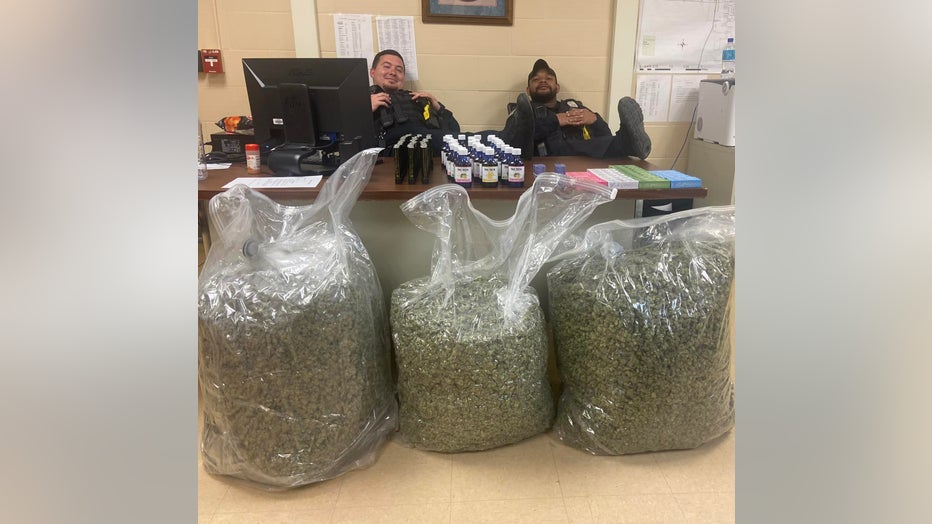 Marion Police Department in southern Illinois seize 82 pounds of cannabis flower.
SUBSCRIBE TO FOX 32 CHICAGO ON YOUTUBE
Under Illinois law, a state resident over the age of 21 can possess up to 30 grams of cannabis flower, five grams of cannabis concentrate, and as many as 500 milligrams of products infused with THC. They can travel with the items as long as they are sealed and in a child-proof, dispensary authorized container.
Any person that is not an Illinois resident can only possess half of the marijuana amounts listed above.
According to Marion police, on April 17 around 12:59 a.m., an officer initiated a traffic stop on a vehicle that was exceeding the posted speed limit in a construction zone on southbound Interstate 57. The vehicle got off the interstate and stopped at the intersection of W. Main Street and Comfort Drive.
While speaking with the driver, the officer observed a large plastic bag in the rear of the vehicle that appeared to be holding cannabis.
A further investigation revealed three large bags of pot were inside the vehicle, totaling 82.9 pounds of flower. Police also seized 30 bottles of THC syrup and 40 vape pens.
The driver of the vehicle was identified as 44-year-old William A. Davis of Mississippi. He was arrested and charged, and remains at the Williamson County Jail until his court appearance.