Jimmy John's offering $1 subs Thursday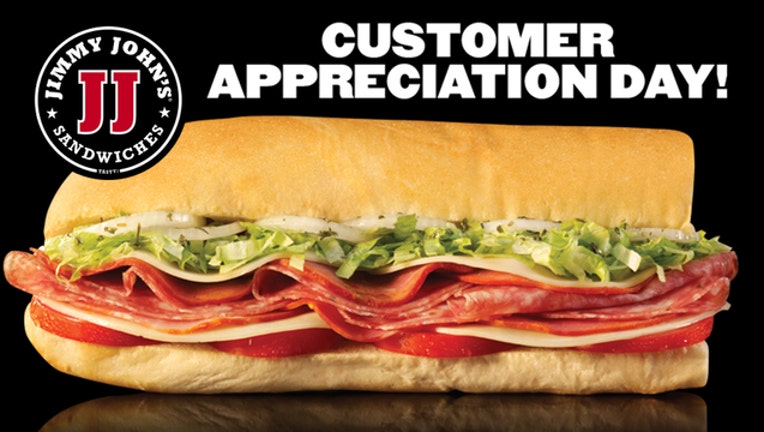 article
CHICAGO (FOX 32 News) - Jimmy John's has a great lunch time deal Thursday as part of its Customer Appreciation celebration.
Select locations are selling those freaky fast subs for $1 April 21. The deal is good from 11 a.m. until 3 p.m. and many Chicago area locations are included.
The Jimmy John's website has a full list of restaurants offering $1 subs for customer appreciation day.
Locations in Chicago area listed below:
812 West Van Buren Chicago IL 60607
3328 North Clark St Chicago IL 60657
46 East Chicago Ave Chicago IL 60611
249 South State St. Chicago IL 60604
6153 N. Broadway St. Chicago IL 60660
520 N. Michigan Ave. Ste. 423 Chicago IL 60611
1101 S. Canal St. Ste. 104 Chicago IL 60607
180 N. LaSalle Chicago IL 60601
6 E. Madison Chicago IL 60602
2336 W. Lawrence Ave. Chicago IL 60625
200 N. Jefferson Chicago IL 60601
1148 W. Wilson Ave. Chicago IL 60640
216 W. Washington Ave. Chicago IL 60606
216 W. Jackson St Chicago IL 60606
2231 North Lincoln Ave Chicago IL 60614
7329 Irving Park Rd. Chicago IL 60634
1241 Chicago Ave. Evanston IL 60202
725 S. State St. Chicago IL 60605
1133 W. Taylor St. Chicago IL 60607
2206 N. Clybourn Chicago IL 60614
51 W. Division Ave. Chicago IL 60610
205 W Monroe St. Chicago IL 60606
1250 S. Michigan Ave. Chicago IL 60605
28 N Clark Street Chicago IL 60602
2029 W. Divison Chicago IL 60622
974 W. 35th Place Chicago IL 60609
1519 E. 55th St. Chicago IL 60615
2115 W. Roscoe St. Chicago IL 60618
6451 W. Diversey Ave. Chicago IL 60707
5109 N. Clark St. Chicago IL 60640
3041 N Lincoln Chicago IL 60657
200 W North Ave West Chicago IL 60185
520 N. Ogden Ave. Chicago IL 60642
3506 S. State St. Chicago IL 60616
3234 W. Foster Ave. Chicago IL 60625
200 E. Randolph Chicago IL 60601
131 S. Clinton St. Chicago IL 60661
225 N. Michigan Ave. Chicago IL 60602
1557 N. Milwaukee Ave. Chicago IL 60647
2 N. Riverside Plaza Chicago IL 60606
2810 N Clark St. Chicago IL 60657
237 W. North Ave. Chicago IL 60610
201 W. Madison St. Chicago IL 60606
501 N. LaSalle St. Chicago IL 60654
205 E Ohio St. Chicago IL 60611
1431 N Kingsbury St. Chicago IL 60642
4021 N. Milwaukee Ave. Chicago IL 60641
6108 North Western Avenue Ste. 103 Chicago IL 60659
Deals are only available in-store (no deliveries!)