Judge: No courtroom sketches of Facebook Live torture suspects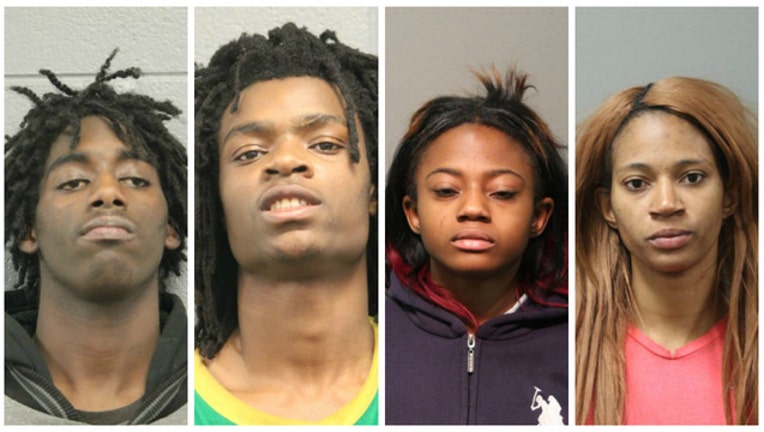 article
SUN-TIMES MEDIA WIRE - A Cook County judge on Friday tightened restrictions on news coverage in the case of the four people charged in the Facebook Live attack against a schizophrenic man, the Chicago Sun-Times is reporting.
On Thursday, Judge Peggy Chiampas barred cameras in the courtroom, citing "safety and security concerns." On Friday, after a defense attorney cited "death threats" against the defendants, Chiampas also ruled against allowing sketch artists to draw the faces of the defendants or their attorneys. She said the ban was only for Friday's hearing.
Defense attorney Neil Toppel complained during the hearing about social media death threats.
"There was a posting that invited a good Samaritan to publicly execute these defendants by law or, if not, by mob; and also said anybody that supports them should be executed as well," Toppel told reporters after the hearing. "I take that very seriously."
Amy Campanelli, Cook County public defender, criticized pretrial news coverage of the case.
"It is sad and unfortunate that many have commented on these young men and women without knowing all the facts," Campanelli said.
"Sensationalized, pervasive media coverage threatens to poison the jury pool for my clients. They've already been denounced in the media before anything has been proven, and now additional attention is being given, trying them in public before they have their day in court," she said.
Tanishia Covington, 24; Brittany Covington, 18; Jordan Hill, 18; and Tesfaye Cooper, 18, are accused of holding the schizophrenic man captive in a West Side apartment earlier this month, forcing him to drink toilet water and cutting his scalp with a knife while making him proclaim, "I love black people."
Champias set an arraignment date of Feb. 10 for all four.