Kodak Black's tour bus raided outside The Anthem in DC, TMZ reports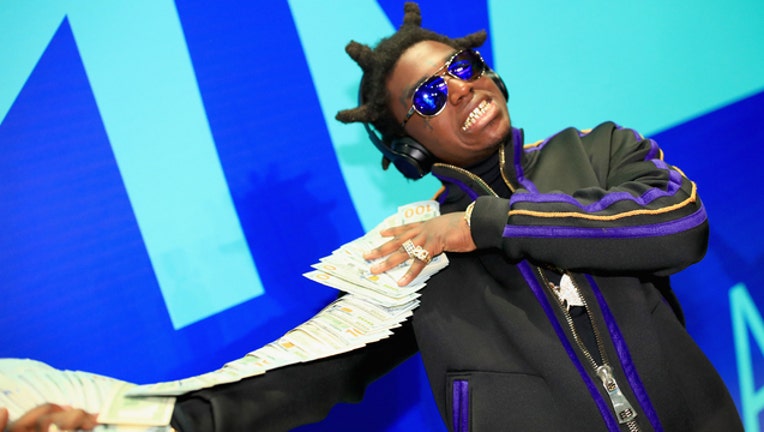 article
WASHINGTON (FOX 5 DC) - Kodak Black's tour bus was raided by the FBI and DC police while the rapper performed at The Anthem in the District late Wednesday evening, according to reports.
TMZ reports the FBI raided the rapper's tour bus as he was performing on stage.
DC police confirmed to FOX 5 that five people were arrested after four handguns with magazines - two Glock 22, .40 caliber handguns and two Glock 30, .45 caliber handguns - were confiscated in the 900 block of Maine Avenue, Southwest.
DC Police said they're unable to confirm if it was Kodak Black's tour bus, but confirmed a tour bus was raided in the area where Kodak Black was performing.
DC Police said the following individuals were arrested and charged with carrying a pistol without a license (CPWL) and possession of a large capacity ammunition feeding device:
- Alexander Ruby Bethune II, 44, Miami, Florida
- Jeremy John Simkovich, 34,  Fort Lauderdale, Florida
- Jean Tony Saint-Melus, 22, Lauderhill, Florida
- Ariella Ellis, 23, Maysville, North Carolina
- Gregory Lambert, 33, Miami, Florida
On Thursday afternoon, the U.S. Attorney's Office said they are "not moving forward with charges at this time" but an investigation is ongoing. They told FOX 5, they "do not comment on charging decisions and have no further comment at this time."
TMZ reports that the authorities attempted to enter The Anthem, but were turned away by the show's promoters.
RELATED: Rapper Kodak Black arrested at border in upstate New York on drug and weapons charges
The FBI referred FOX 5 to DC police about the incident but said, "We are working jointly with the Metropolitan Police Department to address criminal activity in the District and provide additional resources when needed, however, we will have to refer you to MPD for additional comments on the specifics of Kodak Black's tour bus. This is part of the U.S. Attorney for the District of Columbia's Felon in Possession initiative which aims to reduce gun violence in the city."
Kodak Black was arrested on April 17 on drug and weapons charges after officials said the rapper tried to cross from Canada into the United States near Niagara Falls in a Cadillac Escalade with two other people.
RELATED: Rapper Kodak Black accused of sexual assault, prosecutor says
The 21-year-old rapper from Miramar, Florida, whose legal name is Bill Kapri, also faces a charge in South Carolina of first-degree criminal sexual misconduct on allegations he raped a woman after a 2016 concert.
Kodak Black's hits include "Tunnel Vision," ''Wake Up in the City" with Bruno Mars and Gucci Mane, "No Flockin'," and "Zeze," which peaked at No. 2 on Billboard Hot 100 chart. His last album, 2018's "Dying to Live," debuted at No. 1 on the charts.
The Associated Press contributed to this report.