Lollapalooza 2023 Full Schedule: All the set times you need to know
CHICAGO - Lollapalooza returns to Grant Park Aug. 3-6, bringing with it a slate of headliners that includes Kendrick Lamar, Billie Eilish, Red Hot Chili Peppers, Lana Del Rey, The 1975, Odesza, Karol G. and Tomorrow X Together.
The Chicago-based music festival revealed set times for its 2023 edition Thursday afternoon.
More than 170 acts on nine stages await festivalgoers this year including Fred again.., Noah Kahan, A Boogie Wit da Hoodie, J.I.D., Maggie Rogers, Carly Rae Jepsen, Diplo, Thirty Seconds to Mars, NewJeans, Tems, The Rose, Rina Sawayama, Lil Yachty, Rema, NIKI, Morgan Wade, DPR IAN + DPR LIVE, Lainey Wilson, L'Impératrice, Ivan Cornejo, Sudan Archives and more.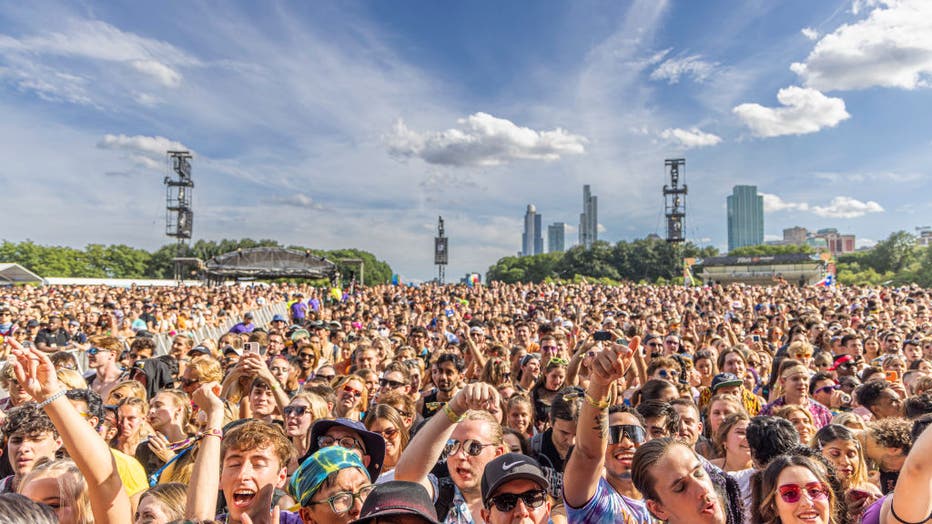 CHICAGO, ILLINOIS - JULY 28: General view of the crowd on day 1 of Lollapalooza at Grant Park on July 28, 2022 in Chicago, Illinois. (Photo by Scott Legato/Getty Images)
Thursday, August 3, will feature Eilish on the T-Mobile stage at 8:45 p.m., with Diplo scheduled to start at 8:30 p.m. on the Perry's stage. Karol G will kick off her set at 8:40 p.m. on the Bud Light stage.
On Friday, August, 4, festival goers will have to choose between two major artists who play simultaneously at 8:45 p.m., when Kendrick Lamar and The 1975 start on the T-Mobile and Bud Light stages.
Saturday's schedule concludes with both Pusha T and Odesza kicking off their sets at 8:45 p.m., and The Garden closing out the night on the Bacardi stage at 9 p.m.
SUBSCRIBE TO FOX 32 ON YOUTUBE
The four-day festival concludes on Sunday, August, 6, with a grand finale. Festival goers will have to choose between the Red Hot Chili Peppers on the T-Mobile stage at 8:30 p.m. Lana Del Rey on the Bud Light stage at 8:30 p.m., or Louis The Child performing on the Perry's stage at 8:45 p.m.
See the full Lollapalooza lineup and schedule below:
(All times p.m., listed in Central Standard Time)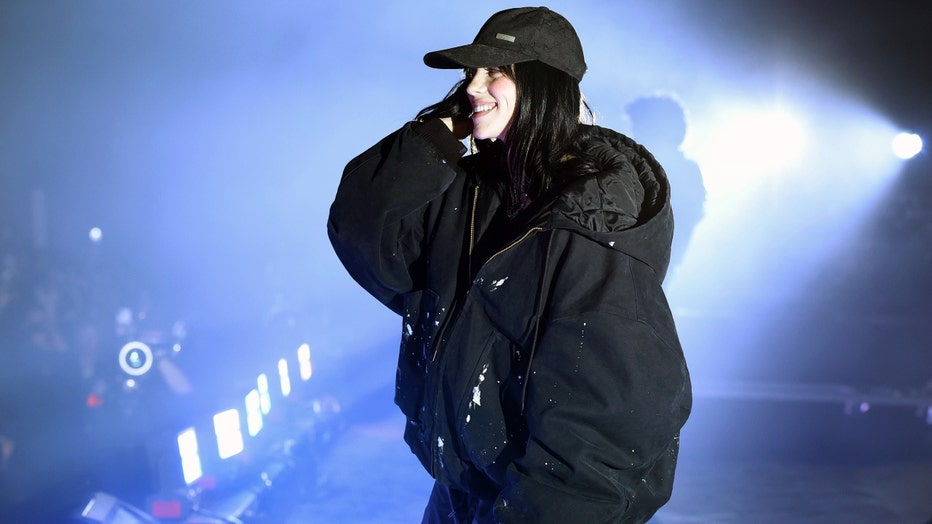 Billie Eilish performs with Labrinth at the Mojave Tent during the 2023 Coachella Valley Music and Arts Festival on April 15, 2023 in Indio, California. (Monica Schipper/Getty Images for Coachella / Getty Images)
Thursday, August 3, 2023
The Rose (9:00, Bacardi)
Billie Eilish (8:45, T-Mobile)
Karol G (8:40, Bud Light)
Diplo (8:30, Perry's)
Carola (8:00, Tito's)
Lainey Wilson (7:45, Coinbase)
Key Glock (7:45, Bacardi)
Dom Dolla (7:15, Perry's
Carly Rae Jepsen (7:00, Bud Light)
Kidd Kenn (6:50, BMI)
Portugal. The Man (6:45, T-Mobile)
Men I Trust (6:30, Bacardi)
Noah Kahan (6:00, Tito's)
Timmy Trumpet (6:00, Perry's)
Rema (5:45, Coinbase)
Isabel Larosa (5:40, BMI)
Brakence (5:15, Bacardi)
Divinity Roxx (5:15, Kidzapalooza)
New Jeans (5:00, T-Mobile)
Sofi Tukker (5:00, Bud Light)
Chri$tian Gate$ (4:30, BMI)
Acraze (4:30, Perry's)
Franc Moody (4:00, Tito's)
Jessie Murph (4:00, Bacardi)
Spacey Jane (4:00, Coinbase)
Austin Meade (3:20, BMI)
J. Worra (3:15, Perry's)
Joy Oladokun (3:00, Bud Light)
The Happiness Club (3:00, Kidzapalooza)
Lovejoy (3:00, T-Mobile)
Ax and The Hatchetmen (2:50, Bacardi)
Beauty School Dropout (2:10, BMI)
Clinton Kane (2:00, Tito's)
Disco Lines (2:00, Perry's)
Dope Lemon (2:00, Coinbase)
Richy Mitch & The Coal Miners (1:50, Bacardi)
School of Rock (1:30, Kidzapalooza)
The Beaches (1:15, Bud Light)
Matt Maltese (1:15, T-Mobile)
Arath Herce (1:00, BMI)
Carola (1:00, Perry's)
Finish Ticket (12:50, Bacardi)
Pony Bradshaw (12:30, Tito's)
Bad Neighbors (12:30, Coinbase)
Lesly Reynaga (12:00, Bacardi)
Elena Moon Park (12:00, Kidzapalooza)
TBA (12:00, Perry's)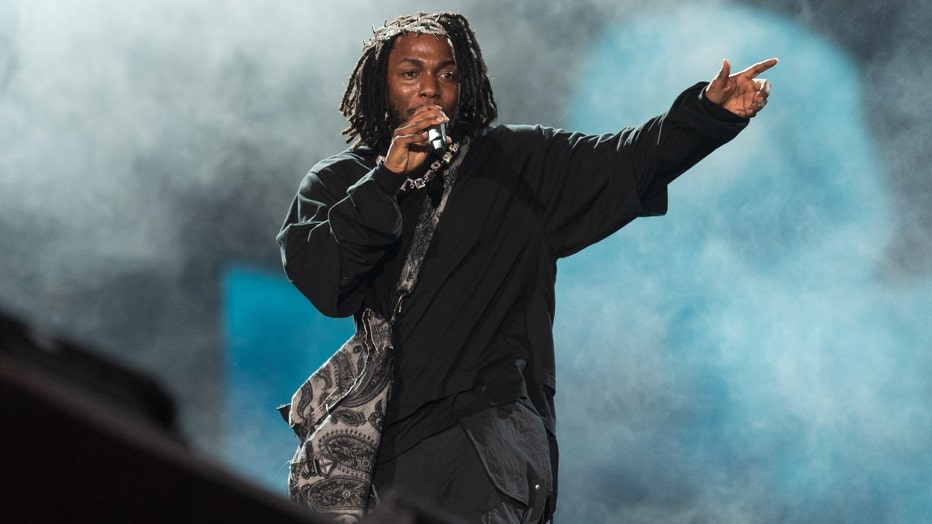 Rapper Kendrick Lamar performs onstage during day three of Rolling Loud Miami 2022 at Hard Rock Stadium on July 24, 2022 in Miami Gardens, Florida. (Jason Koerner/Getty Images / Getty Images)
Friday, August 4, 2023
Knocked Loose (9:00, Bacardi)
The 1975 (8:45, Bud Light)
Kendrick Lamar (8:45, T-Mobile)
Subtronics (8:30, Perry's)
Ninajirachi (8:00, Tito's)
Ken Carson (7:45, Bacardi)
Jessie Reyez (7:45, Coinbase)
Svdden Death (7:15, Perry's)
Thirty Seconds to Mars (7:00, Bud Light)
Tiacorine (6:50, BMI)
Fred Again.. (6:45, T-Mobile)
Declan McKenna (6:30, Bacardi)
Foals (6:00, Tito's)
Diesel (6:00, Perry's)
Sabrina Carpenter (5:45, Coinbase)
Talk (5:40, BMI)
The 502s (5:15, Bacardi)
School of Rock (5:15, Kidzapalooza)
Big Wild (5:00, Bud Light)
Tems (4:45, T-Mobile)
Charlotte Sands (4:30, BMI)
Armnhmr (4:30, Perry's)
Beabadoobee (4:00, Tito's)
Sueco (4:00, Bacardi)
Peach Pit (3:45, Coinbase)
Annie Dirusso (3:20, BMI)
Ekkstacy (3:15, Bud Light)
Emo Nite (3:15, Perry's)
The Happiness Club (3:00, Kidzapalooza)
Cafune (2:50, Bacardi)
Ray Volpe (2:30, Perry's)
Giant Rooks (2:15, Tito's)
Somadina (2:10, BMI)
Loveless (1:50, Bacardi)
Band-Maid (1:45, Coinbase)
Elena Moon Park (1:30, Kidzapalooza)
Blanke (1:30, Perry's)
Sincere Engineer (1:15, Bud Light)
Hemlocke Springs (1:00, BMI)
Cydeways (12:50, Bacardi)
Skizzy Mars (12:45, T-Mobile)
Hairitage (12:40, Perry's)
Junior Mesa (12:30, Tito's)
Tyler Christian (12:00, Bacardi)
Divinity Roxx (12:00, Kidzapalooza)
Ninajirachi (12:00, Perry's)
Loviet (12:00, Coinbase)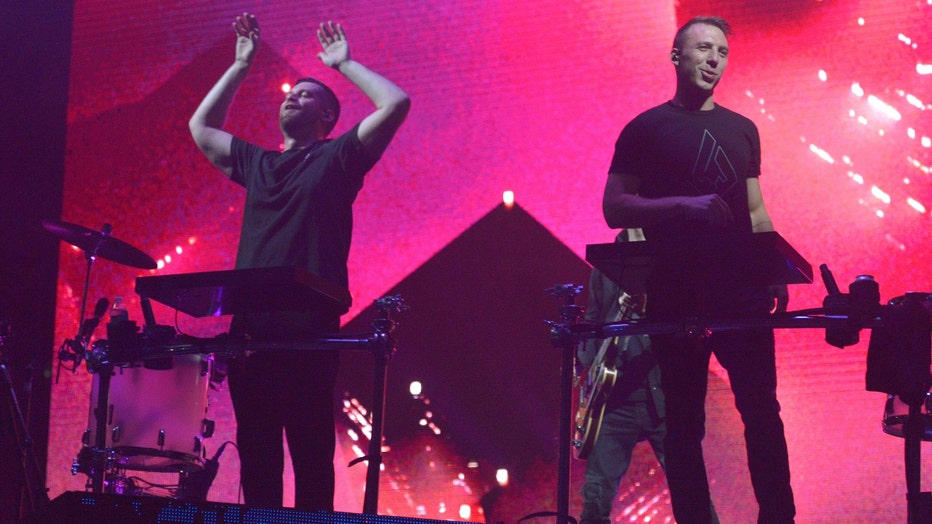 Musicians Harrison Mills and Clayton Knight of Odesza perform the finale of "A Moment Apart" at Los Angeles State Historic Park on July 27, 2019 in Los Angeles, California. (Michael Tullberg/Getty Images / Getty Images)
Saturday, August 5, 2023
The Garden (9:00, Bacardi)
Pusha T (8:45, Perry's)
Odesza (8:45, T-Mobile)
Tomorrow X Together (8:30, Bud Light)
Benson (7:45, Tito's)
Alex G (7:45, Bacardi)
Yung Gravy (7:45, Coinbase)
Meduza (7:30, Perry's)
Ari Abdul (6:50, BMI)
Maggie Rogers (6:45, Bud Light)
J.I.D (6:45, T-Mobile)
Morgan Wade (6:30, Bacardi)
Nora En Pure (6:15, Perry's)
Niki (5:45, Tito's)
Destroy Lonely (5:45, Coinbase)
Aidan Bissett (5:40, BMI)
Jean Dawnson (5:15, Bacardi)
Q Brothers (5:15, Kidzapalooza)
Sylvan Esso (4:45, Bud Light)
AC Slater (4:45, Perry's)
The Revivalists (4:45, T-Mobile)
Danielle Ponder (4:30, BMI)
Suki Waterhouse (4:00, Bacardi)
Special Guest (4:00, Kidzapalooza)
Ivan Cornejo (3:45, Tito's)
The Knocks (3:45, Coinbase)
Solardo (3:30, Perry's)
Windser (3:20, BMI)
Imagination Movers (3:00, Kidzapalooza)
Mavi (2:50, Bacardi)
Tom Odell (2:45, Bud Light)
Thee Sacred Souls (2:45, T-Mobile)
Knock2 (2:30, Perry's)
Arcy Drive (2:10, BMI)
Arlie (1:50, Bacardi)
The Linda Lindas (1:45, Tito's)
Zack Fox (1:45, Coinbase)
Sam Moran (1:30, Kidzapalooza)
Bonnie X Clyde (1:30, Perry's)
Pardyalone (1:00, Bud Light)
Los Aptos (1:00, BMI)
Motherfolk (1:00, T-Mobile)
Usted Senalemelo (12:50, Bacardi)
Remk (12:40, Perry's)
Friday Pilots Club (12:15, Tito's)
Hoosh (12:15, Coinbase)
TBD (12:00 Bacardi)
Alphabet Rockers (12:00, Kidzapalooza)
Benson (12:00, Perry's)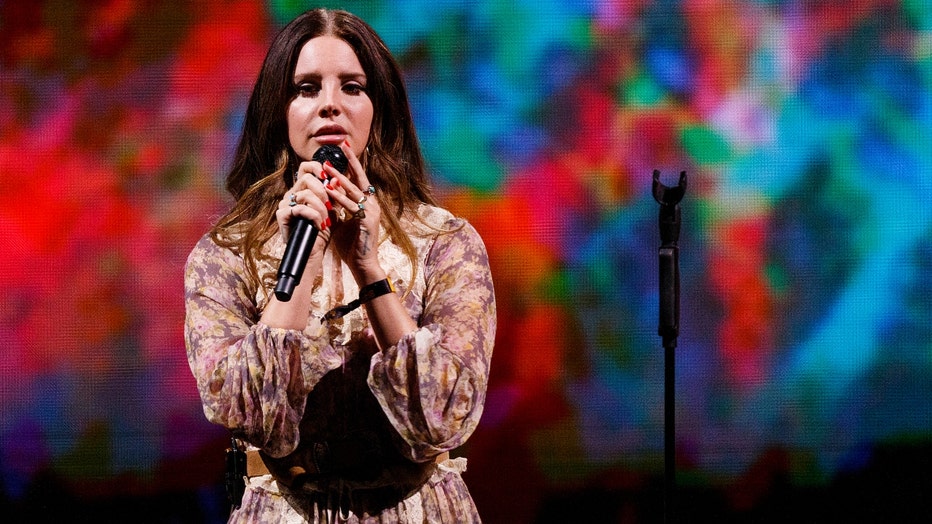 Singer-songwriter Lana Del Rey performs on stage at Rogers Arena on September 30, 2019 in Vancouver, Canada. (Andrew Chin/Getty Images / Getty Images)
Sunday, August 6, 2023
L'Imperatrice (9:00, Bacardi)
Louis The Child (8:45, Perry's)
Lana Del Rey (8:30, Bud Light)
Red Hot Chili Peppers (8:30, T-Mobile)
Ian Asher (7:45, Tito's)
DPR Ian + DPR Live (7:45, Bacardi)
Alan Walker (7:30, Perry's)
The Backseat Lovers (7:30, Coinbase)
Rosa Linn (6:50, BMI)
Rina Sawayama (6:45, Bud Light)
Poolside (6:30, Bacardi)
A Boogie Wit Da Hoodie (6:30, T-Mobile)
Afrojack (6:15, Perry's)
Joey Bada$$ (5:45, Tito's)
Madeline Edwards (5:40, BMI)
Maisie Peters (5:30, Coinbase)
Umi (5:15, Bacardi)
Alphabet Rockers (5:15, Kidzapalooza)
Lil Yachty (4:45, Bud Light)
Gorgon City (4:45, Perry's)
Josh Fudge (4:30, BMI)
Mt. Joy (4:30, T-Mobile)
Holly Humberstone (4:00, Bacardi)
Special Guest (4:00, Kidzapalooza)
Gabriels (3:44, Tito's)
Wax Motif (3:30, Perry's)
Magdalena Bay (3:30, Coinbase)
Big Boss Vette (3:20, BMI)
Q Brothers (3:00, Kidzapalooza)
Michelle (2:50, Bacardi)
Neil Frances (2:45, Bud Light)
Dehd (2:30, T-Mobile)
Matroda (2:15, Perry's)
The Red Clay Strays (2:10, BMI)
Bakar (2:00, Tito's)
Ella Jane (1:50, Bacardi)
The Happy Fits (1:45, Coinbase)
Imagination Movers (1:30, Kidzapalooza)
Upsahl (1:15, Bud Light)
Harry Edohoukwa (1:00, BMI)
Dillon Nathaniel (1:00, Perry's)
Ingrid Andress (1:00, T-Mobile)
Little Stranger (12:50, Bacardi)
Husbands (12:30, Tito's)
Sarah Kinsley (12:15, Coinbase)
Sam Moran (12:00, Kidzapalooza)
Ian Asher (12:00, Perry's)
Chicago Made (11:45, Bacardi)