Lollapalooza evacuated because of storm threat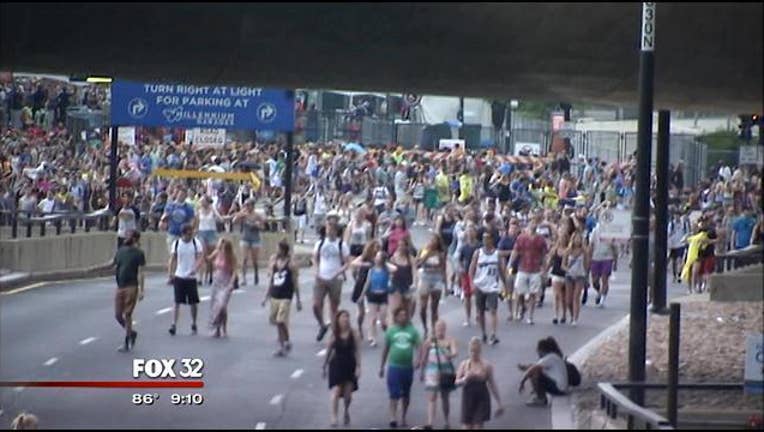 article
CHICAGO (FOX 32 News) - Lollapalooza was evacuated for 90 minutes on Sunday afternoon because of the threat of storms.
The crowd was a bit confused by the evacuation and some people dragged their feet leaving Grant Park, hoping the evacuation would be reversed.
"Twenty-thousand people just moving as slowly as they possibly could towards the exit," said Lollapalooza fan George Blanda.
Kevin Simpson traveled with his wife and kids from Michigan for the final day of Lolla and couldn't believe they were about to spend some of their time back in the car.
"We were watching a show at the other end thankfully near the gate and the band went off and said hey everybody we are the last to play right now so everybody else is being asked to leave and we thought it was kind of a joke because we saw the storm kind of coming in," Simpson said.  "Luckily we were already near the parking garage, where our car was and we took the kids and everything and we kind of just hung out waited and kept checking Twitter."
The evacuation was lifted around 4 p.m. and again the lines were long.  Those who were just arriving to Lolla couldn't believe what they were walking in to!
"Much longer lines," said Heather Harper. "We actually started out at this entrance over here, walking all the way around just to get in because apparently it looked like about a 2 hour wait just to get in the main entrance."
The evacuation caused most of the acts to either be shortened or be pushed back. In the end the festival picked up where it left off, most agreeing better safe than sorry.
"If I was them, I would've done the same thing," says Blanda.