Man charged with attempted murder in Jefferson Park home invasion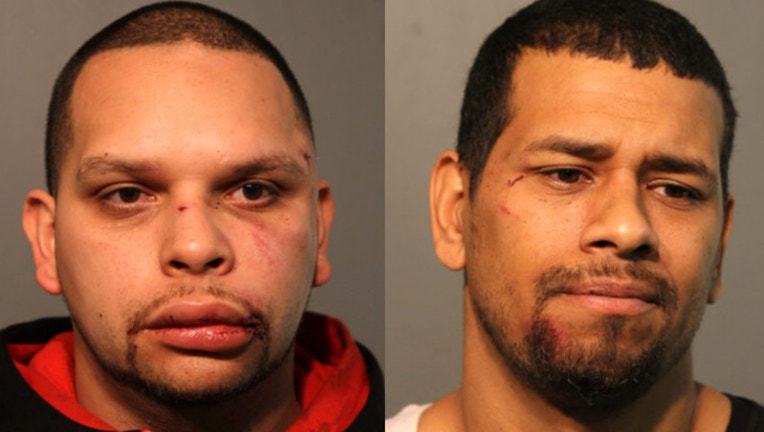 CHICAGO (SUN TIMES MEDIA WIRE) - A man is facing an attempted murder charge after allegedly invading a home with another man Friday in the Jefferson Park neighborhood and shooting a woman during a struggle.
Jerardo Cazares, 30 and Alexis Ruiz, 34, face multiple felony charges related to the incident in which Cazares allegedly pulled the trigger of a gun twice, according to Cook County State's Attorney Michael Gamboney.
The victims of the crime, boyfriend and girlfriend, were home about 7:50 p.m. in the 4600 block of Milwaukee Avenue when they heard noises in the back of their apartment and saw a man enter, Gamboney said.
The man who entered — prosecutors couldn't say who it was — struck the boyfriend in the face and they began fighting, according to Gamboney. Another man entered the apartment and the physical struggle between them moved outside.
During the fight, Cazares allegedly went to a vehicle and grabbed a gun, Gamboney said. The now-armed Cazares jumped back into the fight and pointed the gun at the boyfriend and pulled the trigger — but it didn't fire.
The woman ran outside with a knife and jumped in the brawl, attempting to pull Cazares off her boyfriend, according to Gamboney. Cazares pulled the trigger again and, this time discharging, struck the woman in her thigh.
After the boyfriend helped the girlfriend hobble back into their apartment, Cazares and Ruiz allegedly reentered the apartment, grabbed three cellphones and $400 in cash and drove away, prosecutors said.
Meanwhile, officers responded to a call of shots fired at that location and saw two people in a white SUV drive away, Gamboney and Chicago police said. The SUV traveled several blocks before its occupants ran away and were arrested shortly after.
Officers recovered the cellphones and cash, along with a handgun and 40 casings of ammunition, according to Gamboney.
The boyfriend and girlfriend were both treated at Illinois Masonic Medical Center, where the woman underwent surgery for her wound and was intubated, Gamboney and police said.
Judge Michael R. Clancy denied bail for both Cazares and Ruiz during a Sunday hearing at the Leighton Criminal Courthouse on the Southwest Side.
"Bail is not appropriate in this case," Judge Clancy said of Ruiz. "If he's convicted, it's a mandatory prison sentence. I'm setting bond to no bail considering the use of violence and also considering his history."
Ruiz's public defender noted that he works part time and is a father of three. He lived in the Belmont Cragin neighborhood.
Cazares, of Gage Park, appeared in court with a bruised face and attempted several times to turn back to the public viewing space and address his family.
Judge Clancy reprimanded him for speaking out of turn. After his bail was denied and three bailiffs ushered him away, Cazares spun around and said, "Can I talk to my family, bro?"
Cazares and Ruiz were scheduled to appear in court again Nov. 30.