Man charged with driving drunk on three wheels in Riverside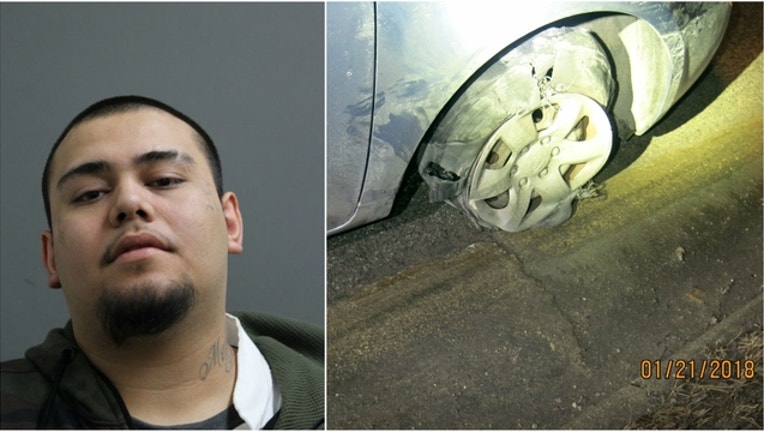 article
SUN TIMES MEDIA WIRE - A Wooddale man was charged with driving drunk on three wheels early Sunday in west suburban Riverside.
At 1:49 a.m., an officer saw a 2008 Kia passenger van traveling on First Avenue near Parkview Road "at an extremely slow speed and on only three tires," according to Riverside police. One of the van's tires had been shredded and the rim was throwing sparks into the roadway.
The officer stopped the van near the intersection of First Avenue and Ridgewood Road, which is near the Brookfield Zoo, police said. When he walked up to the van, the officer immediately smelled alcohol coming from the driver's mouth and inside the vehicle. He also noticed open bottles of beer in the front passenger seat and tucked in a child safety seat in the back seat.
The driver, 22-year-old Javier Cano, told the officer he had "screwed up" and was simply trying to get to a family home in west suburban Bellwood, police said.
Cano then failed a series of sobriety tests, police said. He said he failed the testing because he had been shot years earlier in Chicago. Despite telling the officer that he was "fine to drive and should be let go," Cano was taken into custody.
While in custody, Cano told the officer that his tire blew out after striking a pothole on First Avenue, police said. He said he continued driving because he wanted to make it to his family home after admitting to spending the evening drinking in Oakbrook, Chicago and Summit. He then rejected a breathalyzer test at the station, noting that he was "fat" and was able to absorb alcohol.
Cano was charged with driving under the influence of alcohol, operating an uninsured motor vehicle, driving while license suspended, expired registration and unsafe use of a tire, police said.