Man, woman accused of leading police on chase in stolen vehicle in Chicago suburbs
CHICAGO - Two people were arrested after allegedly leading police on a chase in a stolen vehicle across Chicago's south suburbs over the weekend.
On Saturday, around 10:20 p.m., Illinois State Police and the Chicago Heights Police Department were working in the area of Halsted Street and 163rd Street in Harvey when they witnessed a vehicle speeding. Police say the plates on the vehicle were previously reported stolen.
Officers attempted to pull the vehicle over, but it fled.
A police helicopter followed the vehicle into Lansing where authorities say the vehicle parked in a garage, and the two suspects got out and entered another vehicle.
A Lansing cop then tried to pull over the new vehicle but the suspects fled. They drove to Forest Park where authorities were able to take them into custody.
SUBSCRIBE TO FOX 32 CHICAGO ON YOUTUBE
The suspects were identified as 31-year-old Ashton R. Montgomery of Burnham, and 31-year-old Kahla S. Mitchell of Markham.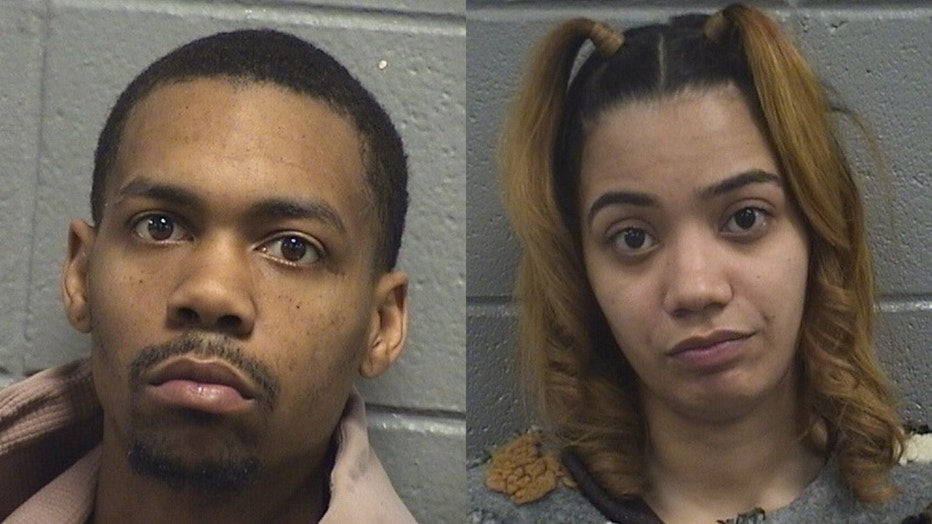 Ashton R. Montgomery and Kahla S. Mitchell | Illinois State Police
At the time of his arrest, police say Montgomery was found with a loaded firearm and a high capacity magazine, as well as dozens of fraudulent checks totaling over $300,000.
Police also took control of the first vehicle and confirmed it was stolen.
The suspects each face charges ranging from unlawful use of a weapon, possession of a stolen car, fleeing and eluding, and resisting arrest.
Mitchell was locked up at the Chicago Heights Police Department on no bond, and Montgomery's bond was set at $130,000.