Missing Indiana man's blanket found in lake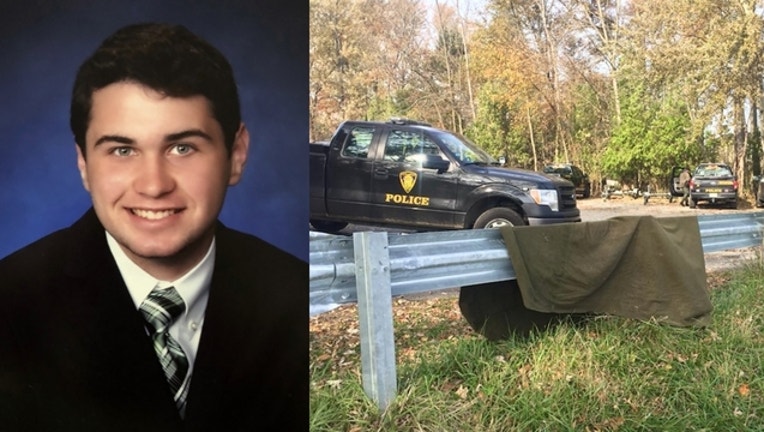 article
SUN TIMES MEDIA WIRE - A green blanket found Tuesday was with a man who didn't resurface after his canoe capsized last month in a northwest Indiana lake.
Officers arriving to the search area Tuesday at Long Lake found the blanket draped over the guard rail at the boat ramp, matching the description of a blanket believed to have ended up in the water with 20-year-old Keegan Whaling, according to the Indiana Department of Natural Resources. Whaling, a Valparaiso resident, has been missing since Oct. 29 when a canoe he and his friend were in overturned about 150 yards offshore in the lake.
The person that found the blanket met with the investigating officer Tuesday and showed him where he found the blanket in the lake, IDNR said. It was then confirmed the blanket was with Whaling when he went into the water.
When the canoe capsized shortly before 7 a.m. in the lake, which is just north of Valparaiso, Whaling's friend was able to swim to shore and summon help from a nearby resident, saying he did not see Whaling make it to shore, IDNR said. It is believed he is still in the water.
No foul play is suspected, IDNR said.
Search efforts, which were unsuccessful Monday and Tuesday, have been hindered by plants in the lake that cannot be thoroughly searched with sonar equipment or safely searched by divers, according to IDNR. Most of the area of interest consists of dense weeds, ranging from 3-to-15-feet in length. Tuesday's search included the use of a certified cadaver dog, an extensive side scan sonar search and divers from several agencies searching several areas of interest identified by the sonar operators.
Search efforts by Indiana Conservation Officers will be evaluated on a daily basis and are expected to continue with regular patrols of the area.
Nearby residents and lake users have been advised of the situation so they can immediately call conservation officers at (812) 837-9536 if a body is found.