Mixed reviews for latest talks on Illinois budget standoff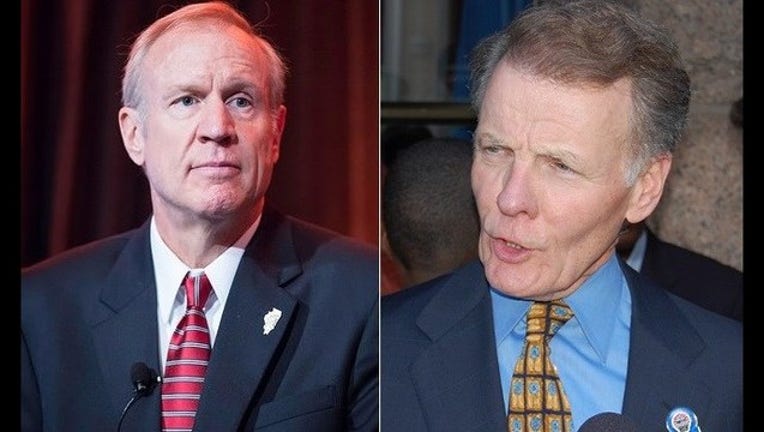 article
SPRINGFIELD, Ill. (AP) - Legislative leaders gave mixed reviews Tuesday to the latest negotiations with Gov. Bruce Rauner to seek an end to Illinois' epic budget standoff, tempering any optimism with skepticism that a compromise is possible any time soon.
As the stalemate nears a year, Rauner and his fellow Republicans continue to press Democrats to pass pro-business, union-weakening legislation and make Illinois' workers' compensation insurance program less expensive for businesses. In return, the governor and Republicans have said they would go along with a tax increase to solve the state's multi-billion dollar deficit.
After the meeting, Republican House Leader Jim Durkin described the meeting this way: "I'm pleased to say that after many, many months of objection by (Speaker Michael Madigan) to discuss any type of reform, the speaker has indicated he will open negotiations on collective bargaining in local governments, pension reform and also workman's compensation reform. Those are the key to breaking the impasse."
But Madigan's statement after the meeting struck a different tone.
"The governor's continued insistence on passage of his agenda that hurts the middle class is a clear indication he is not interested in passing and implementing comprehensive, full-year budgets that do not decimate needed services relied upon by the people of Illinois," Madigan said.
Madigan noted that lawmakers and Rauner have been able to pass short-term funding for higher education and local government services over the last year when the governor "sets aside his non-budget agenda."
Illinois has gone without a budget since July 1 when Rauner vetoed the out-of-balance spending plan Democrats sent him.
Rauner has said he's optimistic he can reach a two-year budget deal with lawmakers before they adjourn May 31. After that, passing a budget will be more difficult because it will require a three-fifths vote in each chamber.
Democratic Senate President John Cullerton said the meeting was productive because Rauner reinforced his commitment to support a tax increase under the right circumstances. And legislative leaders said after the meeting Tuesday that they'll put together a group of lawmakers to discuss the reforms Rauner wants.
Republican House Leader Christine Radogno said she was glad Madigan was willing to have those discussions, but she expressed doubt that the group would succeed where others haven't.
"I will tell you from my perspective I'm pretty skeptical," she said. "We've had many working groups and (Madigan) disavows any knowledge or interest of them, every time. This will be one more go-around."
A couple of hours after the meeting's conclusion, Madigan had his chamber vote on a $397 million bill to fully fund a tuition grant program that has gotten only partial aid from the state since July 1. The bill passed the House and if it clears the Senate it will force Rauner to make the difficult decision of whether to sign or veto when he's been advocated for a full budget solution instead of temporary fixes.