More streets closed ahead of Chicago Marathon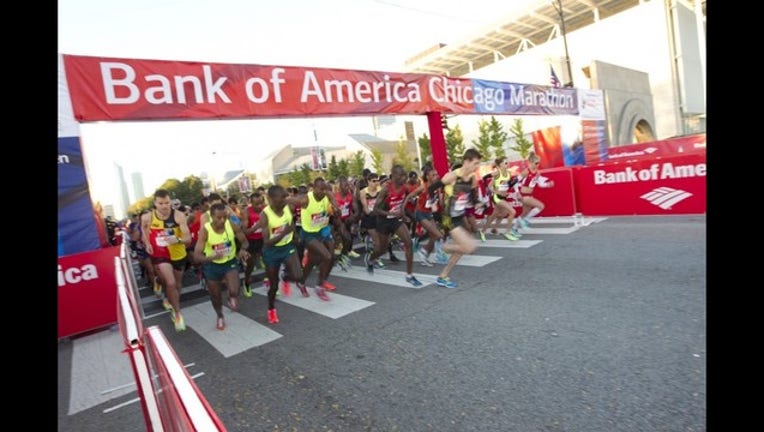 article
CHICAGO (Sun-Times Media Wire) - Additional street closures have been put into place Saturday with more expected by Sunday morning as the city continues preparation for the Chicago Marathon.
Near Grant Park, where the race will begin and end, Balbo is closed from Columbus to Lake Shore Drive, according to the city's Office of Emergency Management and Communications. Jackson is also closed from Columbus to Lake Shore Drive and Columbus is closed from Roosevelt to Monroe.
By Saturday, Columbus, Balbo, Congress, Jackson and Monroe were all closed in Grant Park, with most of the streets in the park expected to reopen by Monday morning, OEMC said. Street closures along the race route will begin about 7 a.m. Sunday and most will be reopened by 4:30 p.m.
The race begins in two waves, one at 7:30 a.m. and one at 8 a.m., in Grant Park, with runners racing on a course that goes as far north as Addison, as far west as Damen, and as far south as 35th Street, encompassing 29 neighborhoods along the way, OEMC said.
Parking restrictions will be in effect along the course beginning early Sunday morning. Vehicles will be towed and "no parking zones" will be strictly enforced, according to OEMC. If your vehicle is towed, call 311.
Race organizers expect about 1 million spectators to line the marathon route. Chicago Police will be conducting random bag checks and runners will not be allowed to leave bags or clothing unattended in Grant Park. Only participants with event-issued bib numbers, credentialed staff and ticketed guests will have access to the start and finish areas.
"Race organizers and the City work diligently every year to plan and coordinate this world-class event in Chicago to ensure a safe and positive experience for participants, spectators, residents, visitors and volunteers," OEMC Director Gary Schenkel said in a statement.
"The City of Chicago continues to respond and implement safety measures and traffic plans in order to lessen the impact on our residents and all involved as much as possible. We ask the public to assist in that effort by adhering to the restrictions and policies in place on race day," Schenkel said.