More than 40 'Ghost Face Gangsters' white supremacist gang members indicted, DOJ says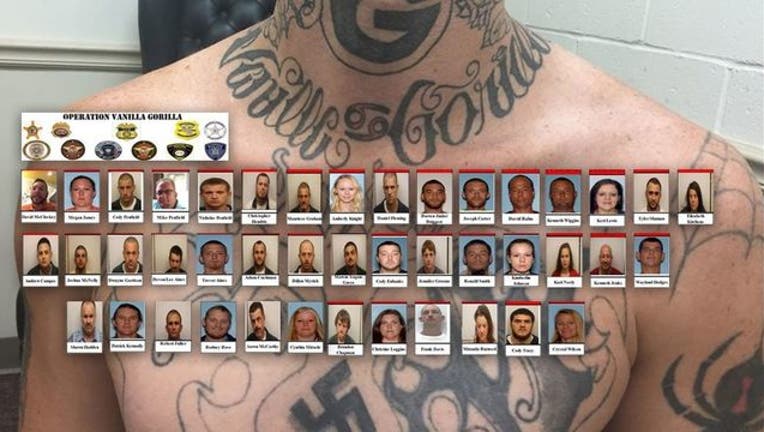 article
FOX NEWS - Forty-three men and women linked to a notorious prison gang known as the "Ghost Face Gangsters" were indicted on federal charges this week, officials said.
The Department of Justice announced Monday the defendants linked to the violent white supremacist group were indicted on charges "related to drug trafficking and firearms possession throughout eastern Georgia and beyond."
The charges include 25 counts "alleging the possession of controlled substances with intent to distribute" and 18 counts "alleging the unlawful distribution of controlled substances."
The accused gang members include Adam Cushman, 39, of Savannah, Ga.; Avery Wiggins, 43, of Guyton, Ga.; and Cody Tracy, 33, of Guyton, Ga. Go here for a full list of the men and women indicted in this case. They all face potential life sentences in prison.
A DOJ news release alleges the "narcotics-trafficking conspiracy" began in 2015 and is still ongoing. The sweep, dubbed "Operation Vanilla Gorilla," is said to be one of the biggest takedowns of the group. It follows another large swath of arrests from this past March where authorities charged 23 alleged "Ghost Face" members in the Northern District of Georgia.
"Operation Vanilla Gorilla" got its name from a moniker some of the gang's members wear proudly, authorities said.
"When I was sworn in as the United States Attorney, I pledged that we would make neighborhoods safer and work hard to dismantle criminal street gangs," Bobby L. Christine, a U.S. attorney, said. "As this indictment demonstrates, we will coordinate with federal, state and local law enforcement to identify criminal organizations; we will target them; and we will dismantle them. The 'Ghost Face Gangsters' is a gang that started in Georgia prisons. It has spread to the free world. It is my goal to end the gang where it started."
The Miami Herald reported the "Ghost Face Gangsters" were established in the early 2000s at Georgia's Cobb County jail. The gang has spread into other prisons in the state, officials said.