NBC News fires Matt Lauer over inappropriate sexual behavior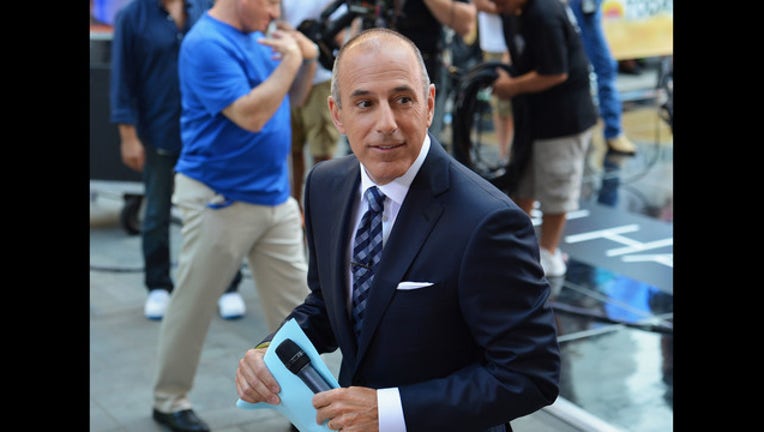 article
NEW YORK (AP) — NBC News said Wednesday it fired longtime "Today" show host Matt Lauer for "inappropriate sexual behavior" involving a network employee that started when both were stationed at the Sochi Olympics in 2014 and continued beyond that assignment.
Lauer becomes the second TV morning host in a week to lose his job over sexual misconduct allegations, and to American audiences is the most familiar figure brought down by the accusations that have swept through Hollywood, the media and the business world in the past two months.
Lauer, 59, has essentially been the king of television morning news since first being paired with Katie Couric on "Today" in 1997 and is one of the highest-paid figures in TV news.
For many years, "Today" was the unquestioned ratings leader, until it was eclipsed by ABC's "Good Morning America" following the ugly 2012 firing of then co-host Ann Curry. The show had stabilized in recent years with Lauer's pairing with Guthrie.
He joins a lengthening list of media figures felled by sexual misconduct accusations this year. Besides Rose, they include Lauer's NBC News colleague Mark Halperin, Fox News prime-time host Bill O'Reilly and National Public Radio newsroom chief Michael Oreskes. The New York Times suspended White House correspondent Glenn Thrush last week.
Lack, in his memo, said, "We are deeply saddened by this turn of events. But we will face it together as a news organization — and do it in as transparent a manner as we can."
There were reports that, before the firing, that some media organizations were looking into Lauer's behavior. The morning host is married with three children.
Guthrie appeared to fight back tears as she called Lauer her friend who is beloved by many at NBC, and said she was "heartbroken for my colleague who came forward to tell her story and any other women who have their own stories to tell."
"We are grappling with a dilemma that so many people have faced these past few weeks," she said. "How do you reconcile your love for someone with the revelation that they have behaved badly? I don't know the answer to that. But I do know that this reckoning that so many organizations have been going through is important, it's long overdue and it must result in workplaces where all women, all people, feel safe and respected."
Two hours later, NBC's Megyn Kelly noted the anguish on the faces of her colleagues but said, "What we don't see is the pain on the faces of those who found the courage to come forward, and it is still a terrifying thing to do."
Kelly, who has written about being sexually harassed by former boss Roger Ailes at Fox News Channel, has covered the issue aggressively on "Today."
On Twitter on Wednesday, President Donald Trump said "Wow, Matt Lauer was just fired from NBC for 'inappropriate sexual behavior in the workplace.' But when will the top executives at NBC & Comcast be fired for putting out so much Fake News."
___
Associated Press writer Patrick Mairs in Philadelphia contributed to this report.