New format in place for Chicago Marathon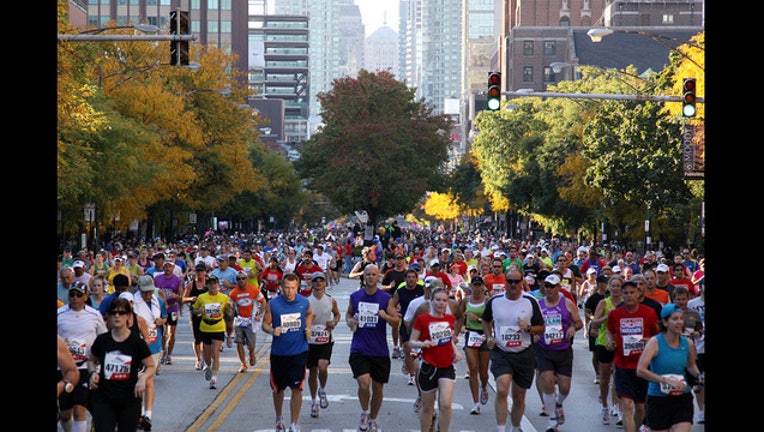 CHICAGO (AP) — The Chicago Marathon will crown two new champions this weekend under a format intended to de-emphasize record times.
Race officials have eliminated pace-setting elite runners from the 38th annual event, setting up a 26.2-mile run Sunday that is expected to be more competitive.
"I think we got a little too focused on (records)," said longtime race director Carey Pinkowski. "We became a little artificial. I think we got away from what was the essence of competition," he added. "We've had historic performances from head-to-head competition. We'll take a look on Sunday and see."
The mostly flat course follows a winding route through downtown towers and Chicago neighborhoods, and the forecast calls for race-time temperatures in the upper 50s, rising to the lower 70s.
With defending men's champion Eliud Kipchoge not among the entries, fellow Kenyan Sammy Kitwara is hoping to move up after a runner-up finish a year ago.
"Maybe this year is my year in Chicago," said Kitwara, who ran a personal best 2:04.28 last year. "I know where I can adjust my pace where I can reduce my pace and where I can move. Knowing the course is much better than (for) someone who is new."
The 28-year-old Kitwara has finished among the top four in the past three years. Kipchoge has three of the world's top marathon times this year but opted to skip Chicago.
A wide open women's race is expected with the top two finishers from 2014 not entered. Rita Jeptoo, last year's winner and a three-time Boston champion, is under a two-year ban after testing positive for the blood-booster EPO several weeks before last year's Chicago Marathon.
Kenyan Florence Kiplagat is the top returning woman after a third-place finish in 2:25.57.Fourth-place finisher Birhane Dibaba, an Ethiopian, is also back. The women's field will include 42-year-old Deena Kastor, the 2004 Athens Olympics marathon champion and 2005 Chicago winner. Joan Benoit Samuelson, marking 30 years since her then-record 2:21.31 in Chicago, is a potential entry but has suffered this week from a stomach virus that could keep her sidelined.
Kenyan runner Wesley Korir said an example set by removing pacesetters from Chicago's race will help reduce pressure for faster times and temptation to engage in doping .
"This is maybe one step toward curing the problem with the doping issue," said Korir, entered in his sixth Chicago Marathon and first since 2012. "The doping issue in place right now in the sport is not a one-country problem."
Reigning wheelchair champions Tatyana McFadden and Joshua George — both Americans — are back for a race that doubles as qualifier for the 2016 Rio de Janeiro Paralympics.
The men's and women's races are part of the Abbott World Marathon Majors, a series of eight races conducted over a year and awards a $500,000 prize to the overall male and female point earner. Kipchoge leads the men's field. Ethiopian Mare Dibaba, second last year at Chicago but not entered this year, tops the women's standings.