Arizona man arrested after teen was beaten and left badly wounded during marijuana deal, police say
PEORIA, Ariz. - A Phoenix man is arrested in connection with a beating in Peoria that left a teenager badly injured, according to officials with the Peoria Police Department.
The suspect, identified as 19-year-old Hudson C. Calixto, was arrested on Jan. 29. According to court documents we obtained, an investigation into the beating incident began on Jan. 28, when Peoria Police officers responded to Honor Health Deer Valley for a report of an aggravated assault of a 16-year-old boy.
"The victim was found to have a skull fracture and several lacerations to his head that required 40 staples and several stitches to close," read a portion of the documents.
Investigators say it was later discovered that Calixto met up with the victim in the area of 91st Avenue and Union Hills Drive in Peoria to buy marijuana from the victim.
"During the transaction, a fight had broken out while inside the victim's vehicle," read a portion of the document,"During the fight, the victim reported both [Calixto] and his friend, Suspect Number Two, began punching him with brass knuckles and robbing him."
According to police, Calixto and the other suspect, who was not identified in the court documents, stole the victim's backpack from the car's rear seat when they fled.
Investigators say Calixto and the second suspect are known to the victim, as they went to the same high school.
During an interview that happened after Calixto was read his Miranda rights, Calixto told police he drove the second suspect to the area, as the second suspect had $100 in cash and needed a ride to buy marijuana.
"[Calixto] stated a fight broke out inside the victim's vehicle, at which time [Calixto] exited his car and got into the victim's vehicle. [Calixto] stated he got into the react driverside passenger seat and bear-hugged the victim, holding him down as the second suspect was punching the victim.," read a portion of the statement.
Calixto, according to investigators, said the second suspect stole the victim's marijuana and the victim's backpack on the back seat, and was later taken back to their home by Calixto. 
According to court documents, Calixto is accused of one count of felony aggravated assault with a deadly weapon or dangerous instrument.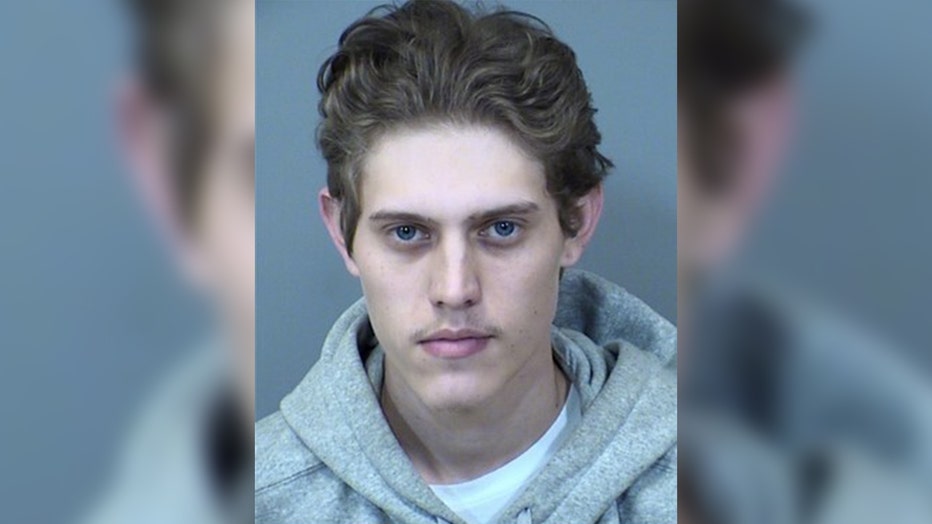 (Click here for interactive map)
Read More Arizona Crime Stories
Tune in to FOX 10 Phoenix for the latest news