Pritzker: Don't change high school AP course to appease DeSantis and 'Florida's racist and homophobic laws'
news - Illinois Gov. J.B. Pritzker is going to battle with the national College Board over what he calls "political grandstanding" by Florida Gov. Ron DeSantis.
The Chicago Democrat is warning the nonprofit that oversees the Advanced Placement program that Illinois will reject a revised African American Studies course if it doesn't include "a factual accounting of history, including the role played by black queer Americans."
Pritzker sent a sharply worded letter to the board over its decision to revise the Advanced Placement course in African American Studies after the Florida governor — and likely GOP presidential candidate — blocked Florida high schools from offering the course because it included segments on "queer theory" and "abolishing prisons," among other topics.
It's unclear how the course will be changed or if the revisions stem from Florida's rejection, but the College Board said the new framework would be released on Feb. 1.
Pritzker objected to any change "in order to fit Florida's racist and homophobic laws."
"In Illinois, we reject any curriculum modifications designed to appease extremists like the Florida Governor and his allies," Pritzker wrote in the letter obtained by the Sun-Times.
Pritzker, considered a potential Democratic White House hopeful should President Joe Biden not seek reelection, objected to the Florida Republican limiting the teaching of Black history and suggested to the board that Illinois high schools would reject any "watered-down" AP class that ignores the nation's "true, if sometimes unpleasant, history."
SUBSCRIBE TO FOX 32 ON YOUTUBE
Pritzker wrote that Illinois will closely examine any revisions to ensure it includes "all necessary history, starting with this nation's foundation built on slavery, the Civil War where this nation reckoned with that history and the decades of rebuilding and efforts of black Americans to continue their fight for equality and equity to this day."
The governor's office told the Sun-Times it would reject the curriculum if it didn't include the "factual" framework detailed in Pritzker's letter.
Florida Department of Education officials said they are hoping for the removal of content about topics including critical race theory, Black queer studies and intersectionality.
In a Jacksonville, Fla., news conference on Monday, DeSantis called the curriculum "a political agenda."
"That's the wrong side of the line for Florida standards," DeSantis said. "We believe in teaching kids facts and how to think, but we don't believe they should have an agenda imposed on them when you try to use Black history to shoehorn in queer theory, you are clearly trying to use that for political purposes."
The war over the curriculum began on Jan. 12 when the Florida Department of Education sent the College Board a letter saying the course is "inexplicably contrary to Florida law and significantly lacks education value."
"In the future, should College Board be willing to come back to the table with lawful, historically accurate content, FDOE will always be willing to reopen the discussion," the letter read.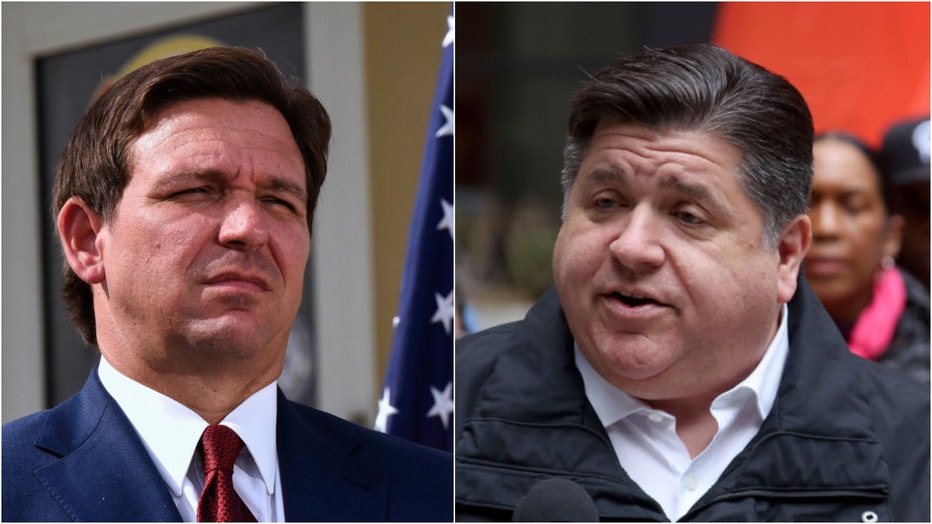 On Wednesday, department spokesperson Alex Lanfranconi said they are encouraged to see the board "express a willingness to amend" the course.
"AP courses are standardized nationwide, and as a result of Florida's strong stance against identity politics and indoctrination, students across the country will consequentially have access to an historically accurate, unbiased course," Lanfranconi said in an emailed statement.
As Governor DeSantis said, African American History is American History, and we will not allow any organization to use an academic course as a gateway for indoctrination and a political agenda. We look forward to reviewing the College Board's changes and expect the removal of content on Critical Race Theory, Black Queer Studies, Intersectionality, and other topics that violate our laws."
Florida in 2021 passed a law that banned the teaching of critical race theory. And last year, DeSantis signed the "Stop WOKE" Act," which places restrictions on how schools and businesses can talk about race.
Pritzker has become a frequent DeSantis critic as buzz over the 2024 presidential election grows louder. Last year at a Florida Democratic Party conference, Pritzker likened DeSantis to former President Donald Trump, saying he is "really just Donald Trump with a mask on."
"He's trying to pass off his covert racism, homophobia and misogyny as a more reasonable form of Trump Republicanism," Pritzker said in his speech that day.
Pritzker last year also condemned DeSantis' "Parental Rights in Education" bill, which many refer to as the "Don't Say Gay" bill, which prohibits classroom discussion or instruction on sexual orientation and identity in kindergarten to third grades or in older grades in "a manner that is not age-appropriate or developmentally appropriate."
"We cannot stand idly by as Republican governors wage incessant attacks on the LGBTQ+ community," Pritzker said in a tweet after the bill became law. "Everyone deserves a state where you can be your authentic self. As long as I'm governor, the state of Illinois will see you, support you, and welcome you with open arms."