Rauner frustrated at lack of progress to end budget impasse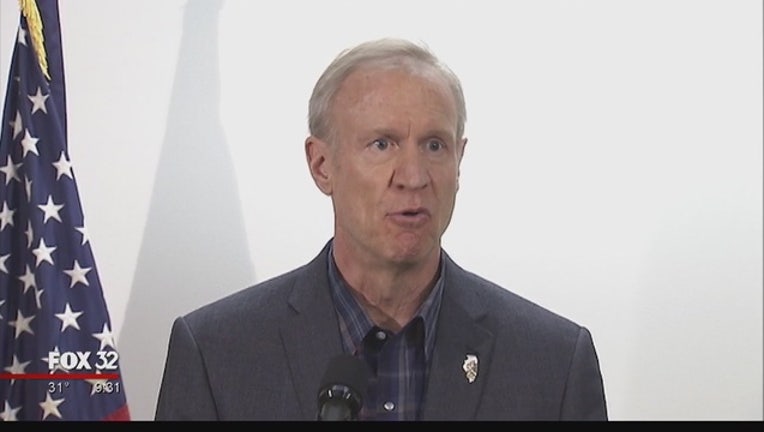 article
SPRINGFIELD, Ill. (AP) - Republican Gov. Bruce Rauner expressed frustration at the lack of progress in budget negotiations with Democratic House Speaker Michael Madigan, saying Wednesday that his efforts to arrange a one-on-one meeting have gone nowhere.
Rauner accused Madigan and fellow Illinois Democrats of "playing games" by purposefully stalling talks on a long overdue budget so they can argue for a tax hike.
Illinois is the only state in the country without a budget for the current fiscal year, which began July 1.
"Why can't we meet today? What's the reason? There's no reason. It's game-playing on their side. They're trying to force a tax hike and they're playing games right now," a clearly exasperated Rauner said during an event to promote a revamp of the state's information technology systems.
Madigan spokesman Steve Brown responded by blaming Rauner for the budget impasse, noting that it was the governor who vetoed the spending plan lawmakers sent him last year.
"Now he wants to pretend that this is something that Democrats did," Brown said.
Rauner said he vetoed the budget because it was billions out of balance. He added that he's willing to meet with Madigan whenever: "I've told him I'll meet in Springfield, Chicago, any time, any day of the week. I hope we can get together soon."
Asked if Madigan is willing to meet with the governor, Brown said: "I haven't asked the speaker that so I wouldn't know."
The ideological clash between Rauner and Democrats who control the Legislature has plunged Illinois further into debt during the nine months the state has operated without a budget due to court-ordered spending for key programs. But it's happening at the levels from the 2014-2015 fiscal year budget, when revenues were higher.
Meanwhile, social service programs have been forced to make cuts and higher education institutions have laid off staff. Chicago State University on the city's South Side is considering closing altogether, a prospect Rauner called "an outrage."
"There's no excuse for it," he said.
Brown, however, said that "the tragedy that has befallen higher education lies squarely on (Rauner's) lap. Pure and simple."
The acrimony between leaders from both parties underscores the gridlock during the past several months. The last time Rauner met with Madigan and other legislative leaders was in mid-December.
Since then, Democrats have passed a bill to fund community colleges and tuition grants for low-income students - a $721 million measure Rauner vetoed, saying the Democrats didn't identify funding for it.
Now, Democrats are advancing a $3.7 billion funding bill for colleges, universities and various social service programs. But Rauner has indicated he will veto that measure as well, for the same reason as the earlier one.