Rauner-Madigan rivalry hamstrings Illinois budget talks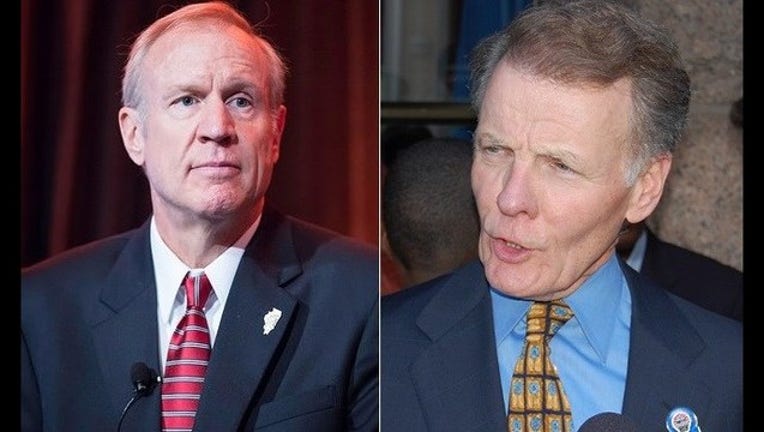 article
SPRINGFIELD, Ill. (AP) — The rivalry between Republican Gov. Bruce Rauner and Democratic House Speaker Michael Madigan continues to intensify during Illinois' 10-month budget stalemate, leaving little hope that the state will have a spending plan any time soon.
Neither man has budged from their respective positions in a battle of attrition that has left Illinois as the only state in the country without a budget for the fiscal year that began July 1.
Rauner, a wealthy venture capitalist and first-time officeholder, promised voters he would shake up state government and wants a series of reforms aimed at curbing the power of unions and reducing costs for businesses. Madigan, the face of the state Legislature since the 1980s, has maintained solid Democratic majorities by keeping his party's allies happy, and that includes unions. He says Rauner's ideas are destructive for the working class.
Tuesday marked the first time they were in the same room since December for negotiations, but the same day they publically maligned the other's position. Rauner spoke to a group of business leaders in Springfield before their meeting, while Madigan delivered a rare mid-session speech on the House floor afterward as Democrats prepared to pass a $4 billion measure to fund colleges and social service programs — a bill the governor is expected to veto, saying there's no money for it.
Their remarks show how far apart they still are — and how far Illinois may be from a resolution of its political paralysis:
___
MOTIVES
Each leader blames the other for using the budget gridlock for political gain.
Rauner:
"I'll tell you what's going on right now, the General Assembly, the Democrats in the majority are working very aggressively to try to force a big tax hike with no reform. They are working really hard right now. They're holding hostage (college student) grants, they're holding hostage social services funding, and they're holding hostage our university funding."
Madigan:
"Some of (Rauner's) remarks in recent years clearly indicate this has been his plan from the very beginning. At the Tazewell County Republican Party's Lincoln Day Dinner, March 2013, Gov. Rauner said, and I quote, 'Even if Democrats got a major majority against us, you know what? They can't stop us. They won't stop me if I want to dramatically spend less. You need the Legislature if you want to spend more. If you want to spend less, they can't stop me. And I apologize, we may have to go through a little rough times."
___
GIVE AND TAKE
Democrats want Rauner to drop his demands for reforms and focus on balancing the budget. Rauner has said he's willing to support a tax increase to help do that if he gets some of the things he wants.
Madigan:
"Over the last 13 months, compromise has been very difficult to achieve. Never before has the state gone this long without a budget. Every other governor that I have worked with has negotiated with the general assembly in good faith to help the people of Illinois and to ensure that the people of our state would not needlessly suffer."
Rauner:
"Let me be clear, I can never, and will never support a tax hike without significant reforms. Just won't do it. Just cannot do it. It would be a huge error, massive mistake for the people of Illinois to put in a massive tax hike and no reforms. I won't do it. End of story. Period. Won't do it. Now when they compromise on what reforms we have, I'm willing to work with the General Assembly to find bipartisan compromise, but we need significant reforms."
___
HOLDING FIRM
Rauner and Madigan have indicated they're in the fight for the long haul.
Madigan:
"My view of the important role of state government — which I have argued stands in stark contrast with Gov. Rauner's view of the role of state government, as shown through his comments — has not changed since I first took office. State government has a vital role to play in working to provide needed services for those who need them the most."
Rauner:
"So we're going to stay strong, need your support, big battle, this is a critical year. We're going to stay strong. It's hand-to-hand combat ... we gotta stay persistent, stay true to our principles of freedom and opportunity and growth."