Ring doorbell shows homeowner pushing armed robbery suspect posing as deliveryman
A Ring doorbell camera captured an armed robber posing as a deliveryman. (Released by East Haven Police)
EAST HAVEN, Conn. - A Ring doorbell camera captured terrifying moments of a homeowner fending off an armed robber posing as a deliveryman. 
East Haven Police in Connecticut said the attempted home invasion occurred on April 14 on Maple Street. 
Officers said before 10:00 a.m. local time, a man came up to a home dressed as a deliveryman, wearing an orange safety vest and holding a package in his hand. 
RELATED: Police: Man posed as dentist, rented hotel room to run illegal operation
The man rang the doorbell and told the homeowner the package belonged to him. 
The robber then pulled out a black handgun and tried to enter the home. However, the homeowner pushed him away.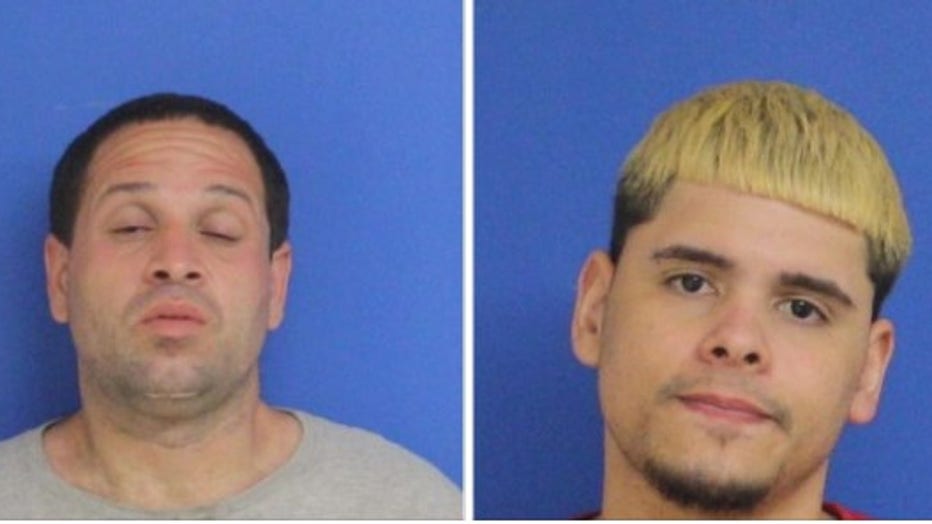 Xavier Otero and Jean Carrasquillo-Torres. (Credit: East Haven Police)
The robber then ran from the house and got into the rear passenger side of s silver and black Dodge Ram. 
Police then released images from the Ring doorbell surveillance camera to the public in hopes of finding the suspect. 
Tips started to pour in, and officers later found the suspected robber and identified him as 37-year-old Xavier Otero. He was located at a family member's house. He is charged with several crimes including home invasion, first-degree threatening and possession of a firearm. 
RELATED: Watch: Trooper uninjured after truck slams into car during traffic stop
Authorities then arrested the suspected driver of the getaway truck and identified him as 26-year-old Jean Carrasquillo-Torres. He's charged with conspiracy to commit home invasion and unlawful restraint. 
Authorities believe the men intended to zip-tie their victims and robbed them. They also believe the men intended to carry out a second home invasion.  
Both men are being held on a $250,000.00 bond and expected to appear in court later this month. 
This story was reported from Los Angeles.