Rock Bottom Brewery, staple of River North, abruptly closes after more than two decades in business
CHICAGO - After more than two decades in business, a River North staple has closed its doors.
Rock Bottom Brewery, located at the southwest corner of State Street and Grand Avenue, served its final batch of beer Sunday night.
"It's always sad to see a restaurant close, especially one that has been a cornerstone of the neighborhood," said Sam Toia, president & CEO of the Illinois Restaurant Association.
On Monday, a dumpster was placed outside and team members were seen cleaning out the business – getting rid of what is no longer needed.
The CEO of SPB Hospitality told FOX 32 Chicago that Rock Bottom's lease expired and with post-COVID sales still not where they used to be, the company decided it wouldn't be renewing its lease.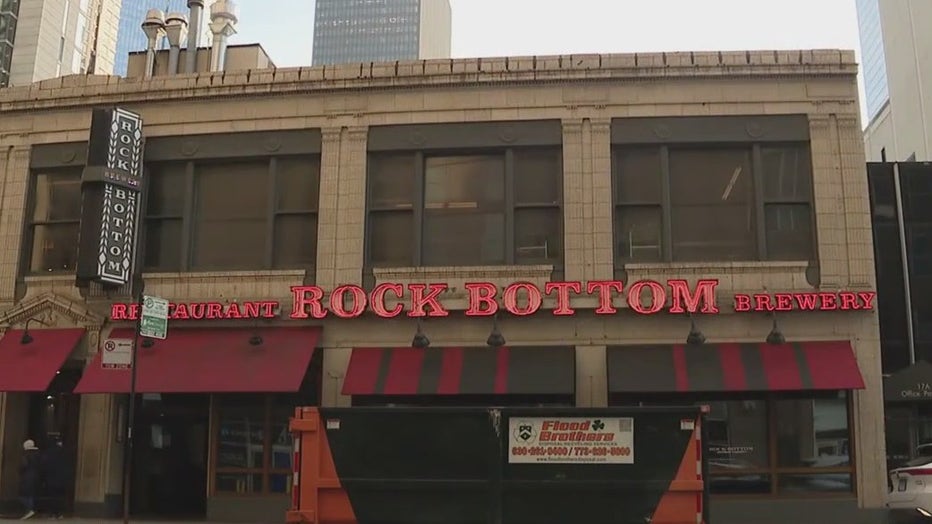 A sign in the window reads, "thank you for the many great years of support."
"It leaves a big, sizable hole right in that downtown area," said Ray Stout, executive director, Illinois Brewers Guild.
Stout said the closure is significant, as Rock Bottom made its mark on the brewing industry and inspired others to follow suit.
"They were in the foreground of doing interesting styles, specifically, barrel-aged beer, in a time where no other brewery was doing it in Illinois and hardly any other brewery was doing it in the country," Stout said. "As a matter of fact, our Festival of Barrel-Aged Beer which is the largest barrel-aged festival in North America started at Rock Bottom."
The closure impacts about 45 employees, but many will have the opportunity to transfer to suburban locations.
SUBSCRIBE TO FOX 32 ON YOUTUBE
"A lot of restaurants, especially in River North, that cater to a lot of people that work in the Central Business District, they lost a lot of lunch business, they lost their Happy Hour, they lost their dinner business," said Toia.
Toia says he's hopeful the hospitality industry will fully recover in the next 12 to 18 months, but rising food costs, staffing shortages and inflation aren't helping.
"We will get back there," said Toia. "I think everyone's just waiting to see what the first and second quarter of 2023 bring to us before you see restaurant companies expanding."
Rock Bottom locations in Orland Park, Warrenville and at Yorktown Shopping Center will remain open. Gift cards and loyalty rewards can still be redeemable at those locations.