Rod Blagojevich sits down with FOX 32 for first 1-on-1 interview after Trump commutation
CHICAGO - Following President Donald Trump's commutation on Tuesday, former Illinois Governor Rod Blagojevich sat down with FOX 32 Wednesday afternoon to talk about his time in prison, as well as what's next in life for he and his family.
On Wednesday morning, Blagojevich held a press conference for the media in front of his Ravenswood Manor home. He mentioned how during his time in prison, he hit rock bottom. We followed up on that statement, asking him to delve a little further into detail.
"Just going to prison and saying goodbye to my wife and my children. Kissing them goodbye in the early morning hours of the day I left, which was the 15th of March, 2012. It was a Thursday. It's a day I'll always remember, in my mind, it's a day that will always live in infamy," Blagojevich said.
"But when you're about to do that and you're leaving home, and the court tells you you're not coming home for 14 years, I mean that's rock bottom," he added. "It was probably the most challenging day I've ever had to face."
But even through all the chaos, Blagojevich says he kept hope alive.
"My responsibility as a father and husband, was to weather this storm and be strong through it, because I had to do the best I could to help my children, which was a very traumatic experience for them…saying goodbye to them in the darkness of that early morning, my objective had to be to stay strong and encourage them to not lose hope. I've learned when you gone through something like this, hope sustains you, as my friend Reverend Jackson has coined the phrase: Keep hope alive, absolutely. So my duty was to first and foremost keep hope alive for my children, and for Patti, and the best way to do that was to approach this crushing adversity in a way to try and turn it into something good and to use my time in prison to grow physically, to try to learn more, and in the case of my faith, to get stronger in my faith by frankly spending time in the Bible -- a book that I didn't spend a lot of time reading. I believed in it. But actually learning about it and thinking through it, and that was very helpful for me as well."
We asked Blagojevich if he realizes how lucky he is to be at home now and out of prison. We pointed out that if Hillary Clinton had been elected president in 2016, that he would not be a free man right now.
"I do see the hand of God in all of this, somehow shaping certain events. And I think it's even more unlikely when you think about how things have unfolded. That I would face what I had to face when I was arrested, charged, thrown out of office, unable to work. And that an opportunity would come to be on Celebrity Apprentice, and to actually get to know Donald Trump a little bit. And that he would ever run for president, that was not anything I remotely thought of. And that he would run and that he would win. And that then the same people, some of these same characters who did it to me, did the same thing to President Trump. They weaponized their absolute power, it's unchecked. They used it as a weapon against a sitting president. They did it to a sitting governor," Blagojevich said.
"This is a much larger issue than Donald Trump or me. It's about you and all of us who are American citizens. It's about our right to self-government. It's about the right of the people to choose their leaders, and if they don't like us [then] vote us out."
Trump made clear on Tuesday that he saw similarities between efforts to investigate his own conduct and those who took down Blagojevich.
"He's a Democrat, he's not a Republican. It was a prosecution by the same people - Comey, Fitzpatrick, the same group," Trump said. He was referring to Patrick Fitzgerald, the former U.S. attorney who prosecuted Blagojevich and now represents former FBI Director James Comey, whom Trump fired from the agency in May 2017.
Trump also expressed sympathy for the former Illinois governor's children.
"Very far from his children," Trump said. "They rarely get to see their father outside of an orange uniform. I saw that and I did commute his sentence."
We asked Blagojevich if there will be a point, if not now then in the future, where he or his wife Patti would regret aligning themselves with Trump, who some say is the greatest threat to the rule of law in America.
"I would say he's probably the one who can possibly save the rule of law in America. I know from my own personal experience that the greatest threat to the rule of law in America is from these uncontrolled, unaccountable lawless prosecutors and some of the other entrenched bureaucrats in government who misuse and abuse their power," he said. "The fact of the matter is they have little or no accountability. The law cloaks them in sovereign immunity. They can do whatever they want to people. They can lie. They can cheat. They didn't just do this to me. I've met hundreds of inmates that are in prison who were shaken down and forced into pleading guilty to things that they didn't do… as I said earlier, 97-percent conviction rate? Something ain't right. Nobody wins 97-percent of the time, unless you're the boxing champion Floyd 'Money' Maywhether. Michael Jordan only hit 80-percent of his free-throws."
We pointed out to Blagojevich how some people suggest his wife Patti had to "cut a deal with the devil" – meaning President Trump – with going on FOX News and other outlets to plead her case, in order to free him from prison, and that they shouldn't align themselves with this current president. Blagojevich, however, disagreed.
"She was getting our story out and telling our story. And this good man in the White House, and I know he gets maligned, but you know what I hope if he ever gets a chance to take a look and see some of the press clippings against Abraham Lincoln, he might get inspired a little bit to realize this is what goes with the job. Especially when you're a change agent like he is, and he's shaken things up. You're going to get that kind of push back and you're going to get the resistance from the establishment. I saw that with that swamp in Springfield with Madigan and that whole group and Cullerton and those guys. They're just in there serving themselves and their own particular political interests and they're doing it at the expense of the average, ordinary people. They don't think about things that can get done that actually helps real ordinary people. It's a swamp of lobbyists and insiders. And he's got that in Washington. And this is a president who's fighting it. And he's a different kind of Republican. This is not your traditional Republican. And he's speaking to traditional Democratic constituencies like my father, a working man, factory workers, and actually offering them hope that some of those jobs that the experts said could never come back, well he's bringing them back. And he's bringing them back to places like Wisconsin, and Pennsylvania and Michigan and the Midwest."
Blagojevich has hinted that he is ready to embark on a new future in criminal justice reform, to help others in the prison system who have been convicted but are innocent. We asked him if he's a changed man now from eight years ago when he was sentenced, and also in what ways.
"I think we all change over time, and hopefully we do better and try to learn more. I've drawn closer to God because I've had a chance to read the Bible and think about it and live it… so in the sense of whether I've changed or not, besides the color of my hair and being older, I think I've learned more. I do think for Patti, and Amy and Annie, and for me, like with so many people who go through hard times… it can make you better… It makes you tougher, stronger, wiser, and frankly more understanding of people's troubles and more compassionate. That's why I feel like maybe I can have a voice for those who don't have a voice who have gone through circumstances much like mine. I know the sense of isolation you feel when you've been lied about and buried, and you can't get the truth out. And how frustrating that is. And it didn't just happen to me. I spent eight years and there were some people I met along the way in prison who have experienced similar circumstances. And our hero Winston Churchill had the perfect line for that. He said, 'A lie can travel halfway around the world before the truth has a chance to put its pants on.' And so part of my mission, for myself and for the cause of reforming a broken, unaccountable criminal justice system, that's also very racist by the way, is to be able to put the pants on and expose those lies so that people can see what's actually been going on with the institutions of our society that are so important – the freedom, the rule of law and the constitution – and how it's being abused and used by these dishonest, deeply entrenched, unelected bureaucrats with fancy law degrees."
For our final question, we asked Blagojevich what he will do now for fun, now that he's a free man.
"Well right now my schedule is free, because I'm not working. I need to find a livelihood and I'm not quite sure what that's going to be yet. So, at least in the near term, it's going to be driven by Amy and Annie and their schedules and what they do. Especially Annie who is a junior in high school now, and her school schedule. I really don't know what I'm going to do yet. I didn't want to let myself think too far ahead. When you go through something like that, every day is sort of a challenge to keep yourself in the right, emotional framework. And I learned it helps to try and set goals every day that you try to reach, whether it's physical fitness, or trying to read certain things or write certain things. And keep your eye on the ball and try to do that every single day, as opposed to looking too far ahead. And then I was always afraid to let myself yearn too much for home because that would make it more difficult to have to deal with that time I was facing, and maybe I wasn't strong enough. But I would try not to think too much about what might be ahead and I certainly never thought about what I might do when this is over. The impulse might come in, but I would stop it. I would suppress it, because I felt like let's just get through tomorrow. And it's been a journey that basically I've tried to approach from a day-to-day basis, but most importantly to try and do it in a way that could be the right kind of example for our children."
Blagojevich finished our interview with five simple words.
"It's good to be home."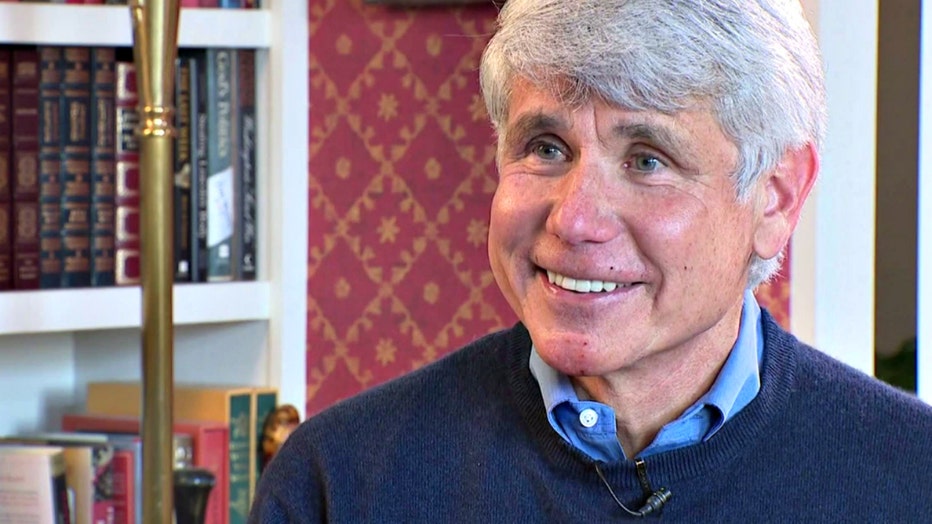 Trump told reporters on Tuesday that Blagojevich's 14-year prison sentence was "ridiculous."
"He'll be able to go back home with his family after serving eight years in jail," Trump said.
After leaving Colorado and landing at O'Hare Airport Tuesday night, Blagojevich was asked what he would say to President Trump regarding the commutation.
"I say thank you. I'm profoundly grateful," the former governor said.
He also said Wednesday morning that if he can vote in the 2020 election, he will vote for Trump.
Blagojevich, 63, was serving time after being convicted of 18 felony corruption charges in 2010, including trying to sell the U.S. Senate seat that was vacated by Barack Obama and trying to shake down a children's hospital.
Some in Illinois, including the governor, said setting Blagojevich free was a mistake.
Trump "has abused his pardon power in inexplicable ways to reward his friends and condone corruption, and I deeply believe this pardon sends the wrong message at the wrong time," Gov. J.B. Pritzker said in a written statement.
Many Republicans agreed.
"In a state where corrupt, machine-style politics is still all too common, it's important that those found guilty serve their prison sentence in its entirety," said the the chairman of the Illinois GOP, Tim Schneider.
The White House cited support from several Illinois-based leaders, including the Rev. Jesse Jackson, as supporting Blagojevich's early release. More than 100 of his fellow inmates also sent in letters of support.
GET FOX 32 NEWS ON THE GO BY CLICKING HERE
Chicago Mayor Lori Lightfoot also disagreed with President Trump's commutation.
"Commuting former Gov. Blagojevich's sentence would be controversial under any president, but President Trump embodies the worst in public leadership through his brazen disrespect for the rule of law and good governance. Given his track record, this action sends the wrong message," she said.
The former federal prosecution team handling the Blagojevich case issued a statement regarding his commutation, condemning Trump's decision: "While the President has the power to reduce Mr. Blagojevich's sentence, the fact remains that the former governor was convicted of very serious crimes. His prosecution serves as proof that elected officials who betray those they are elected to serve will be held to account."
The Illinois House in January 2009 voted 114-1 to impeach Blagojevich, and the state Senate voted unanimously to remove him, making him the first Illinois governor in history to be removed by lawmakers. He entered prison in March 2012.
The Associated Press contributed to this report.