Senate reply to budget plan lukewarm; no bipartisan support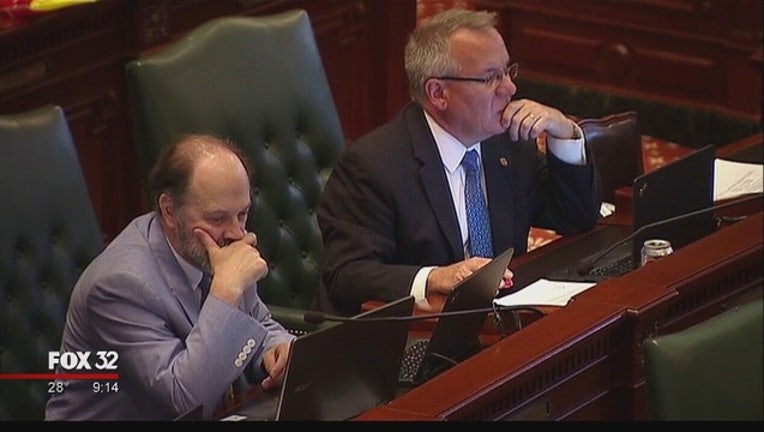 article
SPRINGFIELD, Ill. (AP) - Illinois senators' attempt to break a budget stalemate Wednesday did not bode well for ending the nation's longest state-budget drought since World War II, but Republicans and Democrats say they will continue negotiating nevertheless.
Losing patience with skittish Republicans, Senate President John Cullerton ordered up votes on pieces of legislation that make up the so-called "grand bargain" he negotiated with Minority Leader Christine Radogno. Of four called, three noncontentious measures won overwhelming approval. But support came solely from majority Democrats on legislation that's supposed to win bipartisan support.
Cullerton, a Chicago Democrat, noted the Senate had twice reneged on promised January votes to strike a bold stance that there's a way out of the two-year logjam between Democratic legislative leaders and GOP Gov. Bruce Rauner. He said it was time for action.
Republican Radogno, of Lemont, accused Cullerton of a "breach of our agreement," arguing the whole package was supposed to be ready before counting any votes.
"When are we going to do this if we don't do it today?" Cullerton asked. "Let's vote."
Sen. Terry Link, a Crystal Lake Democrat, acknowledged talks will continue. And despite tense debate, Cullerton conferenced privately with Radogno on the floor after the Senate adjourned.
It's unlikely there will be additional floor action Thursday when the Senate returns. It's the last work day scheduled before Rauner delivers his plan Wednesday for the budget year that begins July 1.
It will be the first-term governor's third budget plan without any becoming law. The state has been without an annual spending plan since July 2015.
Rauner has insisted on structural changes to improve the business climate, reduce union power and curtail politicians' influence. Democrats - notably House Speaker Michael Madigan of Chicago - have resisted, saying the state needs to increase taxes and cut spending first to drive down a multibillion-dollar deficit.
The Senate package includes an income-tax increase and proposals to meet Rauner's agenda such as cost-saving changes to the workers' compensation program and a freeze on local property taxes. But Senate Republicans have balked at putting "yes" votes on a tax increase, particularly because other plans, such as the one on workers' compensation, are not yet to their liking.
"There are parts of this package that are not yet settled," Radogno said. "By cutting loose parts of that package, we're basically taking the other issues off the table and saying there's no longer any way to approve those."
Senators approved portions of the plan on which there's widespread agreement: eased methods for eliminating superfluous local governments, streamlined state purchasing and more flexibility for cities to use sales tax revenue to pay off specific construction projects.
The lone measure that failed was a comprehensive pension-program overhaul Cullerton has pushed for years. He introduced it Wednesday as being Rauner-endorsed. He said the governor repeatedly asks him, "Where's your bill? Vote on your bill." It failed 18-29 and Radogno claimed she was blindsided.
Radogno said Cullerton advised her of votes on what she described as "low-hanging fruit" but broke his word by calling for them on the pension measure.
Rauner spokeswoman Catherine Kelly did not immediately respond to a request for comment.
Democrats said they need answers for exasperated taxpayers.
"We cannot sit here and not do anything anymore," Sen. Iris Martinez, a Chicago Democrat, said after the action. "I've got to go back home and explain to my constituents that we are starting the process."
___
The bills are SB3, SB8, SB10 and SB13.
___
Online:
Illinois General Assembly: http://www.ilga.gov
___
Associated Press writer Kiannah Sepeda-Miller contributed to this report.
___
Contact Political Writer John O'Connor at https://twitter.com/apoconnor . His work can be found at http://bigstory.ap.org/content/john-oconnor .