Severe storms, hail, high winds moving toward Chicago area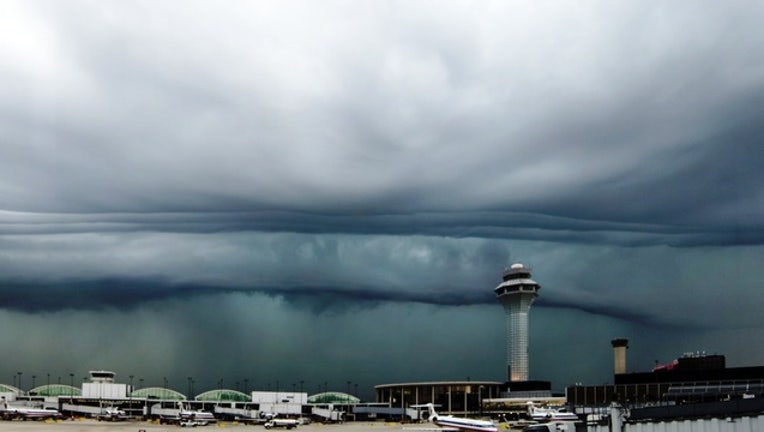 article
CHICAGO (Sun-Times Media Wire) - Isolated and severe scattered storms are expected Tuesday in Chicago, with a chance of more severe weather late in the evening. And it could get worse to the west, where many counties are under a tornado watch.
Temperatures are expected to drop steadily throughout the day, reaching the low 40s on the lakefront through the daytime hours, rising briefly into the 50s Tuesday evening and possibly 60 near O'Hare and Midway, according to the National Weather Service.
Showers will be moving across the city through afternoon, meteorologists said.
Storms, large hail and damaging winds could hit to the southwest of the city after 9 p.m. Tuesday, and a cold front will progress through the area around midnight, which will bring strong, gusty winds during the day Wednesday.
The chance of an isolated severe storms, with rumbles of thunder and possible hail the size of half-dollars will be the most severe threat, meteorologists said. Wind gusts could reach over 50 mph as the storms pass from southwest to northeast.
The entire Chicago area and northwest Indiana are in the slight risk area for severe weather, which is not expected to adversely effect the evening commute.
But much of western Illinois, and points as far east as LaSalle, Boone, Livingston and Winnebago counties, are under a tornado watch until 9 p.m.
Storms should be out of the area by midnight, with Wednesday a dry but very windy day across the area. Wind gusts in excess of 45 mph, possibly as high as 60 mph, possible, and a high wind warning will remain in effect until 9 p.m. Wednesday.
On Lake Michigan, fog is expected to last through Tuesday morning and storms will make travel hazardous for small craft Tuesday evening. Winds will be increasing to gale force late Tuesday night into Wednesday evening.