Trio charged with beating, shooting man to death in Gage Park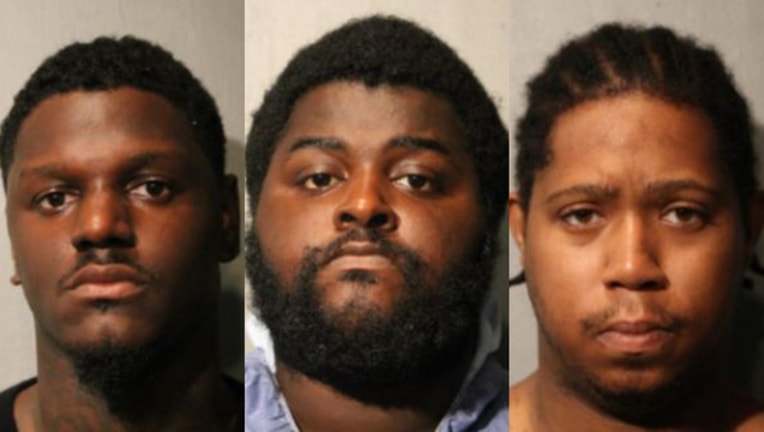 CHICAGO (SUN TIMES MEDIA WIRE) - Three men have been charged in connection with a fatal shooting and beating Tuesday night in the South Side Gage Park neighborhood.
Jose L. Navarro, 47, was on the back porch of a home about 10:17 p.m. Tuesday in the 5700 block of South California when he was confronted by 27-year-old Bobby J. Spears, according to Chicago Police. Spears then called 23-year-old Deshun Willaims and 26-year-old Darius N. Weems, who live in the home, to come outside.
All three of them started to beat Navarro, police said. When he tried to run away, they chased him and continued beating him. Williams then pulled out a handgun and shot Navarro in the back of the neck.
The suspects initially told investigators Navarro was an intruder and reported the incident as an attempted burglary, according to police. Officers responding to the burglary report found Navarro lying in a backyard with a gunshot wound.
He was taken to Christ Medical Center in Oak Lawn, where he was pronounced dead at 11:10 p.m., police and the Cook County Medical Examiner's Office said. An autopsy found he died of a gunshot wound of the neck into the head and his death was ruled a homicide.
Spears, Williams and Weems were taken into custody in the same block about 11:25 p.m., police said. Williams was charged with first-degree murder while Spears – who lives in Englewood – and Weems were each charged with aggravated battery in a public place.
Williams was ordered held without bail during a hearing Friday at the Leighton Criminal Courthouse and bail amounts for Spears and Weems were set at $10,000 for each.
All three are scheduled back in court Aug. 1.