Trump defends hurricane response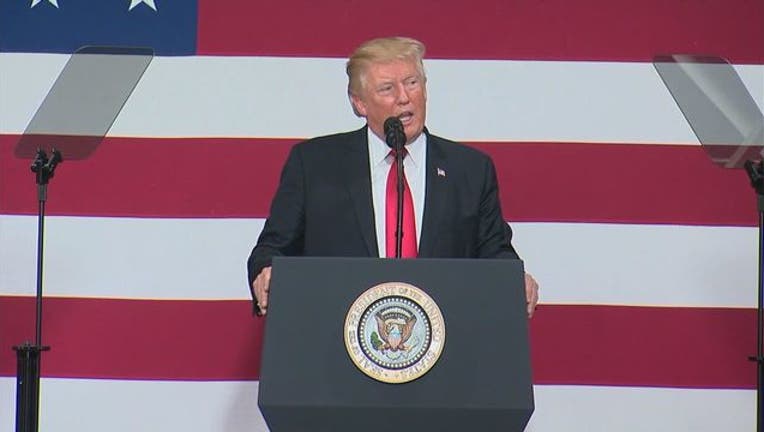 article
JERSEY CITY, N.J. (AP) - President Donald Trump spent Sunday afternoon attending a high-profile golf tournament, signaling that he will not be cowed by critics of his response to Hurricane Maria.
Earlier Sunday, Trump had scoffed at "politically motivated ingrates" who had questioned his administration's commitment to rebuilding Puerto Rico after the pulverizing storm and assured Americans there had been "tremendous progress."
The remarks, in tweets and from the manicured green, demonstrated Trump's defiance in the face of charges that he has been distracted and his administration slow to respond to the U.S. territory's struggle to restore power and basic services in the two weeks after the storm. Neither those charges, nor his past criticism of his predecessor for golfing during a crisis, kept him from attending The Presidents Cup.
After staying Saturday at his own New Jersey golf club, Trump traveled Sunday to Jersey City, where he spent the afternoon in the hospitality suite perched above the Liberty National Golf Club's 14th hole. He was on hand to present the tournament's trophy to Team U.S.A., which he dedicated to the people of Puerto Rico, Texas and Florida still recovering from hurricane devastation.
"I want to just remember them and we're going to dedicate this trophy to all of those people that went through so much, that we love," he said, adding of Puerto Rico: "We have it under really great control."
As Trump spoke, someone in the crowd accused him of not caring about Puerto Rico, using a vulgarism to make the point.
Returning to the White House, Trump told reporters Sunday evening: "We're doing really well on Puerto Rico. I'll be going there on Tuesday. Tremendous progress being made. We're getting the roads open, we're getting a lot of things done - really at a record clip. So we're very happy with that."
Trump spent years hammering his predecessor, Barack Obama, both for playing golf and leaving Washington too often.
"President Obama should have gone to Louisiana days ago, instead of golfing," he tweeted in August of last year, after severe flooding in the state. "Too little, too late!"
In 2014, Obama was criticized for playing golf right after speaking to reporters about the execution of journalist James Foley by Islamic State militants. And President George W. Bush was faulted for not immediately returning to Washington from his Crawford, Texas, ranch after Hurricane Katrina devastated New Orleans.
White House spokeswoman Lindsay Walters said the president had committed to attending the golf tournament "many months ago."
"He is being continually updated on the situation in Puerto Rico and only came briefly to present the trophy to the American team who are serving as great representatives for our country," she said, adding: "He is eager to get to Puerto Rico on Tuesday and further emphasize his dedication to the recovery efforts which have received widespread praise from local officials on the ground."
San Juan Mayor Carmen Yulin Cruz, whose criticism on Friday of the federal response drew Trump's scorn, said Sunday that people from federal agencies had been helpful but that the island needed even more.
"I recognize the good heart that the FEMA people have. They want to help, but they don't have the resources," she said on ABC's "This Week."
Her tone was far different Friday when she accused the Trump administration of "killing us with the inefficiency" after the storm. She begged the president to "make sure somebody is in charge that is up to the task of saving lives," and appealed for help "to save us from dying."
Trump had responded by deriding the "poor leadership ability" of the mayor and others in Puerto Rico "who are not able to get their workers to help." He added, without elaboration, "They want everything to be done for them when it should be a community effort."
Trump's weekend tweets showed contempt for any complaints about a laggard U.S. response to the natural disaster that has imperiled the island's future. He repeatedly blamed the press for what he sees as unfair coverage.
In times of disasters, leaders often shelve partisan differences. But Trump has a penchant for punching back against critics, whatever the circumstances.
"When the president gets attacked, he attacks back," said Treasury Secretary Steven Mnuchin, who added that the mayor's comments were "unfair, given what the federal government has done."
But to Sen. Bernie Sanders, I-Vt., Trump's tweets were "unspeakable."
He characterized the president as "speaking from his fancy golf club, playing golf with his billionaire friends, attacking the mayor of San Juan, who is struggling" to bring electricity, food, water and gas to the island. "I don't know what world Trump is living in."
Ohio Gov. John Kasich, who challenged Trump for the GOP presidential nomination last year, said "when people are in the middle of the disaster, you don't start trying to criticize them. I just - I don't know what to say."
The Trump administration said it had more than 10,000 federal officials on the ground, and that urban search and rescue teams have covered the entire island, searching more than 2,649 structures. Fifty-nine hospitals are partially operational, and 45 percent of customers have access to drinking water, officials said. Stores are also opening, with nearly half of grocery and big box stores, and more than 60 percent of retail gas stations open for business.
Trump's administration has tried in recent days to combat the perception that he failed to quickly grasp the magnitude of Maria's destruction and has given the U.S. commonwealth less attention than he'd bestowed on Texas, Louisiana and Florida after they were hit by hurricanes.
"The bottom line is at least for the first week and a half the effort has been slow-footed, disorganized, and not adequate," said Sen. Chuck Schumer, D-N.Y.
Long and Mnuchin spoke on NBC's "Meet the Press," Sanders and Kasich were on CNN's "State of the Union" and Schumer appeared on CBS' "Face the Nation."