Trump supporters in Chicago suburbs and across country declare pride in president, slam opponents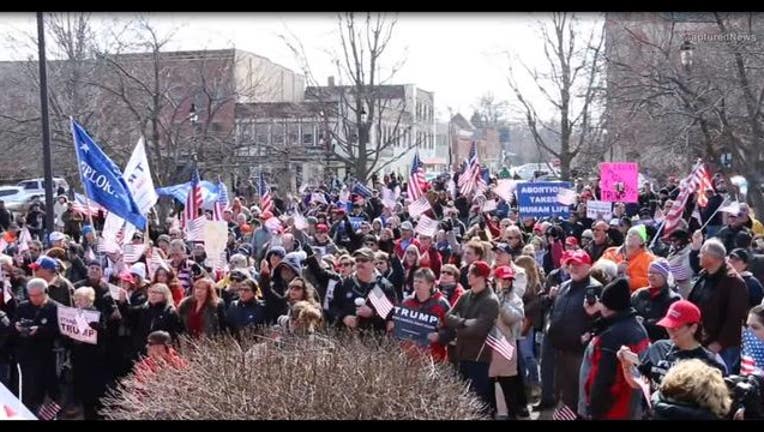 article
From Colorado's state Capitol to Trump Tower in New York and the Washington Monument, groups of hundreds of people rallied for President Trump on Saturday, waving "Deplorables for Trump" signs and even carrying a life-size cutout of the president.
The March 4 Trump demonstrations were held around the country, and supporters clashed with generally smaller groups of counter protesters.
In Berkeley, California, Trump supporters fought counter-protesters during a march in support of the president. People wearing goggles, motorcycle helmets, gas masks or with their face half-covered with bandanas are pushing each other, throwing punches and hitting each other with the sticks holding their signs.
Six people protesting the rally in St. Paul, Minnesota, were arrested on felony riot charges after they lit fireworks inside the Minnesota State Capitol and fled, police said. About 400 people attended the St. Paul event, and about 50 showed up to protest it. Some other minor scuffles between the dueling demonstrators were quickly defused.
In Nashville, two people were arrested as protesters clashed with Trump supporters at the Tennessee Capitol. The groups at times cursed at each other and made physical contact, which state troopers broke up, WPLN reported.
Near Mar-a-Lago, the Palm Beach Post reported that people on both sides exchanged profanity. Trump's motorcade briefly stopped so he could wave at supporters.
In Ohio, Trump supporter Margaret Howe, 57, of Pataskala, said she increasingly fears civil war.
"We did not want to have something like this happen," she said, adding, "We came out today because Trump deserves to see he still has people for him. It's just all sad."
Outside the state Capitol in Denver, hundreds gathered, listening to speakers including former U.S. Rep. Tom Tancredo on the West Steps facing the mountains. Many in the crowd held American flags or wore red, white and blue and held signs with messages like "Veterans before Refugees."
Chelsea Thomas, an accountant from Thornton, Colorado, brought her family to the rally - and a life-size cardboard cutout of Trump. She said the family has taken it with them on camping trips, boat rides and a country music festival.
"It's nice to be surrounded by people who share your morals and opinions," said Thomas, as her son walked back and forth across the grass with a Trump flag. A group of counter protesters gathered nearby, separated from the rally by police tape. They chanted "No Trump. No KKK. No fascist USA" and held signs with messages like "Your vote was a hate crime."
Hundreds gathered in rallies on both ends of Pennsylvania to show support for Trump.
Supporters waved signs and flags and listened to speeches during Saturday's "Spirit of America" rally in Bensalem's Neshaminy State Park in eastern Pennsylvania's Bucks County.
"They love their country and they love what Donald Trump represents, which is about making America first," organizer Jim Worthington said. "... We are here to meet and make sure all Americans are prospering."
In northwestern Pennsylvania, the Erie Times-News reported that about 100 people gathered at a square in downtown Erie for a similar demonstration. "We've got to get the whole country united behind this man," said Richard Brozell, 75, who along with his wife braved the mid-20s temperatures and stiff wind chill to attend
In Augusta Maine, more than 100 people turned out for the event that was supposed to last three hours, but ended early because of freezing temperatures. In Miami, supporters continued a rally while sipping espressos outside a Cuban restaurant, the Miami Herald reported.
At a North Carolina rally, speakers said the dishonest media and left wing politicians were bordering on sedition in their opposition to the Republican president. Some men were seen walking through the Raleigh crowd carrying a Trump flag as well as a Confederate flag. Gathered just behind the rally was a handful of protesters, some of whom blew air horns in an attempt to disrupt the event.
"We're gonna take our country back and we're gonna establish borders and have legal immigration and law and order," said Cherie Francis, of Cary, North Carolina. "And if you're against all that, then you should be afraid."
In Indianapolis, about 30 Trump supporters rallied at the Indiana Statehouse in Indianapolis to denounce what they see as unfair treatment of the Republican. A local organizer, 61-year-old Patty Collins, of Indianapolis, said Trump's critics "aren't giving him a chance."
Trump supporters turned out Saturday in Phoenix. Media outlets reported that several hundred people participated in the Phoenix event held on a lawn at the State Capitol. Some participants wore pro-Trump shirts. A small group of protesters also were on hand.
In Texas, Austin police say about 300 people have rallied in support of Trump in a gathering outside the Capitol during rain. One of the organizers, Jennifer Drabbant of Austin, said there have been so many protests against Trump that she and others wanted to show there are people who support him.
In Lansing, Michigan, about 200 Trump supporters rallied on one side of the state Capitol while 100 critics gathered on another side. At one point, the president's fans shouted "get on the bus" and "go back to Mexico," The Detroit News reported.
"Agree with President Trump or not, he is our president, and I think what I see happening in D.C. and with the Democrats - it can't stand," said Gary Taylor, 60.